REAL SOCIEDAD-BARCELONA
Barca seal first Liga win at Anoeta since 2007 in comeback
Barcelona broke the curse of Anoeta with their first win since 2007 as Luis Suarez, Paulinho and Lionel Messi helped themselves to goals during the comeback. Cruz Azul vs America: Liga MX, live online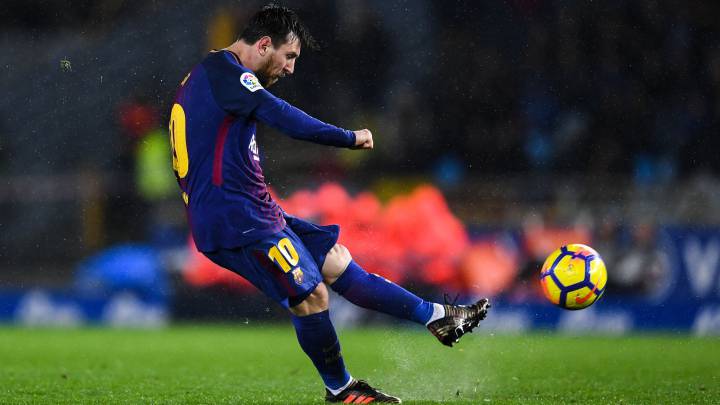 Real Sociedad 2-4 Barcelona: match report
The rain poured at the Anoeta on Sunday night and so did the goals as Barcelona came back from two goals down in the first half to beat Real Sociedad away from home for the first time since 2007 in LaLiga.
Real Sociedad were quick out of the blocked and had their first goal after 11 minutes when Willian Jose headed home a low cross to set the tone for the remainder of the night.
They had their second after Juanmi struck beyond Ter Stegen, with the help of a deflection, after a wonderful pass from Canales to find him behind enemy lines.

Barcelona stuck to the gameplan, however, and kept plugging away and had their rewards when Luis Suarez squared to Paulinho on 39 minutes to give the visitors a glimmer of hope. It was the Brazilian's 8th goal of the season and an important one too.
After the break, Barcelona turned the game completely on it's head when Luis Suarez curled a sumptuous finished over Rulli and into the back of the net.
He had his second, Barcelona's third, and the go-ahead goal on 71 minutes when he drove past Rulli after a medium-length kick-out was headed directly back into his path.
Messi put a gloss on the scoreline after 85 minutes with an equally dainty curler past Rulli from a free kick.
Barcelona are now nine points clear of Atlético Madrid and 19 points clear of Real Madrid while Real Sociedad have a relegation battle on their hands.
Real Sociedad vs Barcelona live stream online: coverage
90'+3' THAT IT! Game over. What a comeback from Barcelona. Is this their year?
90'+3'   Real Sociedad with a free now. ot a bad effort as Ter Stegen punches it away.
90'+2' Suarez replaced by Denis Suarez.
90'+2' Piqué booked for a nasty tackle on Oyarzabal.
90'+1'   Like a game of ping pong! Real Sociedad with about 10 chances to strike in the penalty area but can't take any. They end up losing it. Too many bodies in the way.
89'   Suarez wants a hat-trick but he has to make do with the corner. Takes a nick of Rulli as he tries to sneak it in by the near post.
88'   Although Canales is through, doesn't hit it when he should have, turned and then hits it when he should have passed it out wide. 
87'   Real Sociedad slipping and sliding in the conditions. You can't see a way back for them now.
85' Miles out! Messi strikes from the free and Barcelona lead 4-2. 
84' Oyarzabal fouls Suarez and gets a booking.  A little harsh given the conditions but he did catch the striker.
82'   Strike from Messi. Rulli parries it and Real scramble it away with Luis Suárez lurking for his hat-trick. 
81'   10 minutes left for Real Sociedad to do something after going 2-0 up. They trail 2-3 but are pushing for that equaliser. conditions are difficult as the rains falls at Anoeta.
80' Andre Gomes being replaced by Lucas Digne.
77' Xabi Prieto off for Adnan Januzaj.
77'   Willian Jose fouled as he tried to control the ball. Chance for La Real to build something now as they make another change. 
76'   Messi with a strike but that just slides wide.
74'   Ball to Kevin Rodrigues and he passes to Oyarzabal and his half-volley goes over. He caught it perfectly but off target.
74'   Will we see a sixth goal?!
71' GOAL! Luis Suárez with the finish. That is an excellent finish. His second and he puts Barcelona into the lead. Kick-out is headed straight back towards Rulli and Suárez pounces and strikes.
71'   Dembele down the line and keeps the ball in play. He tries to cross to Messi but that's a poor cross and Rulli is comfortable with it. 
70'   Messi finds Alba and he finds Suárez but his shot is blocked. Barcelona looking dangerous.
69'   Messi with a pass to Alba and he cuts it back instead of putting his laces through it! 
68'   Willian Jose wins it in th air again and wins a corner. They take it short but the cross, when it does come in, is short. 
67' Paulinho off for Dembele just a minute ago.
67'   Willian Jose gets a pass away and Real Sociedad counter.
64'   Real Sociedad putting Barcelona under increasing pressure. No real chances yet since the Suárez goal though and Odriozola caught for offside that time.
63' Yellow for Illarra for a foul on Messi as he drove forward. Lashing rain now at the Anoeta.
62'   Balls comes in and Willian Jose heads wide with the back of his head.
62'   Vermaelen with a diving header to clear for a corner. Acrobatic effort.
61'   Dembele warming up now! 
59' Change for Real Sociedad. Oyarazabal replaces Juanmi.
59'   Real Sociedad not backing down from this challenge now even though Barcelona looking dangerous. They win a throw as they move forward with purpose.
58'   Messi to Paulinho, who is offside. Looked like he was just in line but hard once to call.
57'   Not entirely sure what that was from Canales but we'll say it wasn't a shot because if it was, it was ridiculous. Lobs up into the air from miles out into Ter Stegen's hands.
55'   Zurutuza meeds to go off. He is helped off by the trainers and it looks like a muscular injury. Zubeldia replaces him.
54'   Messi swings it in. La Real counter and the pass to Juanmi is good but too far ahead of him.
53'   Barcelona in the ascendency now. They move forward and Messi is fouled by Kevin Rodrigues. 
52'   Some debate as to whether Suárez meant that or not but that was a lovely finish. He wheeled away as it curled over Rulli. Brilliant.
50' GOAL! Luis Suárez with the goal. He curls it over Rulli and that is en emphatic finish. 
50'   Ball comes back in and Piqué chests it down but he was offside again. He's not happy and slaps his hand off the ground and the Anoeta give him a bit of abuse for his histrionics.
49'   Willian Jose heads away from the corner.
49'   Messi does well to beat Rulli once but the keeper gets up and comes back to slide in and give away the corner.
47'   Canales with a strike. Tries to curls it beyond Ter Stegen from distance but he can't beat the German.
46'   Sergi Roberto drives forward. He plays it off to Paulinho and he goes back to Vermaelen.
46'   Second half underway! 
Expect Valverde to make a change at the break with Andre Gomes not really working out in the midfield four.
Crazy opening 45 minutes as Barcelona struggle to get into it before Real Sociedad go 2-0 but a Paulinho goal has them right in contention before the next 45. 
45'   That's it for the half at the Anoeta!
44'   Piqué with a shot on goal from that free, sent in by Messi, but there was an offside as it was delivered. The central defender wondering what was wrong as the ref explains it to him.
44'   Foul on Rakitic now.
43'   Zurutuza with a foul as Barcelona look to draw level before the break. La Real recover.
41'   Flick onto Odriozola by Willian Jose is too strong and it runs out over the endline.
39'   Barca's number nine jumped the offside by a good few yards with a nice run and Paulinho drove into the box knowing what would happen. Nice move.
39' PAULINHO! 2-1. Lord, what a game. Paulinho pokes home from an excellent Luis Suarez cross right into his path. 
38'   Not entirely sure that Paulinho and Andre Gomes can xo-exist in the same midfield.
38'   Barcelona trying to build now. Nothing working for them so far.
36'   Jordi Alba through on goal but he's offside. He was steaming towards goal. Not sure it was offside but I think Messi took a flick on the ball and then Alba was offside.
35'   That pass from Canales, like a reverse pass, onto the foot of the attacker. Lovely, lovely ball!
34' GOAL! What a pass by Canales.  he lobs it into the direction of Juanmi and he strikes. It takes a deflection and beats Ter Stegen! Barcelona falling apart.
33'   Rakitic with a foul now as Real Sociedad try to build an attack. Zurutuza the man who was fouled. Look like another dodgy decision by the ref.
31'   Corner comes in and Willian Jose heads wide. 
31'   Real Sociedad all over Barcelona now. Canales strikes and Ter Stegen forced to turn it around the post. He was offside there but it was let slide. 
30'   Messi strikes now and Barcelona win a corner.
29' Disgraceful refereeing really.
28'   GOAL! Willian Jose has it in the back of the net but it's not allowed. Foul by Zurutuza. But the replays show there was absolutely no contact.
27'   Another chance for La Real. Canales gets it onto his left and strikes but that's too easy for Ter Stegen.
26'   Xabi Prieto with a cross. Cleared out for a throw. 
25'   Suarez offside as Barcelona's plans for another attack are scuppered.
24'   Piqué throws Willian Jose to the ground and La Real take a quick free but the player is, no lie, about 10 yards offside. Silly free and a waste of a chance.
23'   Real Sociedad win it back.
23'   Paulinho holds off a would be defender and Barcelona keep it. No movement ahead of Vermaelen and Barca forced to go long.
22'   Suarez took a knee to the glute and is down grabbing his back. Hit the ground quite hard there and has a word with the referee. 
21'   Canales with a cross this time and Willian Jose heads it but he can only loop it up and into the palms of Ter Stegen.
21'   Another excellent cross from Odriozola and it's cleared again! Real Sociedad on top here.
20'   Excellent move from Real Sociedad. Odriozola cuts it back and La Real strike through Canales. Blocked up and out for a corner. Barcelona head it away.
17'   Jose holds off Piqué and breaks forward but he was offside...
16'   Barcelona lose out. Real Sociedad playing high up the field.
14'   Corner for La Real. Barcelona counter. Paulinho has a shot and it's blocked, then Messi tries to pick it up and he is tripped up but there was a foul before that!
13'   Good start from Real Sociedad, I guess you could say! Willian Jose, such a nice player, and he finished with his first chance.
11' Willian Jose GOAL! Almost out of nothing too. He heads it in off the post but down into the ground first! 
11' He crosses and Piqué headers away.
11'   Odriozola versus Alba as the former gets a march on the left-back. 
10'   Canales runs all the way across the field and passes to Kevin before he goes backwards. An awful lot of work for Canales to do just to go back again to where he came from.
10'   Busquets finds Messi and he cuts out to the left and strikes but it's just over the bar.
9'   Not the liveliest of starts for Barcelona bur not bad at all. Sergi Roberto crosses down the left and Llorente is forced to clear away. 
8'   Real Sociedad win a throw. Willian Jose loses possession and the Brazilian chases him down. Barcelona win a free as Kevin Rodrigues handles the ball. Barcelona with the chance to start an attack now.
6'   Sergi Roberto in behind now and Rulli again rushes off his line and smothers it.
4'   Sergi Roberto pushed off the ball by Willian Jose and wins a free. Decent from Real Sociedad, who are showing ambition going forward as we figured they would.
4'   Willian Jose whips it out right and odriozola loses it before Xabi Prieto has to track back and Real Sociedad win it back.
3'   Luia Suárez bears down on goal and Rulli rushed out to slide and win it. Close call as the striker got himself into a good position.
3'   La Real sitting very deep. Messi with the ball on the left and holds onto it before turning and going backwards. It was like time stood still there. 
2'   Barcelona with plenty of the ball early on as they probe Real Sociedad's defense for weakness.
1'   We are underway! 
Real Sociedad welcome the winner of a basque singing competition onto the field.
Iniesta takes his place on the bench now, sips a water, as calm as you like. Might be needed tonight but won't be needed from the beginning. 
Players in the tunnel now and ready to come out onto the field!
Extra long warm-up tonight!
Players out warming up and it's freezing and cold and wet up in the north of Spain.
Jordi Alba is one player who has really excelled since Neymar left in the summer. He has that whole left-hand side of the field to himself and has taken full advantage of it too! he has seven assists in LaLiga and is just a constant threat down the wing with Messi and him on the exact same page every single play.
Willian Jose is Real Sociedad's top scorer and has scored seven times in 18 games this season as he has really turned into a fully-functioning centre forward! He has been excellent on a number of occasions and adds so much to his side's general play. One to keep an eye for tonight for fans watching and Barcelona!
Also, the win last year in the Copa gave them a flavour of what it's like to win.
So much being made of that stat. There's two ways of looking at it. They're destined to break the hex at some point or else they really are mentally blocked at the stadium. My bet, especially given how well they have been playing under Valverde, more functional than pure flash is that they have as good a chance as any time before of winning tonight.
Since Barcelona's last victory at the Anoeta, they have played 36 teams away from home in LaLiga and beaten 35! The only other side they failed to beat away from home was Numancia. 
Thomas Vermaelen is quite the story as he is brought in from the cold by Barcelona. "He's not surprising me," said Ernesto Valverde, "I see him train every day." The Belgian has played every match for the LaLiga leaders since 26 November

Ousmane Dembele has been left out of the team by Ernesto Valverde. The attacker just came back from injury and played well recently against Celta but is on the bench as Valverde looks to play a 4-4-2, it seems. 
Real Sociedad team news: Rulli, Odriozola, Llorente, Raul Navas, Rodrigues, Prieto, Illarra, Zurutuza, Canales, Juanmi, Willian Jose.
He started in the Copa against Celta Vigo and they trounced their opponents that day! you could say he covers more ground than Iniesta but it's a gamble from Valverde. 
A rare start for Andre Gomes in the league. Andres Iniesta is rested and Piqué and Vermaelen continue in the heart of the defense. Meanwhile, Sergi Roberto starts at right-back with Semedo out with tonsilitis.
Barcelona team news: Ter Stegen, Sergi Roberto, Piqué, Vermaelen, Alba, Busquets, Rakitic, André Gomes, Paulinho, Messi and Suárez.
And also, Alavés won and pushed themselves up and out of the relegation zone. Real Sociedad could really do with something tonight! 
Atlético Madrid and Valencia also picked up tricky wins away from home too this weekend! 
I don't think it's a push to suggest the big news of the weekend was Real Madrid losing to Villarreal for the first time ever at home in the league. Barcelona win tonight and the 16 point gap becomes 19!

Hello and welcome to out live feed of Real Sociedad vs Barcelona from the Anoeta this Sunday night. Kick-off is at 20:45 CEST and we will be building up right here with team news, analysis and a few stats sprinkled it to boot! 
Real Sociedad vs Barcelona live stream online: preview
Barcelona travel to the Anoeta on Sunday night with kick-off at 20:45 CEST in an effort to seperate themselves further from the chasing pack in LaLiga. Real Sociedad, looking to seperate themselves in a completely different race at the bottom, will welcome Barca knowing Messi and co. have not had the most enjoyable times in their stadium recently.
Not since 2007 have Barcelona returned from San Sebastian with a win in LaLiga. They have drawn two and lost five encounters there in the last decade but did taste success in the beautiful coastal town last season in the Copa, which might give them the impetus and belief they need to break their duck at the stadium of their opponents on Sunday night.
The top four is starting to become clearer as Atlético Madrid and Valencia both sealed all three points in tricky away games while Real Madrid lost to Villarreal and it seems los Blancos are no longer direct opponents with Barca for the title. A win at the Anoeta for Ernesto Valverde's side will, however, put them 19 up on their eternal rivals.
Real Sociedad started the season in flying form but have suffered with a leaky defense but have scored a bucket load of goals also this season to offset some of their poor defending. They have the joint-best goal difference of the bottom ten teams and are the third highest scorers in the bottom half too and an in-form Barcelona coming to town might mean a massacre if La Real's defense don't show up.