Javi Martínez: "Real Madrid's bad results have surprised me"
The Bayern man spoke exclusively to AS about life at Bayern, struggles under Pep Guardiola, and the moment he was called up to Spain's 2010 World Cup squad.
Bayern Munich and Spain maestro Javi Martínez covered a wide range of topics in an exclusive interview with AS. The 29-year-old discussed his situation at Bayern, the moment he was called up to the Spain squad in 2010, Marcelo Bielsa, and Real Madrid's current malaise.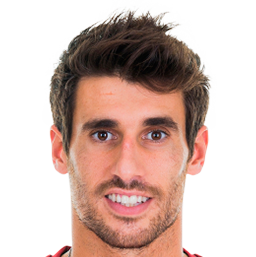 Hola Javi, congratulations for your goal against Leverkusen!
Thanks a lot, it was actually the first goal of 2018 in the Bundesliga.
How's life in Munich?
When you experience so many things in a place, that place ends up forming a part of your life. In these five years I've gone through everything, good moments and bad moments, but I feel at home. I miss Ayegui [Martínez' home town in Navarre] but I'm really comfortable here. The way of life is really similar to in Northern Spain, it's not as different as I thought before. I've integrated well and I hope to be here for years to come.
How do you identify with an entity as traditional as Bayern Munich?
In such a globalised world, every day it seems more and more difficult to maintain the small families. That's why this club is so special. The works at the new training complex near the Allianz Arena were finished recently, and the majority of the clubs in the world would have moved there. But not Bayern. We've stayed at Säbener Straße because the club is from Säbener Straße. It's tradition, and you don't have to break good habits. I always compare it with Athletic, another really traditional, family club that has always maintained the same links. Bayern is the same. Us romantics like to experience this.
Speaking of romanticism, what went through your head when Jupp Heynckes returned?
I didn't believe it at first, it was a surprise for everyone, but at the same time a really wise decision. He was the only coach that knew the club and a lot of the players. We were going through a bad patch, we needed an immediate reaction, and Jupp took all of that on.
Heynckes has moved you up to defensive midfield...
I'm playing further forward, in a position that I've always played. I felt comfortable in defence as well, but when you've played in a position all your life you feel a little bit more comfortable there. It's coincided with a good dynamic in the team, so I'm pleased with that.
Will it be possible to convince Heynckes to stay for another season?
The titles are there, and for people like James [Rodríguez] it's a big help that he [Heynckes] speaks Spanish. You have to see what he's done as a big favour to Bayern. He's changed his life and that of his wife in Mönchengladbach in order to put up with us 23 pains in the neck, which is a big effort. It's about being thankful, and it would be totally respectable if he didn't want to stay on, even though I hope he does.
A German newspaper described you as the perfect mix between English power and jogo bonito. It doesn't sound bad, right?
I know there are players who play more 'beautifully' than me. What I like to do is keep it simple and give all I can in every match. That means not cowering when you need to put your foot in and take responsibility. I can't give you assurances that I'll set up ten goals or score ten goals throughout the season. What I can promise is that I'm going to work to the maximum.
Is anticipation a form of art?
Football is a team sport and you won't get anywhere with 11 magicians. In American football, for example, you couldn't win with 15 quarterbacks. So nor would we win with 11 Robbens, 11 Boatengs, or 11 Javis. A team needs players who play nice stuff, but you also need people who'll run when you don't have the ball, who work, who win the ball back. I love playing nice football and giving nice passes, but I know that a lot of the time, the work I do goes unnoticed and doesn't make the headlines.
That same newspaper also accused Guardiola of making you worse.
I don't go along with that. I had bad luck and couldn't enjoy the three years with Pep because I had a knee injury for 18 months. I basically couldn't go two months without a problem arising and I'm a player that feels better after a run of games. [Marcelo] Bielsa asked us at Athletic whether it was better to train or rest during the week ahead of a hypothetical Champions League final. I was 22 at the time and I said that I'd rather rest, but with the passing of time I've realised that no, I'm a player that needs to play a lot of games, minutes, and go to the point of exhaustion… all the things I couldn't do with Pep.
Are you dreaming of the World Cup?
It's in my head, but I know that I'll have to give my all every Sunday to complete that objective. I'm going through a good moment and I think the coach will be watching the Bundesliga and all of the available players. The competition is really hard and it's difficult, but I haven't lost hope and I hope to be able to represent my country at the next World Cup.
Have you spoken with Julen Lopetegui?
No. [Vicente] Del Bosque didn't call before or when you weren't called up either.
Do you remember the moment you were called up for the 2010 World Cup?
Perfectly. All of us from Athletic were at Joseba Etxeberría's leaving do on Menorca. You already know that there are only Germans on Menorca and Mallorca… you speak Spanish and they don't understand you [smiles]. I remember that we were on the hotel terrace waiting for Del Bosque's press conference, to see if he was going to call up Fernando Llorente. There were 40 Germans in the swimming pool, drinking whatever, and when the gaffer said my name all of us started to jump around and hug each other. I cried, I called my mum who was crying, and a lot of team-mates too, because it was totally unexpected. Later he named Llorente too, so it was the perfect party. The funny thing was that the Germans didn't know who we were. They must have been gobsmacked when they saw us celebrating like that.
How do you see the national team at the moment?
I see it as being better than ever. I think that the change for Lopetegui has made it better. They've had a perfect qualification campaign, and with a much better idea of how to play and a real superiority. The World Cup is completely different. It goes on for more than 30 days and you have to fight during each one of them, and factors like luck play a part too. For a country to win, they have to be really close, but I hope Spain keep on doing what they've been doing during the last year and a half, win the World Cup, and get another star above the badge.
Do you follow Spanish football?
Now more than ever. I'm hooked on Comunio [a football management game] with my friends and I don't want to lose.
How are Athletic doing?
Well. I've known Cuco [Ziganda] for years, he coached me at Osasuna and I know how good a coach he is. Valverde was there for three years and now a new coach has come with totally new ideas. Athletic have improved a lot, they've started the year well and I hope they can end up where they deserve to be, in the European places. Who knows, maybe one day Bayern and Athletic's paths will cross in the Champions League. To play in what was my home for so many years would be really lovely.
Are you surprised by Real Madrid's current struggles?
It's always surprising that a team like Real Madrid has so many bad results. At the same time, it says a lot for how demanding all the leagues are. It's also said that Bayern don't have a rival, but those people don't know that you can lose against any team, especially away from home. Those who think it's easy should look at Madrid.
Do you want to play in Spain again one day?
To be honest, I haven't got any plans to. The only thing I've thought about is playing outside Europe one day, in America for example. I'd like to have that experience, after a few more years.