AFRICAN FOOTBALL
US Ouakam: CAS lifts 5-year ban on Senegalese side
The Senegalese Football Federation had suspended US Ouakam from any football-related activity after eight people were killed at a stampede.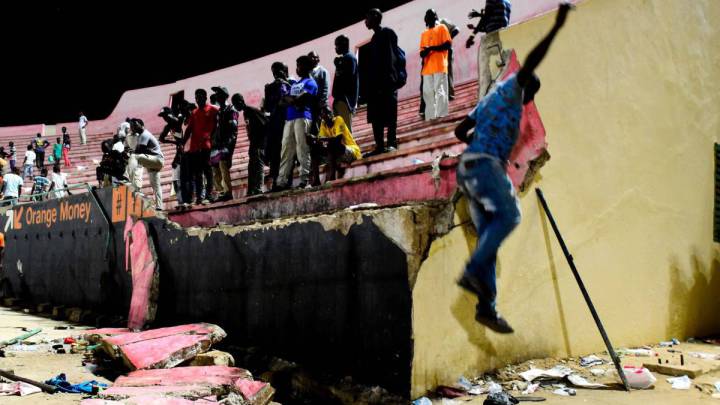 The Court of Arbitration for Sport (CAS) has lifted a five-year ban imposed on Senegalese top flight club US Ouakam.
In July 2017 eight people were killed and 50 were seriously injured following a stampede caused by a clash between supporters during Senegal's League Cup final.
As a result, theSenegalese Football Federation (FSF) suspended US Ouakam from any football-related activity sanctioned by the sport's governing body.
League Cup tragedy
Senegal's League Cup final between US Ouakam and Stade de Mbour at the Demba Diop stadium in Dakar resulted in tragedy as local fans began throwing stones to Mbour's supporters after the visitors had taken a 2-1 lead in extra-time.
In an attempt to control the violence police used tear gas, triggering a stampede in the stadium.
Part of the wall supporting fans from both sides collapsed, causing the fatalities.
'All of a sudden when the wall fell... we knew exactly that some of our own had lost their lives because the wall fell directly onto people,' said Cheikh Maba Diop, a witness who helped evacuate victims from the stadium and lost a friend in the tragedy.
US Ouakam not solely responsible
Initially, FSF ruled that US Ouakam was "exclusively responsible" for the deaths, handing the team a seven-year ban that was later reduced to five years.
However, due to police intervention and the stadium's condition, CAS ruled that the team could not be considered solely responsible for July's disaster.
As a result, the five-year ban was lifted, allowing the team to continue playing in Senegal's top flight.
Nevertheless, Ouakam must play the rest of the season behind closed doors.