Real Betis 0-5 Barcelona LaLiga week 20: goals, as it happened
Messi and Suárez both scored braces, while Rakitic also netted, as Barça demolished Real Betis with a second-half onslaught.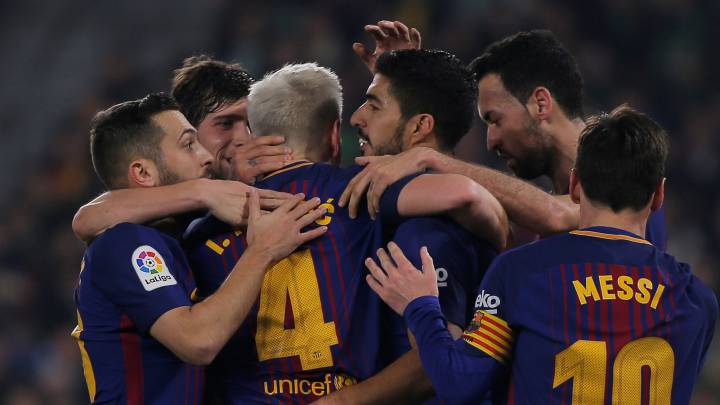 Real Betis 0-5 Barcelona: match summary
Barcelona tightened their grip on the LaLiga title with an emphatic second-half performance at the Benito Villamarín.
Real Betis kept the leaders at bay until half-time. But Barça gained momentum at a frightening rate after Ivan Rakitic opened the scoring just before the hour-mark. He raced on to Luis Suárez's inviting pass and slotted the ball under Adán and in.
Leo Messi doubled Barça's lead five minutes later, springing the offside trap and beating the 'keeper after Rakitic has dispossessed Fabián. Suárez scored for the seventh consecutive Liga match after another five minutes had passed. The Uruguayan volleyed in to the bottom corner from 12 yards out.
Messi and Suárez both scored again as Betis crumbled. Barcelona have now scored 40 goals in the second half of matches and conceded four and show no signs of relenting in their steely pursuit of the league.
Real Betis 0-5 Barcelona: as it happened
90'+2' FT.
90' GOOOOOOL! Another one! Suárez! Sergi Roberto wins the ball and gives it to Messi to carry forward. The Argentine scampers in to the box and commits two defenders before sliding it to Suárez. He curls it in to the roof of the net with a lovely first-time finish. 
88' Fabian throws on a coat as he makes his way to the bench. Camarasa takes his place. 
86'   Phwoar. Leo Messi wriggles his way out of a trap laid by three Betis players, with Boudabouz nutmegged in the process. Superb. 
84'   Messi jinks between two players and lays the ball back for Paulinho to shoot. The Brazilian aims for the bottom corner. Not with enough force, though, as as Adán flops down and claims the ball. 
83'   Deulofeu conspires to miss Roberto's knock-down from a yard out. It flashed across his body at an awkward height and the substitute could not apply the touch. 
81' Gerard Deulofeu gets a run out, with Busquets making way. 
80' GOL GOL GOL! Messi! The small pocket of Barça fans are going barmy. The Barcelona No.10 has Suárez to his left, but goes for it all alone, shimmying past Betis's central defenders and passing the ball in to the near corner. 
77' Quique Setién throws the proverbial kitchen sink at it, with defensive midfielder Javi García making way for Ryad Boudebouz, a No.10. 
76'   Messi doesn't manage to spread the icing on the top of the cake, firing high and wide from 25 yards. 
74'   Semedo shows very neat footwork to evade two Betis players and win a throw-in by the corner flag. 
73' Bruno Castro replaces Sergio Leon for Betis. 
69' GOOOOOL! Suárez! Rakitic chips the ball in from the right and although it's a little behind Suárez, the Uruguayan adjusts his run and volleys the ball in to the corner from the penalty spot. It wasn't the cleanest contact, but the technique was superb. The Benito Villamarín is well and truly silenced. 
67' Feddal and Suárez are both booking after a 'coming together of heads'. The referee picks up a cigarette lighter from the turf, which someone has tried to throw at Suárez. 
66' Straight after that goal, Valverde replaces Andre Gomes with Paulinho. 
64' GOOOOL! Fabián surrenders possession, allowing Rakitic to slide the ball through to Messi. On first glance, it looks like he's offside. But Feddal hasn't stepped up quick enough and the flag stays down. Messi goes through one-on-one and slots it past Adán. 
63'   Guardado floats a free-kick too close to Ter Stegen, who edges off his line and plucks it from the air. 
61'   Fabián takes a high ball down with a silky touch, before setting Joaquín up for a deep cross that Piqué is forced to chaperone behind for a corner. Barça deal with the delivery. 
59' GOOOOOOOOL! Andre Gomes draws Feddal out of position and lays the ball off to Suárez, who passes in to the space the defender has vacated. Rakitic races on to it and slots it under Adán, cool as a cucumber. 
58'   Paulinho is preparing to come on for Barça. 
57'   Fabián swirls a shot to the near post. Ter Stegen spills the ball before claiming it cleanly at the second attempt. 
56'   Betis career forward after a heavy clash between Guardado and Umtiti opens up space in midfield. Joaquín fizzes the ball to Tello who, despite a couple of stepovers, can't find a way past Semedo. 
54'   Intricate stuff from Barça in the box, between Roberto, Rakitic, and Semedo. They're playing triangles. And not in a 'please can I be in your band?' way. Semedo ends up winning a corner, which Betis clear. 
51' Durmisi is booked for a late lunge on Sergi Roberto. 
50'   Guardado makes a lung-bursting run in to the box and receives the ball in a good position to cut it back. Leon and Joaquín wait at the far post, but the Mexican directs the ball to the edge of the box and nothing comes of it. 
47'   Betis come out from the break on the front foot, with Guardado thumping a shot in to Piqué back. Barça push forward and Rakitic looks for Suárez. He's flagged offside despite his protests that he began his run inside his own half. 
46' Messi gets the second half underway! 
The players are gathering in the tunnel, ready to trot out for the second half. 
45'+3' HT. 
45'+1'   Fabián twists, turns, and fires the ball at Ter Stegen from an acute angle. He did well to get the shot away, but it was always going to be tough to score from there. 
45'   Barça get forward quickly after taking a free-kick deep inside their own half (given after Francis clattered Alba), the ball is threaded through to Andre Gomes, who is making a diagonal run in to the box. Adán rushes out to claim the ball at his feet. 
43' Here comes the change. Vermaelen limps straight down the tunnel and Samuel Umtiti strides over the white line to replace him. 
42'   Javi García bundles Suárez over while the Barça striker tried to shield the ball. Suárez asks for a yellow card, which is not forthcoming. Frankly, García deserves a booking for wearing '3' on his back despite playing as a defensive midfielder. 
39'   Thomas Vermaelen has pulled up with a hamstring strain during a sprint with Tello. He looks knackered, and Umtiti is off for an urgent warm-up. That's really bad luck for the Belgian, who has been exquisite since coming in to the team a couple of months ago. 
38'   Gomes has clocked up four fouls so far. He's on a yellow and needs to watch his step. 
36'   Rakitic drags a left-footed shot wide. But he only had the space to do so because Andre Gomes had, illegally, blocked Fabián. Betis momentarily clear their lines with the subsequent free-kick, but Barça keep coming. 
35'   Ernesto Valverde stands on the touchline, hands in pockets. His side are in control. Barça are lacking that little bit of incision in the final third, though. 
33'   Nelson Semedo overlaps on the right, cuts back to nobody in particular, and Adán collects the ball. 
31'   Suárez picks up the ball on the edge of the box and pauses, assessing the situation and waiting for team-mates to get in to position. The Uruguayan eventually chooses to thread the ball to Messi, who hits the side netting with a first-time shot. 
29'   Messi drops deep and lays off the ball to Rakitic, before peeling off Durmisi and dashing in behind. Rakitic clips his pass a little too close to the touchline and Messi can't keep it in. 
27'   Adán plucks Rakitic's fizzing shot out of the air. Nicely hit by the Croatian, but comfortable enough for the 'keeper. 
25'   Sergi Roberto grimaces on the deck and holds his midriff after firing over the bar from close range. He beat two defenders on his way in from the right, but lost his balance at the crucial moment. 
23'   Tackles are beginning to fly in. Mandi on Suárez, this time. The referee keeps his cards pocketed this time. 
21' André Gomes is the first player to have his name scribbled in the referee's book. His crime was a flailing elbow planted on the face of Francis, as the pair went shoulder to shoulder on the flank. 
19'   Suárez, forever playing on the shoulder, steams through on goal until he realises that the linesman has hoisted his flag. Back at the other end, Piqué's presence on the ball is greeted by a thin smattering of whistles. 
16'   Roberto pauses on the edge of the box before laying the ball wide to Suárez, who chips a cross straight in to Durmisi's dish. Betis come forward, Joaquín loses the ball, and then Barça come back at them. The first quarter-of-an-hour has flowed delightfully. 
14'   Messi passes forward to Semedo, who has found a pocket of space on the edge of the box. The right-back looks slightly surprised to a) have the ball in that position and b) have enough time to do something with it. It all gets a bit too much and Semedo thwacks a shot over the bar. 
11'   Sergio León scampers forward and looks to square the ball, first time, to Tello. Vermaelen sticks a foot in to delay Betis's surge forward, but the home side keep the ball and work it out to Durmisi on the left. He shapes a cross to the feet of Joaquín, who fires over from eight yards. It was a good chance. But in his defence, it did bounce just before reaching him.
9'   Real Betis are squeezing Barça very high up the pitch. The risk, as they just found out, is that the visitors have plenty of space to run in to if they can pass through the first line of Betis players. Luckily for Setién and co., Andre Gomes is the player bombing forward and not Messi. The Portugual midfielder runs in to trouble, turns, and momentum is lost. 
6'   Joaquín gets involved for the first time and wins his team (it is literally his team, a quarter of it at least, thanks to his recent share purchase). The man himself delivers an inswinging cross, which a Betis player nods over. 
5'   Barça have set up with a loose 4-4-2 system. Roberto and Gomes are the nominal wingers, but really they're tucking inside and allowing Semedo and Alba to gun down the flanks. 
4'   'Oooof,' grunts the Villamarín in unison as Andrés Guardado rasps a low, left-footed effort just wide. Ter Stegen probably had it covered, but the shot had him flying to his left. 
2'   Good pressure from Luis Suárez forced Betis in to a self-induced pickle at the back, until Andre Gomes shoves Javi García off the pitch and concedes a foul. 
1' Peeeeep! Real Betis get the game underway and settle in to possession. 
The teams our out on the pitch and the niceties are out of the way. Here we go! 
The lights are out at Betis and the fans have all got their twinkling phone torches out. It's quite an atmosphere. 
A rumour that Barcelona certainly haven't denied is that Rafinha is on his way out of the Catalan club, with Inter Milan his destination. He's set to sign a €35 million deal with Inter.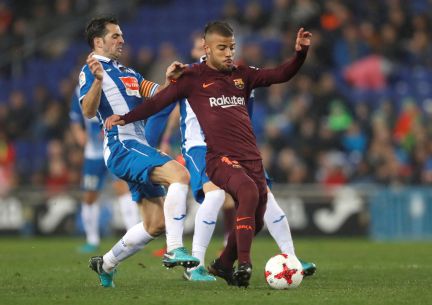 Barcelona took the unorthodox approach of officially denying a transfer rumour on Saturday. Read the full story here. 
Betis are aiming to beat their all-time record attendance of 55,500 this evening. With work to the south end of the Estadio Benito Villamarín completed in July, the stadium now has a capacity of 60,720. 
Joaquín will captain the home side this evening. The veteran winger recently spent over €1 million on shares in Betis, making him both the captain and the fourth biggest shareholder. The definition of a player 'absolutely loving it'.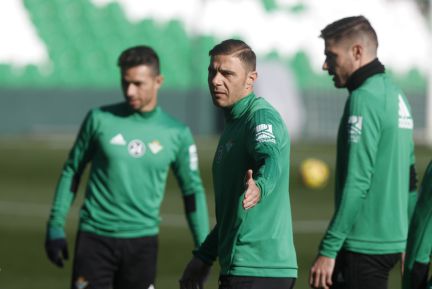 TEAM NEWS! 
Real Betis XI: Adán; Francis, Mandi, Feddal, Durmisi; García, Fabián, Guardado; Tello, Sergio León, Joaquín.
Barça XI: Ter Stegen; Semedo, Piqué, Vermaelen, Jordi Alba; Sergi Roberto, Rakitic, Busquets, Gomes; Messi, Suárez.
Hello and welcome to our coverage of Real Betis vs Barcelona. It promises to be a thrilling encounter with two of LaLiga's in-form entertainers coming together.