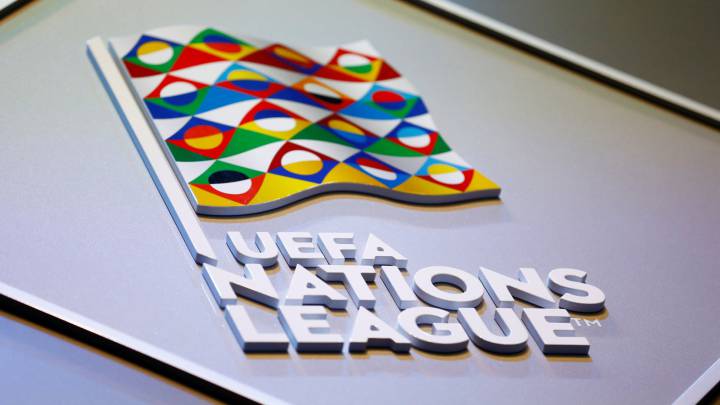 55 minutes were all it needed to allocate the 55 Uefa countries to their respective groups in the four Leagues that compose the new Uefa Nations League competition.
In top tier League A, Spain find themselves in a tough Group 4 where they will face England and Croatia with the winner heading to next June's Final Four to determine the winner of the inaugural Uefa Nations League. One of three will also find themselves relegated to League B for the second edition of the new competition.
Group of Death
League A also threw up the inevitable "Group of Death" with France, Netherlands and World Champions Germany drawn together in Group A.
Home nations
Both Republic of Ireland and Wales find themselves grouped together in League B with new Wales boss Ryan Giggs hoping to avenge the recent 0-1 defeat in Cardiff where a James McLean goal fired Ireland into a play-off place where they subsequently lost to Denmark. Ironically it's the Danes who complete Group 4.
Northern Ireland have been drawn with Bosnia and Austria in Group 2 (League B) with Scotland facing Albania and Israel in Group 1 of League C.
Uefa Nations League draw: as it happened
UEFA and the 55 nations will draw up the fixture schedule which is expected to be confirmed late today. Stay with us for reaction and fallout from the draw. 
Off we go with Netherlands being the first name out.... off to Group 1 for the Dutch. Iceland go to Group 2. Poland are in Group 3 and Group 4's first side are Croatia. Group 1 for France. Group 2 for Switzerland. Italy head to Group 3. Group 4 see England join Croatia. Finally .....Germany (Group 1), Group 2 ... for Belgium. Portugal Group 3 with Spain heading to Group 4.    
League A time ... the big guns as ex Porto, Barcelona and Chelsea star Deco will select the 4 groups with three teams who compose League A: 
Next out ... Ukraine (Group 1), Sweden (Group 2), Bosnia-Herz. (Group 3) Rep of Ireland (Group 4).... and the sides completeing League B are ..Russia (Group 2), Slovakia (Group 1)... Austria (Group 3) and Wales (Group 4)....
B time ... here we go ...Group 1 (Cz. Republic) Turkey (Group 2), N. ireland (Group 3), Denmark (Group 4). 
League C recap: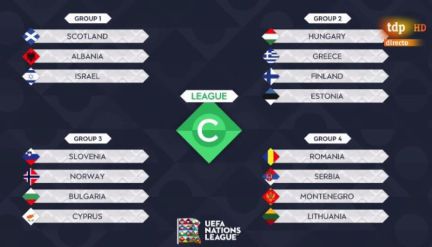 Next up: League B (we'll have 4 groups composed of 3 teams) 
League C time ... first out Estonia (Group 2), next up Cyprus (Group 3) ... then Lithunaia (Group 4) ...next up .... Israel (Group 1), Finland (Group 2) , Bulgaria (Group 3), Montenegro (Group 4), Albania (Group 1), Norway (Group 3),  Greece (Group 2), Serbia (Group 4), Scotland (Group 1)... Hungary (Group 2)... Slovenia (Group 3) and finally Romania (Group 4) .... that concludes League  C   
A League D recap  


Bling !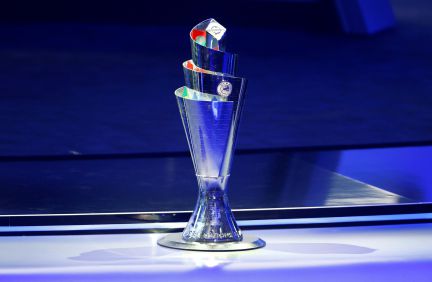 Next up League C 
Net out Kazakhstan (Group 1) Moldova (Group 2) Malta (Group 3) and  Liechensterin (Group 4)... Latvia (Group 1) Luxembourg (Group 2)..Faroe Isl. (Group 3) Armenia (Group 4)..Belarus (Group 2) ...Azerbijan (Group 3) ... Macedonia (Group 4)
San Marino next out and will play in Group B (League D) ...next out is Kosovo (Group C) and Gibraltar head to Group D. 
Ok. it looks as the preamble is over and it's business time .... League D is the first one to be drawn.... 4 x groups of 4 teams to be drawn now. First team out is .... Andorra
For political reasons neither Russia/Ukraine nor Armenia and Azerbijan can be drawn together.
Giorgio Marchetti (UEFA secretary) talks us through the ratioinale for the competition and explains the draw process.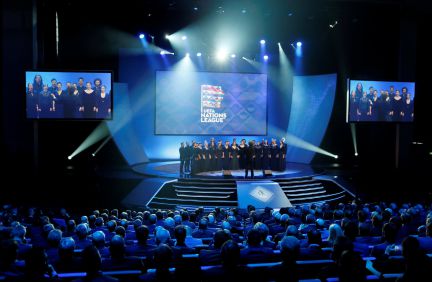 55 teams to be drawn today, buckle in as this will take a "wee while" ... Head of UEFA Mr.Ceferin appears on stage with the Nations League trophy and pretty smart it is too. (pic to follow)  
We're live at a packed Swiss Tech Convention hall in Lausanne as a local choir give us a rendetion of the official Nations League anthem...rousing stuff it is too! The always smooth and suave Pedro Pinto is our MC today... 
League D will feature the weaker sides in UEFA (Gibraltar, Faroe Islands, San Marino etc) We'll have 4 groups of 4 League D sides.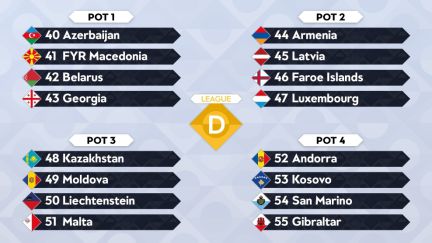 Scotland, Serbia and Norway are some of the League C sides and we'll have 3 groups of 4 teams and 1 group of 3 teams in League C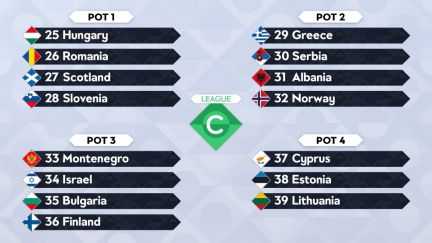 League B features the second tier of ranked sides in the current UEFA coefficient ranking and Ireland, Wales and Turkey are just some of the teams who will compose the 4 groups of 3 teams in League B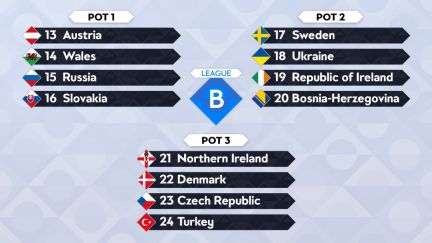 So who is in each League section ?  League A features the currently top ranked UEFA sides (Germany, Spain, Portugal ...) and we'll have 4 groups of 3 teams in League A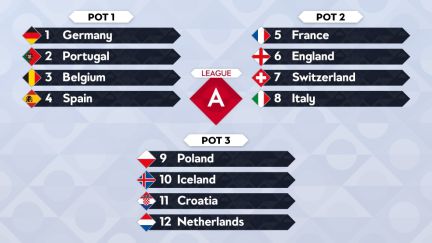 To be fair, apart from the complexity of understanding the competition mechanic and subsequent back-door procedure allowing 4 nations access to EURO 2020, the reaction in general has been postive towards the competition as it eliminates meaningless friendly games. How seriously national team coaches take the competition is another matter... 
Spanish journalist Roberto Gomez is a fan: "UEFA should be applauded for the creation of this new tournament"
Every Game Counts claim UEFA in the intro to the new competition. 
Director of AS, Alfredo Relaño gives his view on the new UEFA competition in his daily editorial feature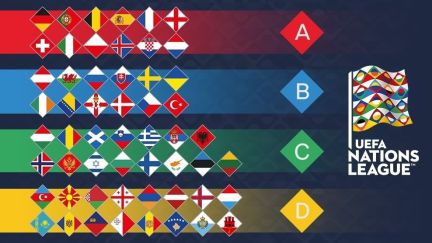 Now comes the more complex part.... how teams that fail to qualify for Euro 2020 through the traditional group process can do so via a "back-door" or play-off path with 4 spaces being available for Nations League sides who failed to secure a place.
make sense so far?
  There will be six matchdays staged from September 2018 through to November 2018 (dates normally reserved for WC or Euro qualifiers) with teams playing home and away. The winners of each League get promoted with the bottom sides being relegated. The 4 winners from League A go into a Final Four competition to decide the ultimate Nations League winner (these games will be staged in June 2019)....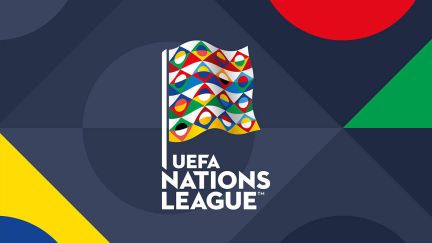 Ok.... this is how it works... there are two phases to the UEFA Nations League, the conventional and then the "back-door" route to a place at Euro 2020. Let's start with the competition.... There are 55 international teams within UEFA and are divided into four different leagues within the competition.


And here's our handy guide as how to follow the draw...
We do like the creative/design that accompanys the tournament!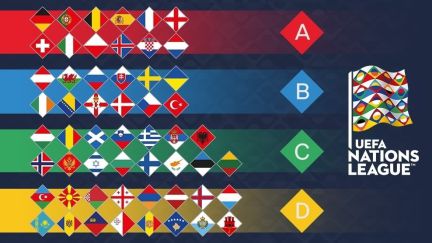 It's here!!! The new UEFA Nations League competition starts in earnest today as we have the inaugural draw for the first new competition in European international football. The draw starts at 1200 CET but we'll be building up all morning.
Uefa Nations League draw: preview
Hands up at the back who understands the new Uefa Nations League competition ? Ok, you're not alone but fear not AS English has been swotting up and can reel off by heart every detail and minor feature that constitutes Uefa's latest international football brainchild.
First things first.... this is not a bad initiative. International games have been losing their sheen for some time now and the average fan's appetite was waning somewhat with qualifying groups being marauded through by the perennial big seeds and in between international friendly games that really failed to crank up the enthusiasm level.
Enter the Uefa Nations League a competition which as European football's governing body claim: Is a new competition that aims to ensure the continued success of national team football by replacing most friendlies with competitive matches and by allowing all nations to play against equally ranked teams.
We'll go into more detail on the structure, format etc during the course of the morning but in the meantime, here is a brief 2 minute video is an ideal introduction to the tournament.