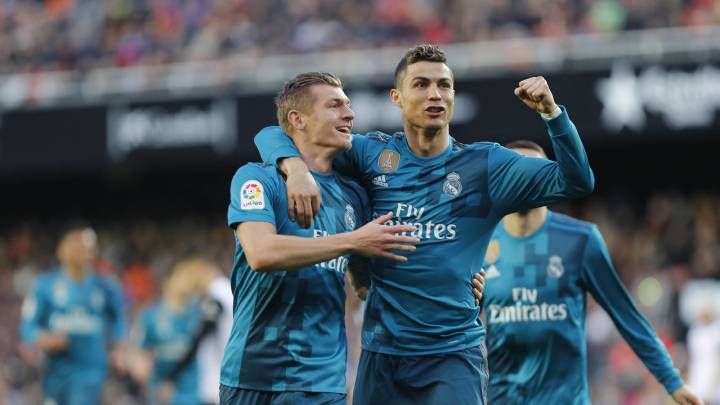 Valencia 1-4 Real Madrid: match report
Zinedine Zidane told reporters at his press conference on Friday that his team would lift themselves out of their recent slump. The skeptics in the crowd were excused for wanting to wait until Saturday afternoon to decide if they would believe him as they wanted to see with their own eyes what would happen next.
What did transpire at the Mestalla was a comprehensive scoreline but a far less convincing performance as a pair of Ronaldo penalties in the first half put the game out of Valencia's reach before the break despite their second half push for parity.
Martín Montoya lunged at Cristiano Ronaldo in the penalty area after a slick counter that saw Marcelo and Karim Benzema combine to tee up the Portuguese. The referee pointed for the penalty spot and Ronaldo rolled it home.
Montoya was on the wrong side of another decision in the penalty area on 38 minutes when he jumped into Benzema's back as the striker jumped to head the ball at the back post. The referee's decision was the same and ditto outcome from Ronaldo's spot kick. For as clumsy as Montoya was, Ronaldo was equally clinical with his execution.
Valencia responded after the break and got their reward when Santi Mina headed home from a corner after a period of sustained pressure on 58 minutes. That pressure was about to reach breaking point when Real Madrid started to slowly turn the tide.
Marcelo put the game beyond Valencia when he linked well with Marco Asensio on the left before driving low and hard beyond Neto, who might have hoped to do better at his near post.
Kroos put a nice lacquer on the scoreline when he curled home after a nice combination with Mateo Kovacic to make it 4-1.
Zidane had to prove to Real Madrid's bosses, the players, and maybe as importantly, himself that he could stop the recent rot. He did just that regardless of the performance as Real Madrid on to Levante away from home next week as the PSG showdown creeps ever closer.
Valencia vs Real Madrid live stream online: updates
90'+3'   Referee blows full time as Real Madrid win all three points! Not an overly impressive performance but Zidane needed those three points. 
90'+1'   Three minutes of added time.
90'+1'   A formality now at this stage.
89' That's four for Real Madrid! Toni Kroos curls home from outside the box. Really slick move in the end. Kovacic with a beautiful pass with his heel to the German. Lovely finish.
89' Kovacic coming on for Modric.
88' Real Madrid last change coming up.
87' Frustrated  tackle by Parejo in the end on Casemiro.
85'   He has a word with the referee but quite obvious really.
85'   Zaza through on goal but he used his hand to bring it under control.
85'   Asensio and Marcelo link up quite well. 
84' Marcelo with a goal to finish it! That's surely it.
83'   Modric to Ronaldo and he blazes over with the help of a deflection. Corner.
81'   Garay with another foul. This time on Modric.
81'   Pereira fouls Vazquez after losing out. 
80'   Ronaldo with a free from miles out and goes straight over the bar.
79'   Ronaldo fouled by Garay. Real Madrid in no hurry with this one. 
78' Asensio coming on for Benzema.
77' Andreas Pereira replaces Toni Lato.
76'   Varane tries a clearance under pressure from Zaza and it flies up to Navas. Mestalla wants a backpass but not doing and would have been harsh.
75' Zaza replaces Rodrigo.
75'  Varane with another foul. 
73'   Zaza is coming on for Valencia.
73'   Casemiro gives it away and Valencia break. Very close to getting a shot away in the box. 
72'   Real Madrid capable of taking the ball out from the back now. It was all one-way street. 
71' Carvajal fouls now and gets a yellow. Gaya the man who was fouled. Parejo ready to throw it into the box.
69'   Rodrigo offside again.
69' Vazquez replaces Bale.
69'   And then Soler is fouled in the centre.
68'   Bale with a lovely move that took the ball past the defender. He crosses it to Ronaldo and he misses. 
68'   Lucas Vazquez getting his last instructions. 
67'   Soler with a shot into the air with a shot now. Valencia building here.
67'   Offside for Rodrigo but he struck and it was close. 
66'   Parejo with an effort that almost beats Navas but he saves with his foot. That was so, so close to the equaliser.
66'   Benzema with a foul now and they are starting to look more nervous.
64'   He didn't intentionally strike towards his own goal! It was a clearance.
64'   Nerves at the back by Real Madrid as Nacho strikes towards his own goal but it goes out for a corner. 
63' Varane with a handball and he is booked. Valencia players talked him into that.
62'   Gaya strikes now as it's pulled back to him by Soler. Dodgy effort really as it goes well wide.
62'   Kroos wins a corner for Real Madrid. Ball falls to Bale and he hits it over the bar as he was falling backwards.
62' Gaya booked for the needless tackle on Varane.
61'   Varane down with a knee injury. Bad tackle from Gaya.
61'   Marcelino points at his head and tells his players to keep them!
60'   Varane down injured now. 
59' Santi Mina with the goal from the corner. Headed home. 
58'   Corner for Valencia after a good break. Montoya with the cross. 
57'   Ronaldo could be injured here as he walks very slowly back up the field.
56'   Ball comes in again and Valencia want a penalty but ref nods his finger. Looked tame really.
55'  So close but it dribbles across goal as Real Madrid survive a scare. 
54'  Benzema drives a left-footer towards goal.
53'   Gaya hits the deck as he gets an elbow from Casemiro. Nothing more than an occupational hazard really.
52'   Bale booked for having a word with the linesman. He thought he won a throw but linesman goes the other way.
50'   Soler with a cross but Navas grabs it as it drops short.
49'   Mina wants a penalty but no chance whatsoever. Casemiro just uses his body to get across the attacker.
49'   Vietto and Zaza are warming up.
48'   Varane fouls Mina.
48'   Some confusion at the back for Real Madrid before Modric breaks and passes to Ronaldo but far too much for him to do.
47'   Valencia need a response.
46' Carlos Soler comes on for Guedes.
46'   Real Madrid get us underway after the break. 
Teams emerge back onto the field. Real Madrid first as Valencia wait to make sure they're all there.
Real Madrid with 64% possession and both sides with five efforts at goal! Really balanced game if it wasn't for Montoya's two fouls for the penalties.
45'+1'   Guedes with an effort that rolls across the goal and is saved by Navas. And to add to Valencia's complaints, the referee blows the whistle before they get the chance to take the corner.
45'+1'   Mina fouled a couple of time by Nacho and eventually the ref blows. Valencia players absolutely livid that Nacho wasn't shown a yellow card.
45'   One minute added on. I don't want this half to end. 
44'   Mina sends a ball across the box. What a chance as Rodrigo tapped it over. That should have been 2-1. 
44'   Handball by Rodrigo now at the edge of the penalty box. Mestalla really not happy with the ref.
43'   Guedes and Nacho collide now down the right. Great game, it has to be said! 
42'   Casemiro wants a yellow now for a dive by Parejo in the penalty are. Quite clearly a dive. 
40'   Ronaldo fouled outside the box but the ref doesn't give it. Shot flies in and it's just wide! 
39'   Mestalla are really not happy but Montoya jumped into his back.
38' Ronaldo buries it! 
37'   ANOTHER PENALTY! Montoya jumps into the back of Benzema. 
36'   Casemiro gets the ball now as he tackles Mina from behind but ref says it's okay. Play continues as Valencia continue to put pressure on the visitors. 
35'   Santi Mina fouls Varane as the ball flies into the back post. 
34'   What a chance! Navas misses it at the back post and it's crosses back in by Garay as Kondogbia misses! It went out before Garay crossed but Mestalla holding their breaths.
33'   Valencia try to build something. Just under 15 to go until the break. Gaya wins a corner.
33'   Kroos fouls Kondogbia after Real Madrid give the ball away again in the middle of the field.
31'   Cross comes in from the left by Lato after he got the ball from Gaya. Goes behind the goal as Marcelino applauds the effort.
31'   Neto punches away. 
29'   Bale on the left now and crosses. Corner Real Madrid!
28'   Kondogbia rises highest and nearly gets a head to it. He can't direct it towards goal but that was close!
28'   Varane fouls Guedes and no yellow. Would have been very harsh but the Mestalla are baying for one.
28'   Ronaldo through and strikes with his left but so, so tame. Really good chance to make it two there. Neto really comfortable.
27'   Parejo sends a cross in that Navas gathers.
26'   Ronaldo being fouled and then throws two elbows as Valencia win a free. 
25'   Game is living up to its billing, that's for sure!
25'   Valencia defending against as Ronaldo cuts inside and shoots. Garay takes it in the chest and puts it out for a corner.
24'   Kondogbia with a dummy that sends Casemiro flying! He dummies again and then shots as Navas is forced into a good save.
21'   Marcelo turned upside down and ref says Valencia got the ball. They try to break but nothing doing before Real Madrid counter their counter.
21'   Guedes now with the ball and he sends it to Lato and the ball inside to Rodrigo. Shot! Blocked and comes back out before some confusion that ends with Parejo losing it in the box and Benzema being fouled.
19'   Ronaldo with a lovely flick to Bale and out to Carvajal. Marcelo outside the penalty area but no room for a shot.
17'   Ronaldo with a foul now in the box after he chested it down and tried to get a shot away. Valencia try to break fast.
15' GOAL! Ronaldo slots the penalty home.
15'   PENALTY! What a counter-attack. Ronaldo passes to Marcelo and he plays it to Benzema and he plays it back to Ronaldo. Montoya with a dreadful tackle.
14'   Valencia on the ball. They win a corner now. Real Madrid with a problem just in front of their defense. Casemiro with a couple of fouls and all sorts of room in that area.. 
13'   Benzema with a giveaway now and Casemiro almost fouls Mina, it was close, and Valencia win a throw. 
12'   Modric to Bale and then Carvajal before Bale gets it back and sends it across to Marcelo. Ball lobbed towards Benzema in the end and Neto gathers. Close call.
10'   Guedes drives forward and Casemiro fouls him but ref plays on. Then Kroos gives it away and Rodrigo drives a shot over the bar.
9'   We are back underway and both Neto and Garay okay to continue. 
8'   Garay down now and this could be trouble for Valencia. They have no defenders left almost with Paulista and Veto out suspended. 
7'   Ronaldo onside and Garay and Neto collide as the ball breaks to Bale and he slices it off his foot and it's saved.
6'   Ronaldo down holding his thigh. Dead leg possibly but he is back up again.
6'   Bale with a nice cross. Headed away and Valencia and they cause confusion. Navas out to collect but Varane picks it up and has his clearance blocked and the same just after that! Navas didn't know what happened.
5'   Marcelino all the way back to Navas from almost midfield. Real Madrid playing the patient game.
4'   Marcelino run brought to a halt. Real Madrid win it though. They circulate it and probe Valencia for a weakness in their defensive set-up.
3'   Kondogbia fouls Casemiro after he lost out. Looked very harsh.
2' Marcelino wins the ball back and tries to start an attack but that comes to an end. Mina out on the left now as the game starts to take a little but of shape. Frentic start prior to that.
We are underway!
    Massive game and you can almost feel the tension! Valencia sense they can land a blow to Real Madrid that could potentially throw their season down the drain.
Real Madrid in their green strips as they shake hands with their opponents! 
The venue for today's action. Wow!

And nine from the side that were beaten by Leganés during the week. Isco and Ramos out injured but you'd struggle to see Isco in the side even if he was fit. 
Zidane with one change from the side that beat Deportivo la Coruña last weekend. Benzema replaces Borja Mayoral.
Marcelino has made seven changes from the side that beat Alavés on penalties in the Copa during the week. He makes four from the side that lost to Las Palmas in the league last weekend. Two of those are enforced with Coquelin playing centre-half alongside Garay.
All smiles as Valencia warm up at the Mestalla. Not too full yet but I'm sure that will change very soon. 35 minutes to kick-off!
Santi Mina has seven goals in LaLiga this season as a seb mostly but he has broken into Marcelino's plans with three starts in the least three weeks! He will be very important tonight for Valencia in the absence of Zaza.
Valencia will play Real Madrid, Barcelona, Atlético Madrid and Barcelona again in the 2nd leg of the Copa over the next two weeks. That will go a long way to defining their season.
And Mina is scoring a goal every 106 minutes.
Zaza, Rodrigo and Mina have scored 12 more goals in LaLiga than the BBC so far this season. 
  As Marcelinos suggested yesterday, Zaza rested as Mina and Rodrigo start. Coquelin starts at centre-half  with Vezo and Paulista out.

Valencia XI: Neto, Montoya, Coquelin, Garay, Lato, Guedes, Parejo, Jondogbia, Gaya, Mina, Rodrigo.
A massive blow is the absence of Isco and Ramos as Isco could have what it takes to turn the tide from the bench even though he wasn't starting recently. Ramos' absence just makes options very thin. Achraf is out of the squad and Nacho, who is Carvajal's usual back-up will have to play CB so an injury anywhere across that back line and Real Madrid could be in trouble.
The issue for Zinedine Zidane is results. He needs to be able oto show everyone at Real Madrid that he can stop the rot! If he doesn't show that today, you would have to genuinely fear for his job even before the PSG game.

Real Madrid XI: Navas; Carvajal, Nacho, Varane, Marcelo; Modric, Casemiro, Kroos; Bale, Benzema, Ronaldo.
Hello and welcome to our live stream online coverage of Valencia vs Real Madrid in a game that could have many consequences and just as many rewards. Join us for the build-up and live coverage with kick-off from Mestalle at 16:15 CEST.
Valencia vs Real Madrid live stream online: preview
The pressure is on Zinedine Zidane. The Frenchman's task now is to arrest Real Madrid's decline and prove to the people at the top of the club that he can fight back against poor form and low confidence. He says the PSG game will decide his future but it could be decided before that if he shows himself incapable of showing signs of improvement.
Valencia visited the Santiago Bernabéu at the start of the season and before we knew how good Marcelino would make them so quickly but are the hosts today and will feel like they can get three points against their struggling rivals. Zidane has guaranteed a response as madridistas around the world wait for his promise to come through.
They do have the small matter of Barcelona in the Copa semi-final on Thursday but they will also be aware that a win at the Mestalla on Saturday afternoon will solidify their place in the top four and put Real Madrid in serious danger of missing out.
Marcelino says he will play Francis Coquelin at centre-half as he is the best option given Gabriel Paulista and Ruben Vezo's suspensions. Los Che have tried to overturn the Vezo's ban until the last minute but it appears as though they will be without the defender.
Real Madrid were dealt a blow with news that Sergio Ramos and Isco are out with injuries - soleus and a hip impingement respectively - and are thin in the ground in defense and attack. Ronaldo and Bale are back even though Ronaldo's record away from home is becoming a problem. They missed the Copa quarter-final defeat to Leganés midweek and the bbC could be set to start in a must win game for los Blancos.