Saudi players Salem and Jaber unveiled at Villarreal
Villarreal unveiled Saudi players Salem Al-Dawsari, who joins the first team squad, and Jaber Eissa, for the B team: "Being in Spain is a dream" both concurred.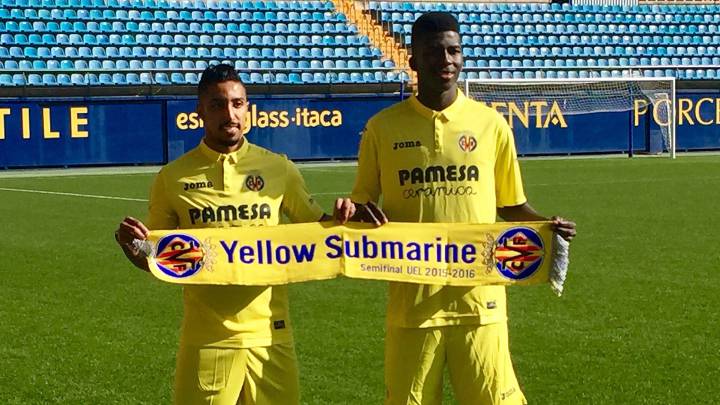 Villarreal unveiled Saudi Arabia international players Salem Al-Dawsari and Jaber Eissa this afternoon - the former will be incorporated directly into the first team squad while Jaber will play for the B team. Both players concurred that it's a dream move for them to play in Spain and have the chance to stay here to continue their careers, and added that they have been given a great welcome.
Club president Fernando Roig welcomed right winger Salem and midfielder Jaber on board:
Roig: "Salem is a player with quality who we have followed both on video and by watching him directly in person. We think he is a suitable addition to the squad who can help us in this second half of the campaign".
"Primarily this is a sporting investment. It could lead to other extras in the future but first and foremost it's a sporting decision. We know that it's not going to be easy because both players have arrived at the halfway stage of the season but we are confident that both can play a good role for us".
Salem: "It's a dream; I'd love to stay in Spain with Villarreal"
Happy: "I'm very pleased, it has always been my dream to be able to train and play at a club like Villarreal. This is a great opportunity, I feel very happy and pleased with my new team mates and with the coach. It's a dream which I want to prolong - I'll work hard and battle to try and stay here".
Chances of playing in LaLiga: "I tried three times to come over to play in Spain but it didn't happen; this time it's been possible and I couldn't be happier. I am realizing my dreams and I think I can keep developing as a player and get to play with the first team".
Characteristics: "I am comfortable playing on either wing, and I also enjoy playing through the middle; I'm very much a team player and I look to create danger in attack. As always it will be up to the coach to decide where I play best; I am learning a lot here".
Reaction back home in Saudi Arabia: "It's a dream to be in Spain - including for those in the Middle East and particularly for those in my country - it's a dream for them to see us here. For us this is a great Liga, with a team who have been world champions - it's a wonderful opportunity and makes all of us feel very proud. The fact that we are here shows a lot".
Villarreal, a great club: "I really like the way they do things here, I like the way they work, the way training is structured and the way that they treat everyone as part of the club. Even before I came here I knew that Villarreal was a club which does things the right way and now I can see it for myself and experience it every day. That's why I would like to thank all of the people who have welcomed us on board".
Ambitions: "I'd like to be famous in Spain, show quality out on the pitch and show who Salem is to the rest of the world".
Jaber: "Hopefully I can stay here"
"It's a dream to be in Spain and at a club like Villarreal. I feel very secure and completely at home here - just as if I was back in my country. I hope I can use this time to learn as much as I can and if possible, perhaps even stay here. I would like to stay here, it would be fantastic is I could spend the rest of my career playing for this team".