Barcelona 1-0 Valencia Copa del Rey semi-final: match report
A second half Luis Suarez header seperates Barcelona and Valencia as they head to the Mestalla next Thursday to settle their Copa del Rey semi-final. USA vs Mexico: FIFA Friendly live online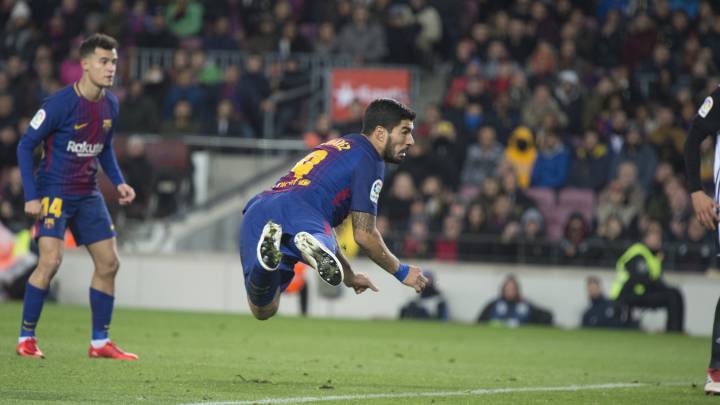 Barcelona 1-0 Valencia: match report
Luis Suarez headed in the only goal of the game as defending champions Barcelona edged Valencia 1-0 in their Copa del Rey semi-final first leg at a half-full Camp Nou on Thursday.
Barcelona, the record 29-time winners of the tournament, are attempting to become the first team to lift the cup four years in a row since Athletic Bilbao in the 1930s.
But they were forced to labour against a Valencia team missing a trio of key players -- Goncalo Guedes, Geoffrey Kondogbia and Ezequiel Garay -- through injury.
Barcelona dominated possession but had to wait until the 67th minute for the breakthrough.
Not surprisingly, Lionel Messi was the man who unlocked the Valencia defence before setting up Suarez.
The Argentine danced his way into the penalty area before a deft left-footed chip left three defenders out of position and allowed Suarez to score from the edge of six-yard box with a diving header.
Thursday's tight affair was dramatically different to the last time these two teams met at the same stage two years ago -- Barcelona won 8-1 on aggregate following a 7-0 win in the first leg.
Barcelona vs Valencia live stream online: as it happened
90'+3' That's it from the Camp Nou.
90'+3'   Ball sent into the box. One last chance for Valencia and Mina heads it well over. Great chance at the death.
90'+3'   Messi strikes but Jaume saves it on the line. 
90'+2'   Paulista goes in on Suarez and bundles him over. Chance for Messi to take again now as time nearly expires.
90'+1'   Three minutes of added time.
90'   Santi Mina tries to go around Cillessen as he rushes out of his box. He almost does too but wins a corner.
89'   Vietto sets Parejo away, slip and Mina nearly picks it up but he can't as Piqué recovers. 
88'   Valencia running out of steam.
87'   Maksimovic pushed over a camera man by Umtiti. He sent him flying and no free. Ref has a word with Marcelino, who wasn't happy with the decision.
85'   Messi fouled in the build-up too.
85'   Messi shoots after Barcelona win it and break! Wide and he was pushed as he shoots. He wants a free but nothing doing.
84'   Messi  Messi wins a free and plays it to Sergi Roberto down the right. Barca work it into the penalty area and Suarez picks out Messi, who loses control and it rolls out for a goal-kick. Not very often you write that.
82'   Vietto sliced down by Busquets.
81' Rodrigo replaced by Santi Mina.
80'   Rodrigo robbed in the corner by Messi. He is dispossessed again though as he moves towards goal.
80'   Alcacer with a really nice strike and excellent technique as Jaume palms it over.
79'   Messi drives forward and slightly out to his left at an angle. Shoots and Montoya blocks it.
79'   Ferran Torres with a foul on Busquets. He was away if the ref didn't blow that.
78'   Messi with a dangerous ball in behind the back. Jaume too far away to commit and Montoya leaves it to go out. Alba nearly sneaks in around the corner to send it home. Goal-kick.
77'   Messi fires over the bar. Jaume had it covered in any case but it was close.
76' Soler off for Ferran Torres.
75'   Coquelin fouls Messi. He didn't mean it but Messi just too hard to defend again. Messi with a free.
74'   Coutinho tries to bend one around Jaume. He forces a good save from the keeper.
73'   Dangerous. Ball comes in from the right from Sergi Roberto and it nearly falls to Suárez twice! He ends up on the ground and Valencia clear as they squeeze him out.
72' Iniesta replaced by Paco Álcacer.
72'   Chance. Coquelin sends one towards goal and it loops over and onto the top of the net.
71'   Vietto again with a poor pass.
69'   How do Valencia respond is the next question. Messi cushions a header to Suarez and he loses out. Close again for Barcelona.
68'   That goal was only a matter of time really.
68' Rakitic replaces by Paulinho.
67' GOAL! Suárez with the goal. Messi down the endline and crosses with a chipped pass.
66'   Vietto in a nice position on the right. He crosses straight to Cillessen. Madre Mia!
65' Suárez fouls Vezo as he turns the defender and makes his way towards goal. He did play the man.
64'   Rakitic fouled by Gaya.
64'   Suarez involved in a bit of a shouting match as he pushed Vezo in the back as Jaume gathers a through ball.
62'   Comes straight at Jaume and he opts to punch it away with two fists! Valencia break and Maksimovic eased off it by Sergi Roberto.
62'   Messi thrown to the ground as he tries to go around close to five Valencia players. Rodrigo fouled him with a push in the back.
62'   Messi with a nice run and the ball gets sent out to the left before it's crossed in and Coutinho with a nice stepover. Close as Jaume punches clear.
60'   Rodrigo wants a free for a foul, he says, by Rakitic. Referee says he got the ball.
59'   Vietto looks for a way through but there's about four Barcelona defenders to get by. Valencia continue to improve.
58' Vidal off for Coutinho.
57'   Soler wins a corner. Valencia looking increasingly dangerous.
56'   Here comes Coutinho. Getting his last instructions.
56'   Maksimovic breaks clear. He's through and then tries to pull it back but he ran out of steam! Piqué clears.
54'   Cross cleared and comes back in by Jaume equal to it with Umtiti lurking.
54'   Coquelin heads out for a corner. Nou Camp singing now as they want a goal.
53' Soler fouls Iniesta again. Two fouls in about 30 seconds. Soler booked.
53'   Iniesta fouled but advantage played. Barcelona looking to catch Valencia out.
52'   Parejo gets a strike off after a nice move involving Rodrigo and Montoya. Cillessen saves it.
51' Now Vietto is booked for getting lippy!
51'   Much better from Valencia, who manage to string a few passes together. Montoya loses out before Coquelin is pushed in the back by Aleix Vidal.
49'   Dangerous cross comes into the Barcelona box now and Vietto chases it down by Alba comes across and saves the day.
48'   Messi pushed in the back as he drives forward in the penalty area. Soler the culprit but Messi keeps moving forward. He drives the shot into the side netting.
47'   Valencia start better in this half but just as I said that, Parejo drives a shot into the air. Not even sure that was a shot. It might have been a cross.
46'   We are back underway to see if Barcelona can finally break down Valencia and if Valencia can withstand the pressure!
Maksimovic replacing Andreas Pereira.
Marcelino has Zaza on the bench but taking off Vietto now would absolutely destroy whatever bit of confidence he has left.
Valencia have to do something to arrest the pressure Barcelona have been applying on them. They can't sustain this for another 45 minutes, surely. A 0-0 draw looking like a very good result as things stand.
45'+1'   That's it for the first half.
45'+1'   Right at the end of the half. Montoya gets it at the edge of the box and catches it lovely on the half-volley. It goes wide! Their first even half-decent effort.
45'   Suárez goes in on Vezo with a bit of a kick at his trailing leg. Paulista had reached for the ball and might have hurt himself too. Valencia's central defenders being held together by glue at this stage.
43' Vietto will be lucky to see the second half.
41'   Messi up and swings in the cross. Looked more like a shot as he tried to take advantage of the one-man wall. Jaume saves.
40'   Suárez hits the ground in the box and off the ball as Paulista shoulders him off the ball. Nothing in that.
40'   Andreas Pereira with a yellow now for a nasty challenge on Messi that gets the Camp Nou off their seats. They're not happy.
39'   Ball makes it way back out to Iniesta on the left. His first effort is blocked and he drives a shot across the mouth of the goal but Suárez is just a few inches away from getting something on it and turning it home.
38'   Suárez holds off a defender and lays it off to Messi. His shot is blocked.
36'   Messi out to Rakitic and he crosses. Headed away.
35' Sergi Roberto gets a yellow for somewhat of a lunge on Pereira. Valencia try to break and Roberto fires himself into the tackle. Nasty one.
33'   Jaume grabs a Vidal cross and falls to the ground. He takes his time too. Valencia need a break and to get their heads screwed on. Suárez prevents a goalkick from a pass in behind. 
33'   Messi cross and Vezo heads away but Barcelona win it back.
32'   Nope. Another dispossession and Valencia conspire to mess it up. They've completely forgotten how to play with the fall at their feet.
30'   Some confusion in midfield for Barcelona as they give Valencia the chance to attack but the visiting side can't take that opportunity. 
30'   Gaya heads out for a corner.
30'   Backs to the wall stuff here for Valencia. Vidal crosses and another clearance. They pick it straight back up and drive forward again. Cleared, rinse and repeat.
29'   Coquelin penalised now for a foul on Suárez.
28'   Suárez with a shot. Wow! That went a mile high and wide. "Got his angles wrong" is the cliche, I believe. His protractor was broken completely, I'd say.
27'   Piqué penalised for a hand on the shoulder of a Valencia defender. It was Paulista he was said to have fouled. Valencia with a breather.
26'  Messi out wide to Iniesta and he clips it into the box. Corner.
25'   Messi with a lovely through-ball and Suárez nearly gets there but Valencia put it out for a corner. They clear that too but Barca back on the ball.
24'   Valencia with a rare chance to break and Vietto with a dreadful pass to Pereira and the lose out again.
23'   Valencia win a free. Alba fouls Soler.
22'   Messi and Alba link up. Alba plays it to Vidal but he stole it off him and moves towards goal and his touch takes it away from him!
21'   Barcelona keep possession but it goes all the way back to Cillessen and they start again. Very lively spells but also quite cagey and tame at the same time. Strange start to this one. Valencia giving up possession and have given up very few good chances.
19'   Some serious pressure from Barcelona now but no shot. Alba clips one in from the left and it's half-cleared and then Rakitic gets it on the right and he directs it into the danger zone but Valencia scramble away. Barcelona might be getting closer here...
17'   A misplaced pass gifts the ball to Valencia and Parejo throws it in behind for Soler to chase. He has Alba for company and no way he wins that race. Barcelona build again.
15'   Pereira wins a throw. Gaya takes and Vietto is offside after it's clipped his way.
14'   Nice ball in from Messi into Suárez but Vezo recovers and puts it out for a throw. He's limping now, which might be bad news, but he looks to be okay. Jaume punches it out to Vidal and he strikes well over the bar.
13'   They play the corner short and Soler's cross is put out for a throw. Pointless really as they then lose out after the throw. Barcelona back on the ball. 
12'   Vietto gets goalside of Umtiti and crosses first time. Piqué has to clear for a corner for Valencia.
11'   Soler with a nice move to pull the ball back as Iniesta crashed into him and concedes the free. 
10'   Barcelona with 77% of possession so far. 
9'   Corner Barcelona as Messi makes a move towards the endline. Montoya puts it out.
8'   Pereira needs to be careful. He goes in on Roberto again with his studs up! Ref tells him to calm down. Silly and needless tackle.
7'   Vietto with a curling pass into the path of Rodrigo but Cillessen off his line and clears. Nice ball and move from Valencia but quick thinking from the keeper too.
6'   Valencia continue to soak up pressure. They are struggling to hold onto it for even a couple of second. Barca don't look that dangerous but that can change in a heartbeat as we know.
5'   Sergi Roberto fouled by Andreas Pereira as Valencia try to build an attack. 
5'   Valencia under pressure here! They can't get the ball out of their half.
4'   Shot? Cross? Either way, it was tame. Iniesta knows it too.
3'   Suárez on the left, plays a ball out wide on the right to Sergi Roberto and he passes to Iniesta. His shot is easy for Jaume though.
3'   Messi pulled back but ref plays advantage and he looses out. They win it back eventually and Busquets plays it to Messi. He drives a shot well wide and off target. 
2'   Cleared but Barca continue their attack and camp out now to start in Valencia's half.
1'   Early misplaced pass by Valencia sees Suárez drive towards goal on the break but he turns back. Barcelona sustain their attack though. They win a corner through Sergi Roberto's blocked effort.
1'   We are underway! 
Handshaking now as a formality. Barcelona looking to add Valencia to the list of teams they have beaten in the Copa this season that includes Real Murcia, Celta and Espanyol.
Shoutout to the Barcelona grounskeeper! That grass looks perfect. 8 degrees and rain expected tonight, which will help with the slickness of it too. 
  Jordi Alba rested and ready for this one is a boon for Barcelona. Valencia will have to do everything they can to prevent the Messi-ALba link down the left.
We are at the Camp Nou as the players are getting ready to emerge onto the field.
To be fair to Neville, that game came after he had just drawn with Barcelona 1-1. 

Of course, in that game, Barcelona won 7-0 with four from Suárez and the triple from Messi. 
Messi's 25 goals against Valencia make them Messi's fourth favourite victim. Sevilla, Atlético and Real Madrid are the top three. Has has also scored a hat-trick in the exact same game two years ago. 
Vietto looking to improve his record against Barcelona tonight. He has played eight, lost eight and scored one goal against them.

Barcelona trying to win their fourth Copa del Rey in a row. Valencia trying to win their first since 2008.
    Also, Andreas Pereira starts up on the right in place of Guedes and Soler too.
For Valencia, Zaza is on the bench with Luciano Vietto starting up front! He hit a hat-trick in the Copa in his debut with Valencia.
    Jordi Alba and Sergi Roberto are back to after being rested at the weekend, which gives Barcelona a massive boost all over the field.
So, there we have it, Coutinho starts on the bench as does Yerry Mina as Aleix Vidal starts in midfield. 
  Valencia team news: Jaume, Montoya, Paulista, Vezo, Gaya, Soler, Parejo, Coquelin, Pereira, Rodrigo, Vietto.
  Barcelona team news: Cillessen, Roberto, Piqué, Umtiti, Alba, Busquets, Iniesta, Rakitic, Vidal, Messi, Suárez.
Hello and Welcome to out live online coverage of Barcelona dn Valencia from the Camp Nou in the Copa del Rey semi-final. Kick-off is at 21:30 CEST.
Barcelona vs Valencia live stream online: preview
Barcelona welcome Valencia to the Camp Nou on Thursday night - kick-off at 21:30 CEST - as their dreams of a treble remain in tact along with their dreams of a fourth Copa title in a row. Valencia, who pushed Valverde's side early in LaLiga until a recent fall-off in form, have improved immensely under Marcelino in his first year in charge and this is their only real chance at a trophy this season.
Not since 2008, a decade ago for those counting, have Valencia won the Copa del Rey. They beat Getafe that time with goals from Juan Mata, Alexis and Fernando Morientes. There are genuine hopes that Valencia can return to the heady days of the 00's under Rafa Benítez, and less so Ronald Koeman, when Valencia were heavyweights in Spanish football. Gabriel Paulista returns for los Che after missing the game against Real Madrid at the weekend as does Ruben Vezo to help their defense. Ezequiel Garay, Gonçalo Guedes and Geoffrey Kondogbia all miss the trip up the coast as Marcelino's side improve at the back but miss two of their more impressive players further up the field.
Phillipe Coutinho and Yerry Mina are in the squad for Barcelona as is Denis Suárez, who replaces Andre Gomes, along with all the other usual suspects apart from Thomas Vermaelen and Ousmane Dembele.
It will be interesting to see how Valverde's side face the opening leg with Valverde keen to keep a clean sheet and to score in the first leg. An away goal for los Che could is almost necessary but the risk of pushing too far forward has scalded plenty of visiting sides in the past.