Levante 2-2 Real Madrid LaLiga: match report, goals, action
Goals from Ramos and Isco to put Real Madrid 1-0 and 2-1 up were not enough to kill off a spirited Levante side as los Blanco drop more points in LaLiga.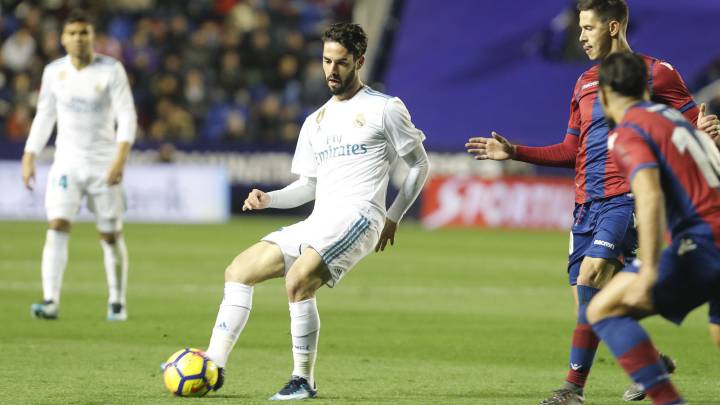 Levante 2-2 Real Madrid: match report
Real Madrid were pegged back in either half as Levante take two points off their Saturday night guests in games at home and away in the league this season and for the first time in their history.
Zinedine Zidane made a statement in his winter recruitment policy. He was sticking with what he had and it was up to them to get them out of the hole they had dug themselves in LaLiga.
With shovel in hand, they dug a little deeper on Saturday night when they were twice pegged back from winning positions as the game's final goal saw debutant Giampaolo Pazzini slotting under Keylor Navas as the Levante bench emptied to congratulate their new recruit.
The returning Sergio Ramos headed home to give the visitors the lead after 11 minutes and Real Madrid continued to pressure their opponents without ever truly troubling them. It wasn't until half-time was in sight when Levante started to grow and Real Madrid started to wilt. That culminated with a Emmanuel Boateng goal on 42 minutes with Zidane's side well and truly stunned.
All the hard work they had done to squeeze the fight out of Levante undone and they'd have to start all over again in the second half.
They did just that and it took its toll. Modric was driving forward at every chance and Isco made a difference too. He scored on 81 minutes as Real Madrid wiped their hands of a tricky opponent. Or so it seemed.
Levante grew again with the finish line in sight and had opportunited. Most watching had it down as a good fight but a failed one. That was until Giampaolo broke free goalside of Dani Carvajal and slotted underneath Keylor Navas as Ramos and co. looked on in disgust.
Real Madrid are now 18 points behind Barcelona as their season comes down to two games against one opponent in the Champions League.
Levante vs Real Madrid live stream online: as it happened
90'+5' GAME OVER! Real Madrid more points in the league.
90'+5'   Carvajal dives in and concedes the throw as Levante try to break. That should be it now. Will Real Madrid get one last chance?
90'+3'   5 minutes added time. We are into the third minute now.
90'+3'   Levante moving forward again but get picked off and Real Madrid counter. Vazquez crosses to Modric, who headers it wide at the front post. Very, very close.
90'+2'   Morales drives forward now and takes a shot. Navas comfortable.
90'+1' Varane booked now. He jumped into the back of Pazzini and then Vazquez drives the ball away in anger.
90'+1'   Oier with the save from Modric.
90'   Real Madrid players are absolutely livid. Ramos the most probably.
89'   He slots it under Navas.
89'   Pazzini on his debut! GOAL!
89' Yellow for Coke as he dives in on Casemiro. Levante trying to build something outside the box. They lose out and that takes the sting out of Levante's recent pressure.
88'   Late pressure from Levante.
86'   Roger with a chance at the back post and he misses. He heads it down and into the ground.
86'   Corner for Levante!
85' Yellow card for Asensio for a pullback as Levante try to break.
84'   Modric drives forward again and he wins a corner.
81' Ronaldo coming off for Asensio. Big change by Zidane and a big statement.
81' Mistake from Levante! Isco pounces. Ball comes in from Benzema and the sub strikes from, maybe, 10 yards, out. 
80'   Levante deal with it and Morales breaks. He finds Luna but he can't do anything with it as Navas swallows it up.
80'   Pazzani blown for a free that Kroos is about to take.
77' Pazzani on for Ivi. His debut for the side and in LaLiga.
75'   Real Madrid applying pressure. Modric again, and he plays it to Carvajal, but his shot is saved.
75'   Ramos with the header and Oier saves it. Levante looking increasingly stretched here.
74'   Benzema with an effort now but it's deflected out for a corner. Nice effort.
73'   Oier saves.
73'   Really well done by Modric, who cuts it back to Isco and he shoots after making a yard from himself.
71'   Ball pings around in the box and Isco shoots but it continues to bounce off Levante bodies before they finally clear it.
70'   Varane chases Morales and he kicks it out for what looks like a corner but it clipped the Levante skipper.
69'   Cross comes in and Ronaldo heads it towards goal but Oier saves it.
68' Roger comes on for Lerma.
67'   Lerma hits the ground and looks to have an issue with his hamstring.
67'   Real Madrid's turn to break. They have a 4 on 2! Ball comes in but that's straight at a Levante defender's head.
66' Bale replaced by Isco.
64'   Isco ready to come on now for Real Madrid.
64'   Ronaldo strikes. That's low and into the corner but Oier saves.
63'   Frustrating night for Ronaldo. He loses out again and chases a triangle of passes before Real Madrid win it back but put it out for a throw.
62'   Ronaldo hits the ground as he tries to skip by Coke and no free. 
61'   Morales through again. He has Varane for company now and he crosses low but nobody there to meet it.
61'   Carvajal to Modric and he crosses but it's cleared. 
60' Jason replaces Boateng.
59'   Corner comes in and Real Madrid counter. Bale breaks, kind of, free and strikes towards goal. It deflects up and into Oier's gloves.
58'   Corner for Real Madrid.
57'   Modric chasing Morales. He could be through. Morales cuts inside, shoots and that's saved by Navas on the follow-up as Boateng tries to turn it towards goal.
57'   Real Madrid getting closer. Modric coss and Carvajal pulls it back to Ronaldo. He shootds and it it deflected out for a corner.
56'   Carvajal with a cross that arrives hard into Oier's chest.
55'   Lucas Vazquez and Marco Asensio warming up for Real Madrid.
54'   Ball crossed in by Luna to the back post. Coke heads it back towards goal and Navas gathers.
53'   Ronaldo with the free again. He chips it towards goal. Three Real Mdrid players offside. Very well played by Levante. Lovely ball in by Ronaldo. 
52'   Modric fouled again by Boateng.
52'   Ronaldo strikes and Real Madrid win a corner.
51'   Real Madrid win the corner and Varane goes flying in the box. As does Ronaldo. Modric is eventually fouled outside the penalty area. Ronaldo lining up the free.
50'   Modric backheels to Bale, who made a run down the right. 
48'   Carvajal penalised for a foul and he is trying to understand why. Says it to the ref and asks him why but it's a free and that's it.
48'   Bale cross flies up into the air. 
47'   Doukoure with a volley and that's blocked. Levante have started this half quite lively.
46'   We are back underway! 
45'   Half-time!
45'   More nervous moments for Real Madrid. Ivi crosses and Real Madrid cross. 
45'   Corner cleared eventually by Real Madrid and they lose out again. Levante on the ball now. 
44'   Levante did absolutely nothing all half and then score on the brink of half-time.
42' GOAL! Boateng slots home. Morales with a great run to stay onside and Navas saves. Varane slips and Boateng slots home.
42'   Luna crosses and Bale defends it well, wins it back and plays it across to Marcelo, who finds Kroos and Real Madrid attack again. Comes to nothing but Real Madrid comfortable for the moment.
41'   Bale cross but Ronaldo fouls Postigo in the air.
40'   Lerma penalised now for standing on Kroos' foot. No card and rightly so. Replays show there was absolutely nothing in that.
39'   Ivi buys himself a yard and strikes over Navas' crossbar! Not a great effort but Levante will take any sort of effort they can at the moment.
38'   Ronaldo strike. He was offside. Boateng trying a dancy flick up front and Levante lose it. They need to keep it simple.
37'   Casemiro scoops a pass into the box, into anyone at all really, but Levante head it clear. Real Madrid continue to apply pressure. The've been blunt since the goal too though.
35'   Levante struggling to get anything going here in attack. Defending quite comfortably but can't get anything going up top.
33'   Boateng with the fouls Casemiro as Levante move into the box. Nice break from the home side but the pass to Boateng was too difficult for him to do anything with.
32'   Kroos with a striker from outside the box. Easy for Oier but he fumbles it and Ronaldo pounces but it hits the keeper and back off Ronaldo and wide.
31'   Oier makes a bit of a mess of that one and Benzema is behind him as he clears. He nearly nicked it off him too. It lands to Casemiro, who tries to lob the keeper, but it's wide.
30'   Benzema through on goal but at a very tight angle. He drives a shot towards Oier but the keeper is comfortable. Options limited there for the striker.
28'   Cross comes in from Marcelo and Oier gathers that one.
27' Yellow for Ivi now as he stood on Varane's foot.
26'   Modric dives in and wins it back as Morales tries to go by him. They want a handball but it's not and Real Madrid counter. Lively few moments there.
25'   Ronaldo with the free. It is blocked and Levante with a counter attack and plenty of men in support!
24'   Referee makes his way over to Marcelo, who was looking for a free after he had passed the ball off to Ronaldo.
24'   Marcelo down the left. Plays it into Ronaldo, then Casemiro bundled over. 
23'   Carvajal sends one towards Ronaldo but he is squezed out by a few Levante defenders.
22'   Levante soaking up a lot of pressure now.
21' Ramos booked for an elbow on Boateng. Really, really unlucky though, I would say. Ramos might have been booked for complaining after the fact though.
20'   Bale drives down the right but an unfortunate bounce of a defender and back of him sees it out for a goal-kick.
18'  Nice link up with Casemiro, Marcelo and Bale and it makes it to Ronaldo but he sends it over the bar. Oier had come out to close it down and he got caught in the middle of nowhere really. Lucky the angle was too tight for Ronaldo.
17'   Marcelo sends Benzema free down the left. Kroos looks for the pass in behind to Bale but it doesn't make it. Levante counter and Luna sends a bending cross in. Nobody running in to even try to win it. Real Madrid recover.
16'   Levante win a corner down that left-hand side. Marcelo puts it out as he is faced with Morales again.
16'   Casemiro with a foul on Coke. Or at least Coke thought so. Throw in the end.
15'   Levante cough it up again. Benzema gets it on the left. He pulls it back to Ronaldo and he drives a shot over the bar!
14'   Real Madrid in control now. Levante settling into sitting deep.
14'   Benzema called back for offside.
13' Benzema fouled a couple of times as he picked the ball up in the middle. Doukoure booked in the end for the sheer cynicism of his foul.
11' GOAL! Ramos heads home the corner. Benzema there but it was Ramos who got the last touch with the header. 
11'   Carvajal cross all the way across to Benzema, who plays it to Marcelo. He slaloms his way through the defense and drives a shot well wide. It did take a deflection though.
10'   Levante in a nice position and Boateng shoots. Blocked and then offside called on the home side. 
9'   Levante move forward with Lukic and Real Madrid manage to win it back. Mistake by Oier, Levante's keeper, but Real Madrid can't pounce on the loose pass.
8'   Modric launches long to Marcelo but Coke heads out and then Ramos obstructs Morales as he slips past him. Sore one there for the Levante captain. A shoulder in the chest.
7'   Real Madrid with a nice spell of possession now. Quite docile but still holding the ball well and taking control here.
6'   Modric crosses to Ronaldo and it's headed out but the Real Madrid attacker ges it anyway. It goes all the way back out, Carvajal crosses and Marcelo shoots over.
5'   Real Madrid recover with Levante in possession deep in their territory.
4'   Morales goes by Marcelo with ease. Cross is blocked and Real Madrid recover.
4'   Two sleepy teams start this one off!
4'   Benzema in the penalty are with two defenders to beat after another mistake, this time by a Levante defender, Rober, but he is dispossessed.
3'   Morales wins a throw for Levante. Mistake by Kroos and he doesn't go for the ball as it rolls by him. 
2'   Morales with a long diagonal ball to Boateng. Navas takes it t his feet and tries to beat the striker and clears! Nervy moment there too but Navas in full control.
1'   A nervous moment for Real Madrid as Boateng almost gets in goalside of Ramos but it goes out for a goalkick.
1'   We are underway! 
  Levante, too, buoyed by last week's comeback against Depor. They were finished at 2-0 down but came back and drew the game and could have won it! Real Madrid a different opponent completely.
Morales and Ramos up for the coin toss.
Real Madrid not forced to change out of their white strip given Levante wear blue and burgundy.
The teams emerge onto the field.
Two teams have their warm-ups done and retreat to the dressing rooms for one last chat before they take to the field.
Here is a look at who benefits from Real Madrid's lack of transfer activity. Some of these players will get a chance today.
  Keylor Navas is the Real Madrid goalkeeper until the summer, at least, anyway as Zinedine Zidane decides to stick with the players he has in his squad despite rumours of arrivals. Here are the 10 attempts to replace the keeper in the past!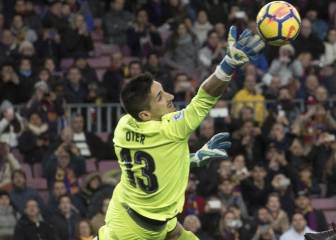 He said, "With [Cristiano] Ronaldo, [Gareth] Bale, [Karim] Benzema or Isco, the crises are different. Losing a match is a crisis for Madrid. They are one of the best sides in the world; the crises are relative."
Levante boss Juan Muniz laughed off crisis talk recently when asked about their opponents tonight.
Ramos and Nacho both struggling with injuries during the week. Nacho took a knock to the knee and Ramos with the injury to his calf. Zidane wants to get them time with PSG on the horizon. It could be a gamble because if either gets injured, Nacho will be brought in from the right and will have to play centrally with Danid Carvajal out, that would mean Achraf plays right-back against Neymar.
Zidane with no surprises. Ramos back in but aside from that, it's exactly what we expected. Nacho drops to the bench.
Real Madrid XI: Navas, Carvajal, Ramos, Varane, Marcelo, Casemiro, Modric, Kroos, Bale, Benzema, Ronaldo.
Levante XI: Oier, Luna, Pier, Postigo, Coke, Lerma, Doukoure, Lukic, Ivi, Morales, Boateng.
Ronaldo makes the squad, as we can see, but he trained alone for two days this week. Mayoral is not in the squad so if Benzema misfires or gets hurt, there will be a shuffle to find a striker.
Zinedine Zidane was adamant yesterday that "this is not over yet" when speaking about Real Madrid's season. The win over Valencia seems to have emboldened him and his side and they have a game in hand too.
Hello and welcome to our live online coverage of Levante vs Real Madrid! Kick-off is at 20:45 from Estadi Ciutat de Valencia. 
Levante vs Real Madrid live stream online: preview
Real Madrid face their second last test in LaLiga before they face PSG in the Champions League with a visit to the Ciutat de València stadium on Saturday night to face Levante with kick-off at 20:45 CEST.
The football gods are smiling on Real Madrid just on time too with the return of Isco and Sergio Ramos with los Blancos coming off two impressive victories against Depor and Valencia last weekend. The bbC are back too having started alongisde each other for the first time since last season in the win over Valencia.
Levante started the season well but have found themselves embroiled in a relegation battle and are without a win since November 19th. They have accumulated their fair share of draws this season too with one notable deadlock coming at the Santiago Bernabeu earlier in the season.
They have signed Giampaolo Pazzini, who is in their squad for Real Madrid's visit, and made some deals in the winter transfer window with an eye on beating the drop but their first game since it closed comes against a difficult opponent. Real Madrid didn't strengthen in the winter window as Zidane showed his faith in his side as the time comes for them to repay him with performances to match.