A big substitution with possible repercussions
Cristiano was taken off in the 82nd minute with Madrid 1-2 up, and was visibly displeased with the decision. "It was planned," Zidane said after the game.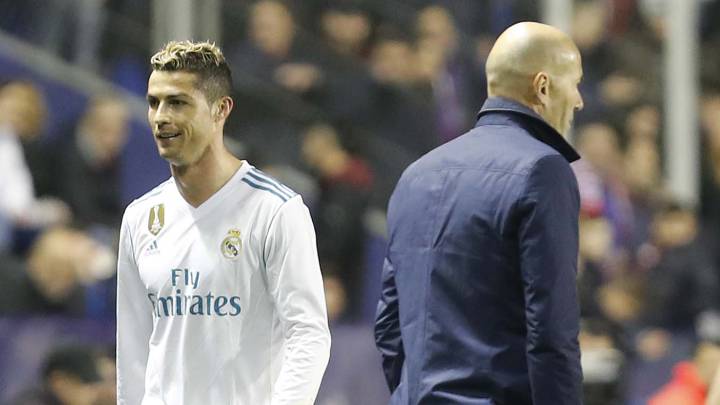 More discontent
Real Madrid's unhappy, negative-headline-grabbing season continued on Saturday night as they were held to a 2-2 draw at Ciutat de Valencia against Levante. The reigning champions' fortunes have swung from feel-good 7-1 thumping - against Deportivo - the previous week, to confidence-wobbling draw, particularly after conceding late on against opponents they expect to swat aside. At the moment Zidane seems unable to douse the flames of discontent and crisis.
Los Blancos' displeasure was also reflected in the behaviour of Cristiano Ronaldo, who yet again failed to stamp his name on the scoresheet and was taken off in the 81st minute with Madrid 1-2 up. "It was planned", Zidane explained after the game in an interview with BeIN. However, Ronaldo's reaction told its own story. As he walked off the pitch and sat on the bench the television cameras switched to the Portuguese striker to try and capture a response at being taken off. "Don't film me, focus on the game!" he gestured.
Bench time and goals
Cristiano is not used to seeing out the rest of a game from the bench. He has only been substituted 36 times since arriving in Madrid, which is not even ten percent of the 401 games he has started. He reportedly needs to be convinced beforehand that he will have to make way; in fact, that was one of Zidane's successes last season as he managed to give Madrid's number 7 enough rest to ensure he peaked at the right time.
Domestically, though, Ronaldo's goalscoring form has tailed off drastically this term. Since he arrived in Spain he has required an average of 5.13 shots at goal to find the back of the net. This season he needs more than 11 efforts to score. The Portuguese striker's dizzying confidence in front of goal is currently taking a hit and Zidane needs his star striker to be on song ahead of the season-defining visit of PSG in the Champions League. The Madrid coach's call to make the substitution could have possible repercussions in Los Blancos' forthcoming matches.



LaLiga Santander
*Update 4 de febrero de 2018