Piqué: Barcelona man accuses Espanyol of lacking respect
The defender scored against Barça's local rivals and celebrated by shushing the crowd. After the match he spoke about the latest episode of controversy.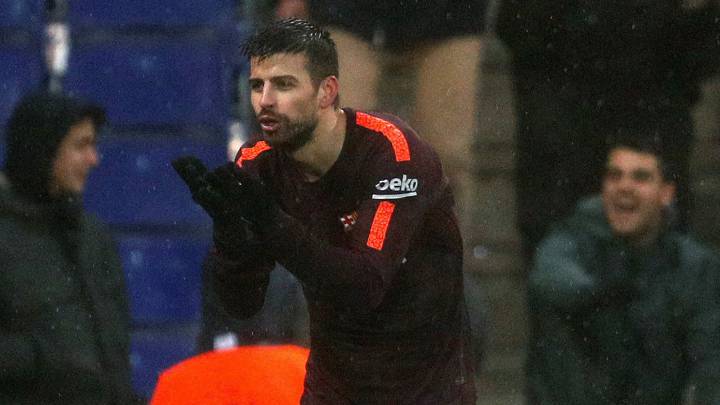 Gerard Piqué continues to occupy a position at the centre of controversy between rivals Barcelona and Espanyol.
The centre-half irritated Espanyol after the sides met in the Copa del Rey in January by suggesting they should not be deemed city rivals as they are 'Espanyol de Cornellà' - a reference to the location of their stadium in Cornellà, a suburb of Barcelona.
Piqué then equalised against Espanyol in testing conditions on Sunday evening, and celebrated by putting his finger to his lips. Espanyol fans had previously been accused of singing offensive chants to Piqué and his family. After the match, he spoke to the press about the situation.
Pique: Espanyol owners must act
A response: "Celebrating the goal was special, after all that has happened during the week. There was a sizeable part of their fans who have been going for me and my family for a while. I know that a lot of pericos (Espanyol fans) are good people. But if those above them, those who run things, don't put a stop to the songs, then they'll stay the same. We're people and everyone has a limit. This is a derby and that's how it is. The rain made it all more intense."
Cornellà provocation: "They're from Cornellà, like I said the other day. The lack of respect is that they report me for saying they're from Cornellà, but they don't report their own fans for insulting my family.
Shushing the crowd: "Shushing the crowd was the least I could do. Us players have responsibilities, but we're also people, and we react according to what happens. There's a limit. If those at the top don't take decisions and don't say anything, we're not going to keep our mouths shut. I shushed the stadium as a whole. Maybe I shouldn't have done it, but if the club and the owners don't deal with certain things..."
Trouble in the tunnel: "There was an exchange of comments."
Goal: "I was happy to score, as ever."