Dani Carvajal: Madrid right-back banned for first leg against PSG in the Champions League
Madrid have failed in their appeal to reduce the Spain international's two-match ban for deliberately receiving a yellow card against APOEL.
The UEFA Committee of Ethics and Discipline has upheld a two-match ban handed to Real Madrid's Dani Carvajal for deliberately forcing a yellow card in the group stage match against APOEL on 21 November. As such, Carvajal will be suspended for the first leg of Real Madrid's Champions League last 16 tie with PSG, which will be played at the Bernabéu on February 14th.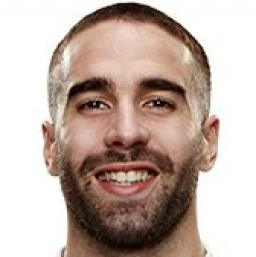 Carvajal deliberately booked against APOEL
The Committee of Ethics and Discipline handed Carvajal a two-match ban in December: one match for reaching the limit of five yellow cards, and another for deliberately forcing a yellow card in Cyprus.
Carvajal allegedly forced the booking in order to serve his suspension in Madrid's final group match against Borussia Dortmund, which was of no consequence because Los Blancos had already qualified for the knockout stages. That would have allowed him to begin the knockout stages with a 'blank slate'.
Nacho likely to replace Carvajal 
The 26-year-old sat out that match at the Bernabéu, and Madrid have since appealed for the suspension to be reduced to one match. UEFA has rejected the appeal, concluding that Carvajal deliberately provoked the yellow card. 
This news poses a conundrum for Madrid boss Zinedine Zidane. Carvajal is one of the first names on the Madrid team-sheet. Nacho is likely to replace him at right-back for the crucial European clash.