Valverde: "The treble? We're focused on beating Getafe…"
The Barça coach also discussed Piqué's injury: "We took a risk the other day because it was a key game. I'm not going to say whether he will play".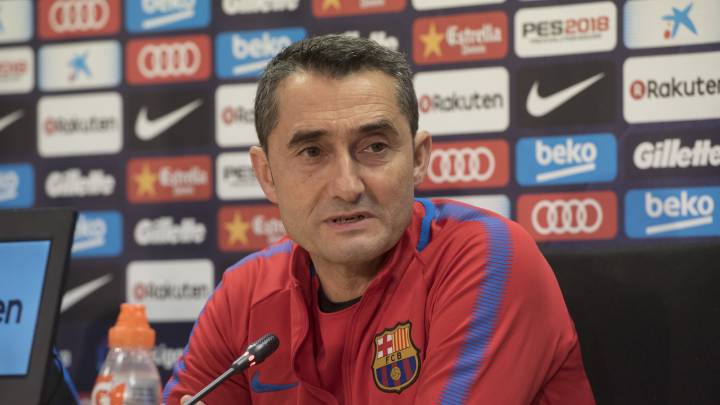 Barcelona coach Ernesto Valverde spoke to the press ahead of his side's game against Getafe at the Camp Nou on Sunday (16:15 CET).
What do you make of talk about the treble?
People can get excited about many things. We're professionals and it's all down to maths. When you have won nothing you want to win something and when you have one trophy, you want two. We've got a final, are fighting for the league and also have the Champions League. We know that to win one we have to win tomorrow in Getafe and that's what we're focused on.
What's the situation with Dembélé. Will he feature?
I'm not sure. We have high hopes for him, so we have to go carefully. We'll see, with the quality he has, if he can produce. At the moment he's in good shape and has been training with the rest of the squad. He'll have to return gradually.
What are Piqué's chances of starting?
Vermaelen could come in next week. I'm not going to say whether Piqué will play. He does have an injury, though, and the other day we took a risk because it was a key game. Tomorrow is also important. We'll have to assess it.
Will he be 100% for the Chelsea game?
Our aim is for him to have recovered in time. After tomorrow's game there's a long week for him to get back to fitness. Hopefully there won't be any setbacks.
Will Countinho's goal give him confidence?
Goals help. He's a player that's good one-on-one and can link-up well. We hope to see Coutinho get better and better.