Barcelona 0-0 Getafe LaLiga Santander: as it happened
Luis Suárez had a goal ruled out and Yerry Mina came close as Pepe Bordalás' compact side frustrated Barça at Camp Nou.
Ernesto Valverde threw up his arms in disgust when the fourth official raised his board to indicate three minutes of added time. The Barcelona coach wanted more. His side looked short of ideas. Barça did not look like making a breakthrough against Jose Bordalás's well-drilled Getafe at Camp Nou.
Luis Suárez poked the ball in to the net at the end of the first half. He scrambled up from the ground and hurled a torrent of abuse at the linesman, who had raised his flag to indicate offside. Yerry Mina - making his LaLiga debut - was the main threat in the second half, a reflection of Barça's lack of incision in open play.
The away side also had chances, mainly on the counter attack. They came closest to sealing a last-gasp victory, as Vitorino Antunes took a layer of paint off the top of the crossbar with the last kick of the game. The result probably won't affect the outcome of LaLiga. But it will deliver a warning to Barcelona that it isn't quite over yet.
Barcelona 0-0 Getafe: as it happened
Getafe frustrate Barcelona to a goal-less draw at Camp Nou, but the Catalans still extend their lead at the top of LaLiga to seven points. 
90'+3' FT. 
90'+3'   Oooooof! Antunes drives the free-kick just over the bar. Replays reveal that Ter Stegen got a touch, but the referee has already called time. 
90'+3' Big Yerry steams in on Molina, conceding a free-kick 30 yards out and picking up a booking at the same time. 
90'+3' Guaita is booked for time wasting. 
90'+2'   Paulinho concedes a foul in the box, and Guaita has a chance to lump it deep in to Barça half. 
90'+1'   Suáreeeeez! The Uruguayan directs a header at goal, forcing Guaita to tip it over the bar. Fantastic stop, and El Geta follow it up by clearing the resultant corner. 
90'   Three minutes of added time. 
89'   Guaita rises well to claim Alba's cross. Barça are looking decidedly short on ideas. 
88' Bordalás makes a final change: Gaku off, and Leandro Cabrera takes his place. 
86'   Suárez is offside. Again. 
84' Getafe sub: Amath stumbles off with cramp, Jorge Molina trots on. 
82' Sergio Busquets takes his place on the bench and has a swig of energy drink. Paulinho takes his place. 
82'   Dembélé has the entire defensive line to look across, but still strays offside. Sloppy from the youngster. 
80'   Getafe are hanging on by the skin of their teeth. Guaita parries Messi's shot in to the path of Alba, who thrashes the ball straight through the six-yard box. Roberto keeps it in play and sets up Messi for another attempt, Guaita keeps hold of the ball this time. 
78' Bordalás makes his first change, and it's a conservative one. Mathieu Flamini makes his debut and Ángel trots off. 
76'   Gaku fulfills his defensive duties, blocking Roberto's driven cross behind for a corner. It goes all the way to Alba on the far side of the box, who forces another corner with a deep ball. Big Yerry meets it again, and his header bounces just wide of the post. 
74'   Another dangerous free-kick for the home side. This time, Dembélé is the player tripped in full flow. Messi dinks the ball to Yerry Mina, who holds off his marker but can't generate enough grunt with his neck to beat Guaita. 
71'   Dembélé crosses to nobody in particular. Damian gather the ball and passes it upfield to... nobody in particular. There could be a pattern emerging here...
70'   Phwoar! Exquisite footwork from Iniesta. He tempts Bruno towards him at the byline, before nutmegging him and delivering the ball to the centre of the box. Antunes rushes towards goal to clear. Barça are turning the screw. 
67'   Fajr upends Messi 25 yards from goal. The No.10 hauls himself up and glances at goal. He shoots for the top corner, and shoots well wide. 
66' Antunes is booked for taking a throw-in at an excessively leisurely pace. 
65'   Amath moves like a bullet over five yards to get on the end of Gaku's pass. Once he has it at his feet, the nippy winger flashes a shot across the face of goal. It's going wide from an acute angle, but Ter Stegen helps it out for a throw with his fingertips. 
62' Ernesto Valverde makes a double change. Coutinho and Alcácer come off, Iniesta and Dembélé go on. The latter is greeted by a warm round of applause. 
61'   Getafe are really troubling Barça. Portillo nips on to a through ball and forces Mina to come across and concede a corner. Fajr hangs it to the far post, where Antunes flashes a volley over the bar. It would have been spectacular. 
59' Djene stabs the ball behind for a corner before Jordi Alba cna adjust his body to shoot. Once again, Geta counter attack from the corner. Gaku has the ball on the right, with Ter Stegen tentatively edging off his line. The Japan international attempts a lob, overcooks it, and the ball flies in to the crowd. 
57'   Coutinho watches the ball float towards his head on the six-yard line. Instead of shooting himself, he tries to square it to Messi and Getafe clear. Amath and Digne are in a footrace on the right flank. Amath wins comfortably, making up five yards on Digne to reach the ball. When he does, however, his touch lets him down. 
56'   Suáreeeeezzzzzz... just, just wide! Alcácer sweeps Alba's pass in to Suárez's path with a neat touch. On the slide, the Uruguayan pokes it narrowly the wrong side of the post. 
55'   Arambarri cannons the free-kick off the wall and behind for a corner. Djene meets the delivery but sends it straight up in the air. 
54' Busquets is booked for a cynical scythe on Amath, about 35 yards out. Ter Stegen holds two fingers up to indicate how many players he wants in the wall, and Gaku stands over the ball. 
50'   Perhaps I spoke too soon... Coutinho darts inside from the left and whips a shot towards the far corner. Neat footwork from Guaita allows the 'keeper to catch the ball, but Coutinho struck it well. 
49'   Coutinho bamboozles Portillo with some fleet footwork. It makes a nice change from Coutinho being bamboozled by his role in this team. 
48'   Amath appeals for a free-kick after his counter attack is halted by Mina's outstretched arm. The referee is unconvinced, and Barça restart play with a throw-in. 
46' Peeep! 45 more minutes. Let's 'av it. 
The teams are milling about in the tunnel... and here they come! 
Barcelona initially struggled to stamp their authority on the match. They managed from half-an-hour onwards, but without it resulting in a goal. 
The officials, who called that Suárez no-goal correctly, are whistled off the pitch. 
46' HT. 
45'   GOOOOOO... NO! Suárez latches on to Messi's inswinger and directs the ball in to the net, before scrambling off the turf to hurl abuse at the linesman when he realises it's been chalked off. 
44' Arambarri is booked for the latest of a string of fouls, this one on Messi. It's been coming and Barça will curl in a free-kick. 
42'   Mina takes advantage of the fact that the referee has stopped play for an injury to Suárez by chucking Amath out of play. He lies, a little furlorn, in the Barça dugout, while Busquets and Bordalás exchange opinions. 
40'   Oooo! Just wide from Ángel, who is too agile for Mina. He turns the Colombian inside and out before dragging a shot just wide, with Ter Stegen scrambling. It took a touch off Mina and Geta have a corner, which leads to a near-post shot from Gaku. The 'keeper smothers it. 
37'   Mina is penalised for clattering through the back of Amath on the flank. Antunes swings a free-kick in to the box and Djene meets it, although not with a strong enough contact to worry Ter Stegen, who watches it out for a goal kick. 
36'   Bruno is personally attending to the threat of Messi, and is bending the rules quite considerably in the process. This isn't the first time that the Getafe captain has blocked Messi, and he can't be far from a booking. 
34'   Messi receives the ball on the half-turn, swivels, and plays the ball through the centre to Suárez. It's knife-through-butter stuff until the linesman hoists his flag. Correct call, Suárez began his run a fraction too early. 
31'   Roberto and Messi try to combine on the edge of the box, but the Argentine can't quite bring the ball down. Moments later, Messi takes Rakitic's pass down on his chest and looks set to shoot from eight yards out. Damian storms across from right-back and makes a crucial, crucial intervention. Damian may not be the best on the ball, but he's savvy. 
29'   Barça are belatedly taking control of this match in midfield, as we approach the half-hour mark. 
26'   Súarez fires wide after pinball in the Getafe box. Djene fails to clear Roberto's cross and it runs through to Alba. Damian blocks his shot in to the path of Coutinho, who lays if off for Suárez to side-foot it wide. 
24'   Gaku is poised 25 yards out with the ball at his feet. Amath dashes diagonally inwards from the right, but Gaku is on a different wavelength and plays the ball outside him. It trickles out for a goal kick. 
22'   Mauro Arambarri blocks Leo Messi's shot with his hand, says the ref. Messi stands over the free-kick and big Yerry Mina trundles forward. It's straight in to the wall and someone is going to have to call a tugboat to get HMS Mina back to the half-way line. 
20'   Uruguayan pair Damian and Luis Suárez have a Rio Platense grapple on the deck, which ends with Luis getting up and Damian planting his cheek on the turf. Barça's possession doesn't last long, though. Ángel runs on to a speculative ball over the top and Ter Stegen is forced to dash 30 yards out and clear. 
18'   Camp Nou wails for a penalty as Bruno blocks Messi's run in to the box. Anywhere else on the pitch...
16'   Antunes will swing a free-kick in to the box after Rakitic stretches his leg and trips the Portuguese full-back. It's actually Gaku who takes, sliding it through to Antunes on the overlap. Sergi Roberto reads it like a David Baldacci novel and emerges with the ball. 
13'   Good chance for Getafe goes a'beggin'. Mina passes the ball straight to Amath, who plays it through to Ángel and then bursts from inside his own half right to the edge of the box. Busquets follows Amath, so when the low cross comes in, he's able to turn it back to the 'keeper to clear. 
12'   Rakitic appears to be the player dropping back between the defenders to collect possession, rather than Busquets. It's not working so far. Barça have struggled to gain any kind of control. 
10'   Early thoughts on Yerry Mina's full debut: he's massive. Built like a double-decker brick outhouse. Not bad on the ball, too. 
9'   Luis Súarez watches the ball come over his shoulder from Jordi Alba. He knows that he won't reach it, so stretches out an arm and brings it down with his bicep. The referree immediately awards a foul, but doesn't follow it up with a booking, for some reason. 
7'   Gaku, the Japan international, is the next player to stray offside, after some clever movement to find space between Mina and Digne. 
4' Sergi Roberto gallops in to space on the right flank like a riled horse being freed from the stable. But his touch is hearvy, and it allows Bruno to screen across and lump the ball out of play. 
2'   Camp Nou takes a sharp intake of breath as Amath bears down on goal from the left flank, and collectively exhales as the linesman raises his flag. That looked like a very close call, and an early wake-up for Mina. 
1'   Ice cold is the blood that runs through Ter Stegen's veins. The 'keeper receives the ball in his own six-yard box and rolls it under his studs to move away from Ángel, who is closing him down. 
1' Peeep! Getafe get us underway at Camp Nou. 
Here they come! 
The teams are trotting down the steps of the tunnel at Camp Nou, past the small chapel that players can use for a last-minute pray. The Getafe players look focussed. 
Mathieu Flamini is in the Getafe squad for the first time since joining as a free agent at the start of February Find out why he's one of the most impressive (and potentially one of the richest) players in the world...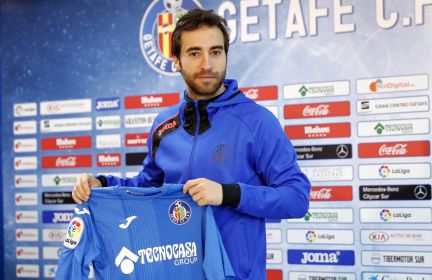 TEAM NEWS! 
Getafe XI: Guaita; Suárez, Djene, Bruno, Antunes; Fajr, Arambarri; Portillo, Gaku, Amath, Ángel.
Barcelona XI: Ter Stegen; Roberto, Mina, Digne, Alba; Rakitic, Busquets, Coutinho; Alcácer, Suárez, Messi.
Ousmane Dembélé is back in the squad after another injury lay-off, but Ernesto Valverde is aware that he will have to ease him back to full fitness in order to avoid further set-backs. "He will be introduced little by little," the coach said. 
Hello and welcome to AS English's live coverage of the LaLiga match between Barcelona and Getafe. The home side can stretch their lead at the summit of the table to nine points, while the visitors go in search of a first ever win at Camp Nou. All to play for.