REAL MADRID-PSG
Thiago Silva: "Neymar at Madrid? I can't speak for him"
Thiago Silva says he believes Neymar is happy at PSG as speculation build around his future and his captain at the Ligue 1 side admits he can't guarantee anything.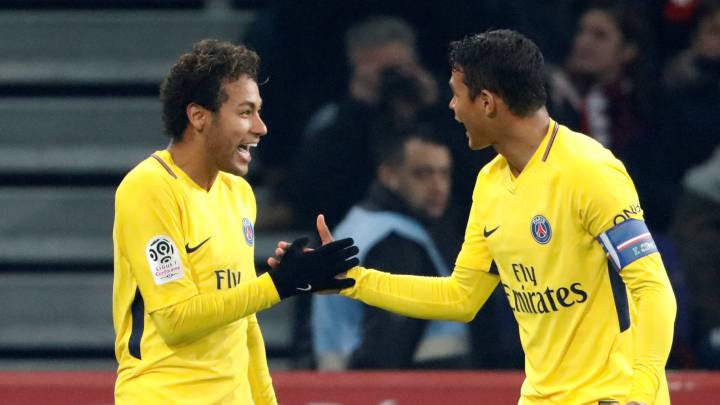 Thiago Silva, PSG's captain, was interviewed on Canal Football Club with a heavy focus on on the Champions League clash against Real Madrid on Wednesday. The Brazilian central defender said the small details will help the winners. "I think it's a game at a very high level, in which you have to be very focused because the small details will make the difference. There's not much to say. The way that we usually play, when you don't have the ball, you need to remain focused. But we have to respect the team. People think that PSG will qualify because Madrid are in a bad situation. But, for me, that's not the case. The great players always show up in big games. Of course, both sides will give everything to win."
Of course, Neymar's name was also brought up during the interview. After Marcelo has assured everyone that Neymar will one day play at Madrid, Thiago Silva sounded a little less sure about what the future holds for his Brazilian teammate. "Neymar and Madrid? I don't know, I can't speak for him. We know that sometimes the information that is published is not true. I can't say, but I hope that Neymar stays with us."
Silva also responded to speculation that Neymar was not happy in Paris. He repeated that Neymar is happy in Paris. "I think that he is very happy here with us, he has an important place in the dressing room. I have heard many people saying that the dressing room is divided, but it's the complete opposite. Everything that is said outside is incorrect because we have a really nice dressing room. I think if things work well on the field then they will go well in the dressing room too. We each other a lot," he continued. Finally, Silva said the referees should give more protection to players like Neymar. "The referees have to protect these players more because they make gestures that we don't understand and we lose the head a bit. The referees need to protect these players a little more."



Champions League
*Update 11 de febrero de 2018