COPA DEL REY FINAL | BARCELONA-SEVILLA
Initial agreement to stage Copa del Rey final at the Wanda
Pending an official announcement, Barcelona, Sevilla and the Spanish Football Federation agreed this afternoon that the Cup final will be held in Madrid on 21 April.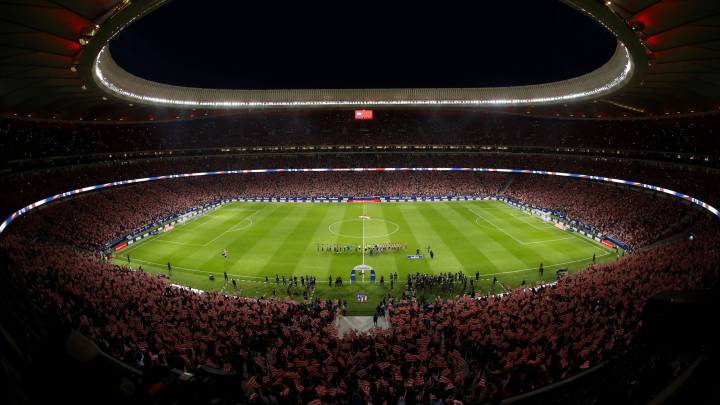 Shortly before today's board meeting at the Spanish Football Federation in Las Rozas, it was agreed that this year's Copa del Rey final between Barcelona and Sevilla will be staged on 21 April at Atletico de Madrid's Wanda Metropolitano stadium. The decision has yet to be announced officially as while an agreement has been reached with both of the finalists and the RFEF, Atlético still need to give their consent. The Federation will put the proposal to Atlético later this evening but the madrileños are expected to agree to the idea as staging the final at the Wanda was always a priority for club president Enrique Cerezo.
Original date for the final agreed
Representing Barcelona at this afternoon's meeting was Guillermo Amor while Sevilla were represented by their president José Castro. Juan Luis Larrea headed the Federation's delegation. Barça put forward the possibility of rescheduling the final to a different date, seeing as their Week 34 league fixture against Villarreal due to take place on the weekend of the 21st had to be switched to 9 May - as has Sevilla's home meeting with Real Madrid; the Catalan club argued that the calendar would need rearranging in any case. But Sevilla were not in favour of holding the final on an alternative date. In the end, all three parties agreed that the final should be held on the original date established last summer - Saturday 21st April.
Atlético were due to play Betis at home on 22 April
Atlético are due to play their Week 34 game against Betis on Sunday 22nd April - although that date could be moved to Monday 23rd. That is still be decided with the club. It was also mentioned that the Atlético-Betis game could also be put back to 9 May like the others, but that would be an inconvenience for coach Diego Simeone. The Argentinean won't want to give up the chance to slice another three points off Barça's lead and psychologically increase the pressure on Valverde's team - forcing them to win their game in hand.
Today's meeting also clarified Barça's position on holding the final at the Santiago Bernabéu. The Blaugranas much prefer the Wanda which has a capacity of 68,000 - sufficient to house all of their travelling supporters.