Zidane: "It's not Neymar vs Cristiano, it's PSG vs Real Madrid"
The Real Madrid boss spoke to the press ahead of his side's Champions League first-leg match against Paris Saint-Germain on Wednesday.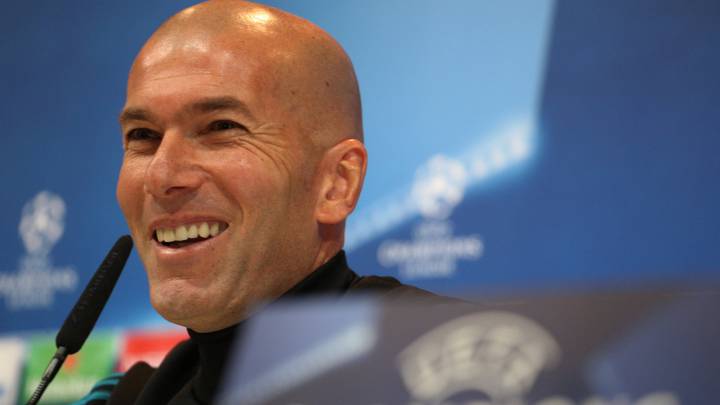 Zinedine Zidane spoke to the press on Tuesday ahead of Real Madrid's Champions League date with destiny when PSG visit the Spanish capital.
Real's season hinges on success against the big-spending Ligue 1 leaders and perhaps Zidane's job does as well, with the Frenchman admitting that the 2017-18 season has been a bit of a disappointment on the domestic front.
Sergio Ramos also stated that Real are playing for their season against PSG after Zidane's side limbered up for the first leg in some style by putting five past Real Sociedad at the weekend, even if the score at one end was spoiled somewhat by defensive lapses at the other, Real's traditional Achilles' heel and an area PSG will look to exploit to their advantage.
Marcelo: "We play how the gaffer tells us to"
Marcelo is first up. The Brazilian is explaining how motivated the side are for the match against PSG and despite the number of trophies he has personally landed at the club he remains as eager as ever to add more.
A question has now been posed to the Brazilian about Zidane and Marcelo responds by saying that the Frenchman is a great coach, very close to the players and who believes in his methods.
Neymar has come up and Marcelo stops a reporter in his tracks as he suggests Marcelo said that his Brazil teammates will join him at Real Madrid. The defender explains he said no such thing and merely suggested, somewhat cheekily perhaps, that Neymar may one day play at Madrid. Small distinction but there we go.
Neymar, Cavani, Mbappé
Marcelo is saying that the PSG front three are clearly good players but that the Ligue 1 leaders are a lot more than just their attack.
Will PSG still be reeling pyschologically from their loss to Barça last season? Marcelo doesn't think so... and what's more, he says Madrid can't be allowed to worry too much about the mental side of things over 180 minutes.
Back to Neymar... ho hum. Marcelo straight bats and says any team would like to have him in their ranks.
Marcelo raises a chuckle as he ticks off a reporter for asking a question and then not listening to his reply. He then says that the players are fully behind Zidane in his hour of woe.
A question about the game, to which Marcelo replies that he forecasts an open game between two sides who like to attack. He is then asked how the captains gee up the troops before a game like this and responds that pressure is a factor but that with their wealth of experience it won't play too much of a part in the outcome.
4-3-3 or 4-4-2? "We play how the gaffer tells us to," Marcelo replies, adding that it doesn't matter much what formation is used as long as the players are mentally prepared to take on the opposition.
Zidane: "I'm not interested in my future"
How should Real approach the game, as 90 minutes or 180? Zidane says quite sensibly that the focus will be fully on tomorrow's game.
Oooh, a bit of sauce from the floor as someone suggests that this is an opportunity to demonstrate that Zidane is a great coach, not a mediocre one with an extraordinary set of players. Zidane takes it with a grin and says that he doesn't have anything to prove and that the focus is on the result, not him. He adds that being a Marseille fan adds a bit of spice to the affair but he won't be thinking about that either.
The inevitable BBC question: will they play if fit? Are they 'untouchable'? Zidane replies that he is interested in the team as a whole and that the formation doesn't matter that much as long as his players are focused and concentrated.
Zidane is now explaining that the build-up to the game has been normal, the players' week has been the same as any other and that although there is a bit of added pressure everything is basically fine and dandy...
Why is this game special for Zidane and how does he see his future? As ever, the Frenchman says that he's only focused on tomorrow and isn't thinking further ahead than that. "I'm not interested in my future" he says, adding that what interests him is his team and the performance they put in.
"We have to play well" Zidane says, noting that if his side play to their capabilities they can beat anyone.
"It's not Neymar vs Cristiano, it's PSG vs Real Madrid"
The Cristiano-Neymar question pops up: "It's not Neymar vs Cristiano, it's PSG vs Real Madrid" Zidane says. "Cristiano is a great player who has achieved a lot" but Zidane isn't going to compare them. Neymar is pretty handy as well, he adds.
Bale has not played 90 minutes all season, a journo notes. Is he at 100 percent going into the game?
"I usually make changes among the more attacking players" Zidane explains.
A lengthy tactical one from the floor, 4-4-2 or 4-3-3. Taking into account PSG's attacking dangers, what's the best formation? Zidane causes some mirth by politely explaining that he's not going to reveal his hand the day before the game.
Has Zidane considered man-marking Neymar? Again, the Frenchman smiles, apologises and says he won't be answering that one either.
"It's 50-50" Zidane reckons, saying that both sides have an equal chance of going through.
Who is under more pressure, Madrid or PSG? Zidane replies that there is no pressure on Madrid because they live for playing these kinds of games and he hopes that it will be a great game.
Zidane is asked about Benzema and the jeers he has been receiving recently. As ever, Zidane says that he hopes the fans will be behind the side tomorrow.