CHAMPIONS LEAGUE
Juventus 2-2 Tottenham UEFA Champions League: match report
Tottenham Hotpur came from two goals down two draw 2-2 with Juventus in Turin to set up the second leg for Wembley in two weeks time just perfectly.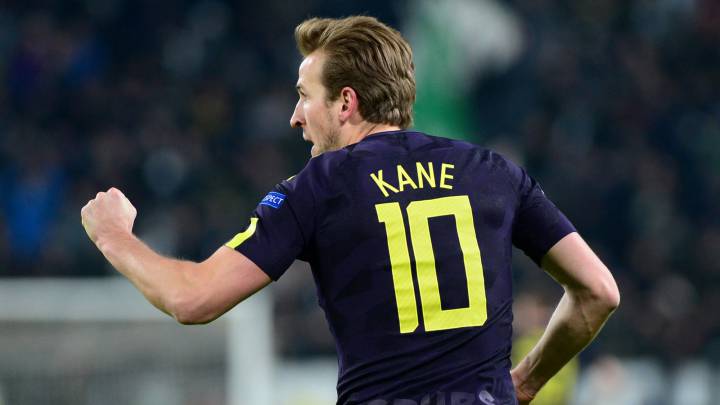 Juventus 2-2 Tottenham Hotspur: match report
Tottenham Hotspur recovered from conceding twice in the opening nine minutes to secure a 2-2 draw away to Juventus in the first leg of their Champions League last 16 tie on Tuesday.
Gonzalo Higuain struck for Juve after two minutes and again from the penalty spot after nine as Tottenham were rocked, but the visitors responded in impressive fashion.
Harry Kane fired home in the 35th minute to halve the deficit -- the first goal Juventus have conceded in 2018 -- before Higuain wasted the chance to score a hat-trick when his penalty on the stroke of halftime hit the crossbar.
Tottenham were rewarded for their endeavour when Christian Eriksen's free kick levelled it up in the 71st minute, meaning the London club will fancy their chances of knocking out last year's runners-up in next month's second leg at Wembley.
Juventus vs Tottenham Hotspur live stream online: coverage
90'+2' That's it. Sets up Wembley perfect now with that result! 
90'+2'   Into the last minute of added time now. Wanyama coming on for Eriksen.
90'+1'   Also worth noting how exciting Spurs are to watch. 
90'   Spurs now in full control. Juve have worn themselves out trying to get that third goal. Spurs okay with this though.
89' Lucas Moura coming on for Lamela. This is his debut. Nice to get a few minutes tonight.
88'   Costa with another cross, takes a deflection and rolls to Lloris. 
88'   Corner comes in and Juventus can't do anything with it.
87'   Douglas Costa absolutely roasts three Spurs players and sends in the cross and Vertonghen nearly puts it into his own net. 
86'   Douglas Costa with a really ambitious ball into Higuain but too much on that and Lloris is comfortable with it.
85'   Juve pushing for another one here. They'd love to go ahead and feel they might need to going back to White Hart Lane. Headed out over the bar.
84' Alli off for Son.
83'   Lamela breaks and tries to pass to Alli. He manages it but the English midfielder loses out. They win it back again. Spurs just so good at pressing.
82'   Lamela about to come on for Spurs but after this corner, I'd say.
82'   Douglas Costa faces Aurier and wins a corner.
81'   Spurs in control now. Aurier with a lovely cross and Buffon saves it.
80' Bentancur with a fairly nasty late one on Davies and he gets booked. Just late but nothing really too bad. Caught him on the shin.
79'   Sturaro fouled by Eriksen.
79'   Nice ball into the box but that's way too long for Alli. Buffon saves.
77'   Mistake by Spurs and Bernardeschi eventually gets a shot away that takes a deflection. Nearly catches Lloris out but he recovers and saves.
76' Mandzukic replaced now by Sturaro.
75'   Higuain takes off down the left and fouls Dembele when he can't beat him and Sanchez. He is so angry at the moment.
74'   Can Juve get another goal? This has been some game...
72' Eriksen with the free-kick and that's a goal. He shoots low and buries it. He caught Buffon out completely.
71'   Chiellini fouls Alli as he takes a touch at the edge of the box and gets his legs cleaned from under him. It wasn't as a bad as that sounds but his feet were clipped.
70'   Lamela with a cross now. Takes it short to Eriksen and they work it across to Kane. He strikes from outside the box and Buffon parries it.
68'   Ball sent into the box by Juve and that's caught by Lloris.
66' Khedira replaced by Bentancur.
65'   Bentancur ready to come on for Juventus.
65'   Sanchez fouls Higuain. He gets the free but he's still not happy. 
64'   Alex Sandro with a foul now on Lamela as he tries to wriggle free and play the ball.
63'   Spurs ready to whip it into the box. It's cleared and Chiellini is fouled as he strikes it. Well, he kind of talked his way into that because Dele Alli didn't touch him.
62'   Aurier fouled by Alex Sandro now. 
61'   Mandzukic wins a corner for Juve. A little more chaotic this half but still very exciting. Tempers rising here too.
60'   Play stops for a Pjanic injury too, which surely incensed Higuain even further.
60' Higuain tripped up on the break and he is absolutely raging with not getting a free. He's booked for that too.
58'   Mandzukic with a header now and that's saved. Really good chance for the Croatian.
57'   Bernardeschi cuts inside on his left and Lloris gets down and saves at the far post. Great shot and really good save too! Juventus corner.
56'   Spurs building again, you feel.
55'  Kane free down the left hand side but has Benatia for company now. He plays it back to Davies and Spurs try to slow it down and control possession.
53'   Referee hits a Douglas Costa pass on its way to a Juve player and the crowd giving him some stick now.
53'   Juve with a little but more composure here but Spurs look very dangerous too.
52'   Mandzukic hurts himself from that cross that came in that Lloris cleared.
50'   Chiellini charges forward and then fell over... he was going too fast!
49'   Spurs start the second half with more pressure.
47' Aurier out for the return leg. He catches Dougles Costa with a very sore-looking knee in the back.
46' Back underway! What a first half. Spurs need to be careful now to let Juve start like they did in that 45.
45'+2'   That's half-time.
45'+2'   He drove it straight down the middle. 
45'+2'   Lloris versus Higuain again. Hits the crossbar!
45'+1'   Aurier takes Douglas Costa down in the box and it's another penalty.
45'+1'   Poor cross into the box by Davies and Juventus get to slow it down now with a goal-kick.
45' Kane gets a blow to the back and hits the deck. Benati gets a yellow.
43'   Eriksen with another dangerous run into the box. Comes in and Juve get it away and concede the corner. Ball comes into the box and Mandzukic ends up on the ground.
41'   Eriksen absolutely running the show now.
41'   Eriksen with a lovely ball inside. Alli with the header but it's over the bar.
40'   Eriksen with a striker and Buffon can only parry it! What a shot.
39'   Eriksen's crossing is class. Another dangerous ball that forces Juve to scramble. And Spurs win it back.
38'   Cross from Aurier and Chiellini catches that one in the schnoz. Juve up the other end and can't get anything out of it as Lloris is off his line like a light.
35'   Harry Kane! GOAL! 1-0. He takes it around and on-rushing Buffon and slots it home.
34'   You'd wonder how Juve hang on here?
33'   Eriksen with another great cross but Alex Sandro clears.
32'   Juve look tired here or something. Kane put through and again and turns and shoots from a difficult angle. Buffon helps it wide and gives away a corner.
31'   Juve counter. Link between Mandzukic and Higuain and they play a couple of one-twos before Higuain drives it wide. It shaved the post too, or came very close.
30'   Aurier down the left and wins a throw. Dembele plays one through for Alli but he can't get a strike away. 
28'   Lamela fouled by Bernardeschi in a dangerous position. It's slightly to the left of the penalty area but delivery from Eriksen is poor and he gets a second chance at it but drills it wide.
27'   What a save! Point blank stuff. Kane headers it off the keepers hands and what a save that was. Kane looks around looking for an offside flag but he was on and he missed.
25'   Davies now with a first time cross on the volley and Juve have to scramble it away.
24'   Davis with a throw down the left after Sanchez launches one out to him.
23'   Lloris clears as Spurs continue to slowly but surely wittle down Juve's defense. No luck breaking them yet but they seem to be growing in stature and pushing further forward.
20'   Kane swings it in and it's just too far away from Alli but Juve scramble it away as Lamela comes in around the back post.
18'   Juve counter now. Mandzukic on the right but Spurs win it back and Alli sets Kane free through the back but Juve clear! Last gasp stuff there from the home side. This is a proper back-and-forth now between the two sides.
17'   Kane wants a penalty. He gets a push in the back but referee says no chance. Kane is up and over to the ref but he isn't changing his mind.
17'   Spurs counter.
15'   Eriksen picks up a Juve mistake at the back and crosses but it's cleared before he wins it again. It goes out for a goal-kick but not before Kane can try his luck with a shot. Saved by Buffon and some debate over whether the ball was out but that's what it was called.
14'   Aurier sends a ball high and out for a goal-kick.
13'   Spurs settle into some possession now. Juve have called off the dogs and are soaking up pressure.
12'   They're starting to push forward a little bit now. Lamela with a cross but Juventus defend it well.
10'   Dier fouled by Pjanic. Spurs looking for a little breathing space but can't get any yet in the attacking third, or anywhere really for that matter.
9' Higuain with the penalty and he scores. Lloris gets a hand to it but he can't keep it out.
8'   Bernardeschi taken out of it by Ben Davies and it's a penalty for Juventus.
7'   Dembele steps in and wins it back but his pass is too far behind the target and Juve drive forward and win a free.
6'   Kane changes that for a second and wins it back. Spurs with some pressure but Juventis playing like they've got 12 men.
6'   Offside now from Juve. It's been all them so far.
5'   Long ball to Mandzukic down the left-hand side but it's too long for him.
4'   Lloris got a hand to that but no way he was keeping it out.
2' Higuain with a goal! From that free, the ball is popped in and the Argentine absolutely buries it with an over-the-shoulder strike. 
1' We are underway here. Juventus pushing really, really high up and Pjanicfouled early.
Buffon and Lloris up for a handshake and a hug. And a coin toss.
Massive start for Erik Lamela tonight. What a night to start for the Argentina after the nightmare time has has had with injuries.
The anthem kids off. 
Teams are meeting in the tunnel. Fernando Llorente meeting his former sparring buddies and big hugs for Allegri. 
According to this though, Costa is on the right so that will be an excellent battle between Aurier and Costa. Either way, there will be all sorts of tactical battles tonight. We might need a minute or two to figure out how both sides play.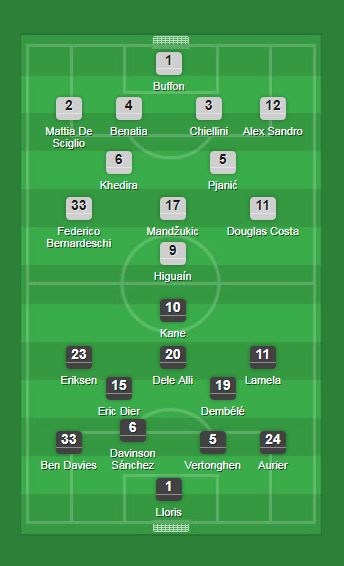 Douglas Costa, presuming he plays on the right, will have a very good battle with Ben Davies tonight. Pochettino will want to have briefed his two full-backs not to push too far forward because if they can get in behind and link with their own full-backs, it could be overload central on the flanks in bad positions for Spurs!
Harry Kane has scored 32 goals in 33 games this season.
They also conceded just one in their last 11 games too!
Juventus have not been beaten in their last 11 games. They had a 0-0 draw with Inter in that span, which was the only one they didn't win.
Juventus team news: Buffon; De Sciglio, Benatia, Chiellini, Alex Sandro; Khedira, Pjanic; Bernardeschi, Douglas Costa, Mandzukic; Higuain.
Spurs team news: Lloris, Aurier, Sanchez, Vertonghen, Davies, Dier, Dembele, Eriksen, Dele Alli, Lamela, Kane.
Kane or Higuain? Allegri picks the man he wants to lead his line!
Dybala has missed out on Juve's squad for tonight's game but Pochettino has said that he would have preferred to see the Argetine play as it's always nice to see the best. His gameplan will change too though with Dybala's absence and it will be interesting to see if Spurs play a more attacking style tonight or stick with what they had in mind before hand.
Hello and welcome to our live coverage of Juventus versus Spurs. The Champions League is officially back and it's Allegri versus Pochettino in Turin at 20:45. We have all of the coverage right here too.