CHAMPIONS LEAGUE
Real Madrid 3-1 PSG Champions League: match report, goals
Real Madrid left it late to devastate PSG as Ronaldo and Marcelo score two very important goals and they win 3-1 in the Champions League last 16 match at the Bernabéu. USA vs Mexico: FIFA Friendly live online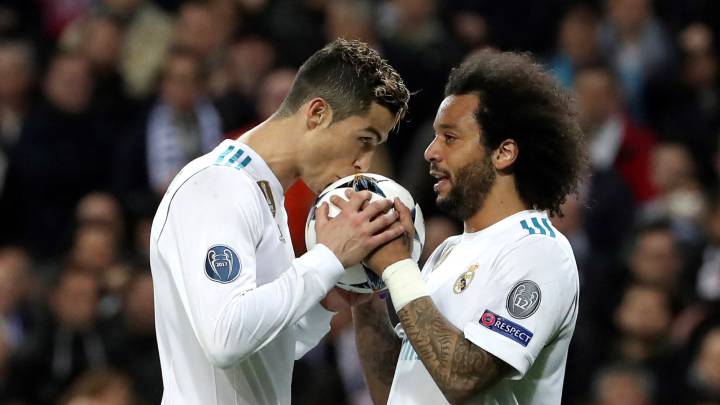 Real Madrid 3-1 PSG: match report
90'+3' GAME OVER!  Real Madrid utterly destroy PSG in the last few minutes. 3-1 they win it.
90'+3'   Neymar with a late chance but he shoots over the ball from a cross.
90'+2'   Bale chases down a bale now. Areola out and gathers. Quite the race that one.
90'+1'   Neymar can't reach that through ball from Rabiot. An utterly depressing end for them. They'll be having nightmares flying into Spain in the future.
90' Meunier takes down Isco on the sideline as he races down the field.
89'   Another Real Madrid counter and Ronaldo drives the ball at Areola. 
89'   The Bernabeu is absolutely signing again.
88'   Draxler with a shot that flies up and into the night.
86' GOAL! Marcelo with the third. Real Madrid go 3-1 up! 
85' Draxler on for Lo Celso.
84'   What a response.
83' GOAL! Ronaldo with what looks like the winner. Asensio the creator. Absolutely incredible.
82'   Mbappé gets goalside of Marcelo and he can't go around him once the Brazilian recovers.
81'   Mbappé offside from a throughball.
81'   Bale with a ball that sneaks through off the foot of Vazquez and Areola saves and it's another corner.
80' Vazquez and Asensio on for Casemiro and Isco.
79' Neymar is cleaned out of it by Nacho. Yellow card.
78'   Real Madrid with a coupke of set pieces. Nothing doing. 
77'   Bale gets the ball from Marcelo and starts an attack. It comes in to Ronaldo and he wins a corner. 
76'   So, so close. Yuri drives a shot across the box and Alves slides to hit it but he can't. My god that was as close as it gets.
75'   Alves out to Neymar but he can't get a shot down.
74'   This is insane. Last gasp stuff again. Cleared off the line again. Then a few bodies on the line with a few blocks and then Neymar looks to be quite clearly pushed in the back but no free. Ref making up for not booking him for the dive earlier.
73'   Last gasp defending again. Alves to Mbappé and he strikes but Ramos puts it out for a corner.
72'   Neymar absolutely races clear and gives a ball out to Alves. His cross is headed clear by Marcelo.
70'   That Meunier sub absolutely opening up Real Madrid. One of their best moves of the game ends up with a backheel to Mbappé at the backpost but it's cleared.
69'   A complete accident with a cross field ball from Neymar but looked sore. It was the same ear he has his earpiece in.
69'   Neymar just caught the referee with a ball straight to the head.
68' Bale replaces Karim Benzema.
67'   Meunier with a great ball that Neymar dives for with the head but can't reach it. Not sure exactly what that sub did but it seems to have worked.
66' Cavani being replaced by Meunier.
65'   Yuri down grabbing the back of his neck after that corner.
64'   Ronaldo lines it up. Hits the wall and wide. Corner.
64' Rabiot trips up Modric and gets himself a booking. 
63'   Real Madrid looking slightly more comfortable now as they build. Game going back and forth. 
61'   Isco sends a ball across the box from the right after some patient play and Areola gets down to save.
59'   Couple of decent openings there for PSG but they end up giving it away and Modric breaks and Alves fouls.
58'   Benzema with a cross that goes behind the goal before it even reaches the front post.
56'   Lo Celso caught out again and Real Madrid break with Kroos. He lays it off to Ronaldo but he's a too tight of an angle. He wins a corner though.
55'   PSG getting control of this one a little bit more.
54'   What a ball by Dani Alves in behind the back and the shot comes in from Rabiot. It catches Ramos straight in the stomach and cleared.
52'   Dangerous ball in behind by Alves and Varane clears but Navas dived for it and it nearly slides off his foot.
51'   Isco caught offside. Nice move involving Kroos to win it back.
49'   Lovely save by Navas and a lovely move by PSG. Neymar all the way across goal to Mbappé and he strikes under Ramos but the Costa Rican is equal to it.
48'   Areola picked off and Isco crosses but his cross had nobody attacking it. Ronaldo tried but couldn't get on the end of it.
48'   Ball in behind by Nacho and Isco is a good bit offside. 
47'   Neymar looks for Mbappe with a through ball but way too much speed on that.
46'   No changes for either side at the break.
46'   We are back underway at the Bernabeu. Let's see if either side can break the deadlock.
45'+2'   That's it. What a first half that was. Real Madrid well in this but the goal from PSG hurt them. They picked themselves back up and got that equaliser just in the nick of time. That will hurt PSG.
45'+2'   30 seconds left and Neymar has a corner to take for PSG.
45'+1'   Ronaldo buried that penalty. Lo Celso very silly. PSG building again. Yuri puts the ball behind Cavani, who was making a run in behind the defense.
45'+1'   Two minutes of added time.
45' Ronaldo steps up to take it. He absolutely buries it. Areola could be here all night trying to reach it and he wouldn't get near it.
44'   Kroos wins a penalty. Lo Celso already booked but avoids another one.
44'   Benzema forces an incredible save from Areola. Incredible really. Turns it around the post.
43'   Varane with a shot from downtown and it ends up in the middle of nowhere!A mile wide.
41'   Neymar with a lovely ball into the path of Mbappé and he takes on Isco down the right. Isco dives at his feet and it's out for a throw.
40'   Modric pulls it back to Nacho, his shot is blocked and then it comes back and it's blocked and Verratti, quite naively, lets it out for a corner.
39'   Benzema with a touch, maybe, as it goes into Modric's path but it's blocked.
38'   Corner comes in and Rabiot fouls on the rebound in the air.
38'   Ever so close to a second. Neymar runs into the box and passes to the Uruguyuan. He turns really well, takes one little touch and then drives it at goal but it's blocked. 
37'   Ronaldo wins it back at the edge of the square and he absolutely drives the ball over the bar. That's poor. 
36'   Neymar sends it into the box and Ramos heads it out. Getting a little tense around the Bernabeu now.
35'   Mbappé absolutely cleaned out of it by Kroos and that maybe should be a yellow. Not sure it is as Ramos gets involved too.
33' GOAL! Rabiot gives PSG the lead. Ball in from Mbappé and cavani steps over it, Neymar misses it and Rabiot buries it. He couldn't miss from there.
33'   Isco collides with Lo Celso and gets himself a yellow card. That's three already today.
33'   Ramos heads the corner towards goal and Areola saves.
32'   Another corner for Real Madrid and it's Luka Modric that wins this one.
31'   Verratti fouls Casemiro as he wins it back in the middle of the field. The Italian not having his best day at the Bernabeu again.
30'   Neymar through again and strikes at Navas.
30'   Game is picking back up again you couls safely say.
29'   Mbappé is right to be upset with Neymar there on that one. Ruined the chance try to go alone.
28'   Real Madrid with an even better chance and Ronaldo straight through on goal. Caught Areola straight in the face. 
28'   PSG with a golden chance and he messes it up. He took too much out of it. 
26'   He can't hit the target though as it flies over the bar. Well over really.
26'   Ronaldo taking the free. 
25'   He just wins it back on the edge of the box and Lo Celso fouls him. 
24'   Ronaldo gone slightly right now but Isco is rovin everywhere and picking up possession and calming things down for Real Madrid too. He's been exceptional.
23'   Brilliant from Casemiro there. Neymar down a blind alley again but he is being completely crowded out of it.
22'   Foul by Lo Celso on Modric after Casemiro wins it off Neymar.
21'   Alves nearly picked off by Benzema. PSG win a throw. Hectic start seems to be slowing down now but still very high tension.
20'   Modric back to Isco and another cross. Ronaldo offide this time though.
19'   Isco with a dangerous ball into the box and it's headed out before Casemiro wins it back.
18'   Ball over the top and Cavani can't keep it in. Don't think he has touched the ball yet.
17'   Mbappé and Neymar combine before the former drives into the box and crosses. Hint of a handball but that's it as referee waves it away completely.
16'   Neymar taken down by Modric after a ball went into PSG box and it's headed. Neymar wants a yellow but ref not producing a card.
15' Neymar takes down Nacho and is booked. A nasty kick at the defender.
14'   Ball in over the top and he is said to have handled it as he chested it down. Quite free and Isco gets possession.
14'   Mbappé very subdued here to start. He gets it again and is surrounded in his own half.
13'   Neymar set free down the left with Nacho in chase. He crosses and it's put up in the air by Varane and Navas gathers.
12'   More PSG's tight and dangerous passing than Real Madrid's excellent press.
11'   Real Madrid continue to push up on PSG and win it back again.
10'   Marcelo is going to play on. They figure an injured and broken Marcelo is a better option than Theo.
9'   Marcelo's arm or finger or something broken. Immediate concern from Marcelo and Alves and the ref. 
8'   Isco wins a free off Rabiot now and another final warning from the ref. No more he says! 
7'   Mbappé with a stepover and Neymar plays it to Yuri, who drives a shot just wide. PSG settling into this now.
7'   Nacho getting a final warning off the ref as Neymar put the ball out of play and left his leg in and fell over.
6'   Exceptional pressure early on from Real Madrid.
5'   Played short to Ronaldo, who strikes, and it has to be parried away. Another corner.
5'   Neymar runs down a blind alley and then Real Madrid win it back. Marcelo to Benzmea and a back-heel as Marcelo drives forward. Corner!
5'   They push up slightly though and Marcelo puts it out for a throw.
4'   Real Madrid under more control here in this one to start. They're throwing it around at the back.
3'   Ronaldo with a very similar strike, from a tighter angle, as the one that Higuain scored last night. It goes well wide though. Ref letting a lot go early on. A couple of fouls earlier up the other end for either side that went unpunished.
2'   Then Neymar is bundled over by Casemiro and Kroos follows through.
2'   Early penalty shout for Real Madrid. Kroos the one who tumbled.
2'   PSG play themselves into some trouble at the back and Isco wins a corner. PSG trying to be slightly too cool for school.
1' Vamos! We are underway at the Santiago Bernabeu.
    looking forward to the game now so we can stop assessing body language and hugs and smiles. Although I do love that kind of thing.
    Hugs from Neymar for everyone and a big smile for Benzema, and an even bigger one for Isco.
    Neymar looking very loose. Mbappé a little tighter but they all look fairly cool. Mbappé with a fairly big smirk on his face as the Champions League music plays.
    Ramos ready to lead the side out here. Gets the nod from Ronaldo as they emerge onto the field.
Players back out and in the tunnel. 
Just minutes out from the game now. 
An example...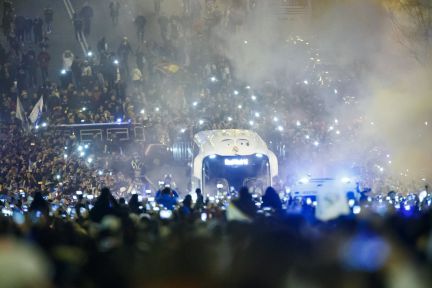 In an around The Bernabeu is like a festival tonight! Not sure there's been a game in recent memory that has been this anticipated.
Neymar doing some last minute shooting practise.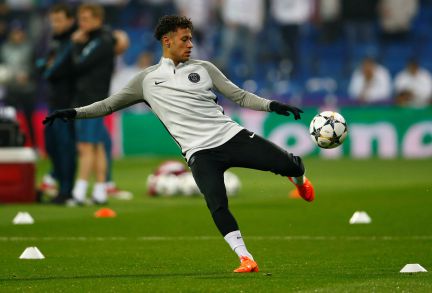 Marcelo had a message for the fans during the presser yesterday. Some other players had asked for full support given how some of the fans were booing Benzema recently. Marcelo: "It is always a pleasure and a proud feeling for us to play at the Bernabeu beside out fans. We can do very well because they come to give us the support that we need to do a really good job. I know that the people will go to support us a lot tomorrow. The message is that they continue supporting like they have until now because they are very important. Every shout or push for us is very important."
Ronaldo last out of the tunnel. I love watching the activity in the tunnel. 
Ronaldo giving Isco some serious advice now before they go out for their final warm-up. Isco listening intently. And then Ramos comes out slaps them all and they are ready to emerge. 
Massive hug in the tunnel between Marcelo and Di Maria and a light chat. 
If you're following the game live with us here and fancy checking in on the Liverpool and Porto game, Cal has you covered over here!
    Basically it's a 4-4-2 for Zidane with a diamond and Isco at the top and 4-3-3 for PSG and Emery.
A first Champions League start for Gio Lo Celso tonight...Wow!
  Thos rumours regarding Isco in and Bale out are true: Navas, Nacho, Ramos, Varane, Marcelo, Casemiro, Kroos, Modric, Isco, Benzema, Ronaldo.
Rumours abound that Isco starts and Bale DOES NOT! The BBC could not continue under its own weight. But Benzema starts. Strange one but maybe Zidane is trying to get a march on the absence of Thiago Motta?
Hello and welcome to our live online commentary of Real Madrid vs PSG tonight on the Champions League. Kick-off is at 20:45 from the Santiago Bernabeu.
Real Madrid left it late to knock the stuffing out of PSG but they certainly did just that at the Santiago Bernabéu on Wednesday night. Goals from Ronaldo (2) and Marcelo give them a 3-1 lead going into the second leg in two weeks' time after Adrien Rabiot had given the visitors the lead.
Rabiot buried a shot to the back of the net on 33 minutes after Mbappé sent a lethal ball into the box. Ronaldo had that goal pulled back before half-time though when Gio Lo Celso, making his first Champions League start, pulled back Toni Kroos in the penalty area on 45 miutes. Ronaldo buried the penalty and it was a blow to PSG.
After PSG had looked to take control of the game, Zidane introduced Bale, Asensio and Vázquez and the pay-off was almost immediate. Ronaldo kneed home an Asensio cross after 83 minutes and Marcelo made it three just three minutes later to send the Bernabéu into raptures.
Unai Emery disappeared down the tunnel after the game and will be scratching his head as to how this keeps happening to his side. He needs answers to that question and will need a miracle on the return to Parc des Princes in two weeks' time.
Real Madrid vs PSG live stream online: minute-by-minute