Barcelona move 10 points clear after tough Eibar encounter
League leaders Barça will travel home delighted to have picked up all three points in the Ipurua rain, Luis Suárez and Jordi Alba hitting the net against the run of play.
Eibar vs Barcelona: match report
It's all about the points when it comes to winning the league and this will go down as yet another accumulation of all three in what still appears to be Barcelona striding towards reclaiming their Spanish throne. What the players, and those that were watching, will remember though, is that their hosts Eibar gave them a real test ahead of another against Chelsea in the Champions League.


Suarez latched on to a pass from Lionel Messi to dribble round the home side's goalkeeper and slot into an empty net in the 16th minute, while Messi hit the woodwork later in the game as did Eibar's Fabian Orellana, who was sent off with 25 minutes remaining for a second booking.
Eibar coach Jose Luis Mendilibar was also dismissed later for angry protests against referee Alejandro Hernandez Hernandez.
Barca finally made the most of their extra man when Alba sidefooted into the near corner with his weaker right foot in the 88th minute to give his side a first win in three games after surprise successive draws against Espanyol and Getafe.
8 - Only Philipp Max (11) has been involved in more goals than Jordi Alba in the Top 5 European Leagues this season (eight same as Kimmich): two goals & six assists. Active pic.twitter.com/aBg1upjOvD

— OptaJose (@OptaJose) 17 February 2018
The hard-fought win takes Barca on to 62 points for the season, 10 above nearest challengers Atletico Madrid, who play Athletic Bilbao at home on Sunday. Champions Real visit Real Betis the same day.
Eibar vs Barcelona: how it happened
Muchas gracias for joining us from all around the world and we'll be back tomorrow with more live football as Real Madrid's make the trip to Sevilla to play Real Betis.
And that's that! Wonderful effort from Eibar but Barça show their clinical side and Valverde will be delighted to have taken all the points. Their lead at the top of the table is ten but Atleti can reduce that to seven again at the Wanda tomorrow.
90'+3'   Messi skies a wonderful chance from inside the area as Coutinho plays him in. Not often you'll see that miscue from his left foot.
90'+1'   Charles gets to the byline and cuts it back but there is no supporting player. The ball rolls deeper though and Escalante has a ping. Nice strike but always heading wide.
90' Change from Valverde as Semedo replaces Sergi Roberto. Three minutes to be added.
88' Goooooaaaaaalll! Jordi Alba surely ensures three points for the league leaders. Messi denied by a great save by Dmitrovic but the rebound is slotted home by the supporting Spaniard.
86'   Messi receives the ball just inside the Eibar area and it's just a matter of seconds before he moves it to the side and fires home. Or not. Fabulous work from Dani Garcia who squeezes his frame in between the Argentine and the ball and comes away with possession.
84'   Ohhhhh! That should have been wrapped up by Vidal who was put in one-on-one but Dmitrovic stayed big and made the block before covering defenders got rid.
83' Jordan off; Charles come on with some time to make a difference.
82'   Rakitic wins a foul to relieve a couple of minutes of pressure. Another peice of tidy play and a change of pace from Inui saw him fire in low but the block was strong.
80'   Ter Stegen holds a tame effort from Inui after the Japanese winger showed some silky feet to create the opening.
78'   Almost two with Messi unable to apply the finish over Dmitrovic after a steady build up across the park and a dink between two Eibar defenders from the so-far quiet Coutinho to meet the Argentine's run.
76'   Barça try to get some control and composure as Eibar's energy levels appear to just be dropping a tad. No surprise.
75' Paulinho off for Aleix Vidal. Diop is off for Gonzalo Escalante
73'   More than likely Barça will see this game out, possibly add to their advantage, but the sending off hasn't changed much in terms of the flow of the game. The key difference is not having the dangerous winger on the field to open things up out of little.
71'   After those incidents it feels even more fiesty out there. Eibar nipping at the heels of the Catalans who are scoring them off their Christmas card list one by one.
68'   Controversy in seconds. A nice break from Barça sees Suárez flagged offside. As the striker stops play he then kicks the ball away...but no yellow given. Mendilibar loses plot with fourth official and is then sent to stands by ref. Big club decisions back on the agenda.
65' More fortune for Barça as one of the stars for Eibar is shown a second yellow. Fabian Orellana, frustrated with a yellow given to teammate Diop, punches the ball away. That is enough for the ref to give him an early bath. Mendilibar far from happy on the sideline.
64'   Corner for Eibar delivered into the mixer and the heads that go up could have knocked the ball into a more favourable area for a chance at goal. Barça get lucky.
63' Coutinho on for Iniesta
62'   Inui almost able to take the final pass in another effective move through the Barça midfield but it just slips out of play. Valverde has a sub ready...
60'   Eibar continue with the high press and show their composure when they win the ball back. It's all about making that clear opportunity though, and Ter Stegen hasn't had much to do this half.
58' Orellana into the book. As Barça looked to clear, the Chilean was over eager to stop Iniesta and hacked him down. Few complaints.
58'   Another neat move from the home side, Orellana at the heart of it, but just as space looks to be their friend, the blue shirts swarm back and smother the attack before a shot is possible.
56'   Great chance! Orellana breaks down the right and with space and time to think pulls it back in the penalty area for the suppoorting Inui. He mishits and it's wide. His face says it all.
55'   Fifth corner to Eibar. What can they do with it? The delivery has been good so far but no one meeting them. This time it's not so good and it's headed away at the near post.
53'   Free kick for Eibar after a rough grappling challenge from Piqué. Pape Kouli Diop delivers but the Twitter lover gets it clear well.
52'   Messi with some skills to open things up on the right. He rolls it across the box to the onrushing Suárez but he chose a pitching wedge rather than a driver and the ball sails way, way over.
48'   Neither side able to get much sustained control of the ball but then a firm pass from Messi to Suárez is flicked on and Paulinho is free, and onside, to run towards goal. Great strength from the defender to shepherd the Brazilian away from goal.
There was one change at the break as Lomban replaced Ramis at the centre of the home defence.
47' Some tasty challenges go in but it's then Iniesta that sees yellow with a foul
46'   Eibar quickly win the ball back and then scruffily swap possession with their guests a couple of times.
OK, that was a quick 15 minutes. Let's hope for another competitive half. Barça, in their light blue kits, get us going...
*Of course, that little statistic of one goal to nil has a fairly important bearing on the match.
As a famous man once said, stats are a bit like mini-skirts, but it's rather telling that Eibar have had seven shots to Barça's three and the only four corners of the game. More than that, the amount of play in the final thirds paint a picture.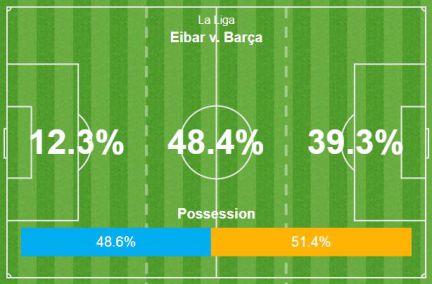 You'll get a whopping 23 times your stake if you fancy a full turnaround in this game.
The performance from Menilibar's team in that first half would suggest it's possible but those pesky bookmakers tend to know a thing or two about how this game usually works out. Talking of the manager 
Fabián Orellana has been one of the stand outs for Eibar again as the winger on-loan from Valencia looked to create at every opportunity while helping out his midfield as they closed down space for their illustrious visitors.
45'+1' That's it. Half time in an exhilirating match, thanks mainly to the home side who are brimming with confidence and lung-busting energy. Can they keep that up? Can they find an equaliser? We'll soon know...
44'   The ref's had a few words with the players but we get back underway again and Orellana tries a run, tackled, Messi tries the same, closed down, and the ball is out of play.
42'   What a pass from Messi! Finding a gap that was only possible by judging where the moving players would be in the second after he made contact with the ball, Alba has a great chance to score. Well saved by Dmitrovic
39'   Corner to Eibar sees another dangerous ball into the area which is then dealt with by Barça, Suárez taking control of the situation before Orellana fouls Alba for a stop in proceedings.
37'   ...Suárez almost gets a second in similar fashion. Down the left channel this time and as Dmitrovic closes him the striker again skips to the side. The angle to goal is too narrow so he pulls it behind him to Messi whose shot curls towards the emptyish net but rebounds back off the post. Close!
35'   Did we mention Eibar like crossing? Inui once again drifts one over the six yard area but it's cleared by Jordi Alba. barça may have a chance to break...
34'   Kike almost set free with virtually the whole Barça half to run into but the visitors hold their defensive line well and he's flagged off. Orellana then shows his abilities again as he skins Alba before just overhitting his pass to the overlapping player. Goalkick.
32'   Paulinho bustles his way to getting off a shot towards Dmitrovic but it's not clean, and gathered with no fuss.
30'   Another chance falls for the Basques. Jordan this time reaches the edge of the area, looks to poick his spot and....drags it wide. Eibar by no means losing faith in their chances here today
28'   Anyone watching this first third of the match who had never seen LaLiga before would struggle to identify the squad worth €700 million more. In saying that, the big bucks are paid for players who can change the game with a killer through ball or bamboozling drop of the shoulder a la Messi and Suárez for the goal.
25'   The energy levels being shown by Mendilibar's men is impressive, and they are closing down in clearly defined units. Again they win the ball back in the centre of the park and work it wide for a Pena cross. Barça do well in defence.
22'   Again that pressing proves fruitful. Piqué dallies and under pressure gives the ball away in his own area allowing Pena to cross. Shout for a penalty on the Umtiiti block ignored by whistler Alejandro Hernandez 
20'   Kike doesn't see yellow but that was a 'firm' challenge on Iniesta. The home side continue to push and press right the way through the team to Ter Stegen. And it's working with them winning possession back regularly. 
18'   Clang!! Orellana drfits inside and lets fly from 25 yeards, give or take. It's up and then dipping quickly over Ter Stegen but not quickly enough. What a response.
16' Gooooaaaaaallll!! So harsh on the hosts. Suárez fed clear from a through ball from Messi and the Uruguayan steps around the closing keeper and slots it home. Lovely goal, but against the run of play.
12'   Orellana gets another chance to cross from wide, it's blocked by a closing defender for a corner. All the pressure coming from the home side.  Corner is met by Ramis but he can't get enough purchase on it and it's easy for Ter Stegen.
10'   Messi (is it really 10 minutes in before I mention him!?) plays a neat one-two in the middle of the park and that draw in two home markers, allowing him to free Alba on the left. Just as it looks to be a great chance, the linesman's flag is spotted.
9'   Inui gets a cross in but Piqué deals with it well. Corner to Eibar. Angel swings it in and it just needs one of those many heads in the six-yard area to knock it home. The all miss it.
7'   Kike now, tricks passed one defender and has a hit. Ter Stegen stops and gathers. Home side bossing the early exchanges.
5'   This game has started at a tremendous pace. Barça break forward and Suárez skips round the onrushing Dmitrovic in the Eibar goal. Defenders get back to close options quickly and the block bounces halfway up the field allowing the home side to counter. The ball is fed from left to right and that man Orellana is on it again but his effort is skied over. Enjoying this!
3'   More pressure from Eibar, great skill on the right of the Barça area from Orellana but Piqué manages to clear. Another cross from the Chilian and Ter Stegen collects
1'   Eibar hold onto the ball for the first 55 seconds of the game, down the right, back. Down the left, cross*; and as the ball is played back in Jose Ange gets his head to it and it's just over the bar. What a start!
Peeeep! Eibar get us underw.... oh no they don't. Some problem for the official. Now we're off...
Right, the teams are out on the field, formalities are out the way and we're about to go...
For those interested, today's venue has a capacity of just over 7,000, less than that of the Loch Ness Monster's favourite club Inverness Caledonian Thistle from the Scottish Premiership.
For the home side, who haven't lost in their last four league games, Sergi Enrich's continued absence means another chance for Kike Garcia and Charles to combine. The pair started up top in last week against Sevilla, a coupon-busting 5-1 victory for the Ipurua side, including a brace from Orellana. Confidence boost much?
  The players are warming up on the pitch just now and clearly for the visitors Valverde's decision to leave record-signings Philippe Coutinho and Ousmane Dembélé is of some interest. One eye on Chelsea midweek? Maybe (although the former Liverpool player is ineligible). Selecting his best players in those positions based on recent performances? 
Barcelona starting XI: Ter Stegen, Sergi Roberto, Piqué, Umtiti, Alba, Busquets, Rakitić, Paulinho, Iniesta, Messi, Luis Suárez 
Eibar starting XI: Dmitrovic, José Ángel, Arbilla, Ramis, Rubén Peña, Diop, Jordan, Dani García, Inui, Orellana, Kike García
Sitting in seventh place, four points behind Sevilla with this game in hand, Eibar have proved themselves to be a tough nut to crack. They keep things simple, enjoy getting crosses into the area, and through their pressing are able to reduce opposition chances.
Eibar's manager, Jose Luis Mendilibar came out ahead of this fixture stating that if Valverde's men find their rhythm then the home side will be at their mercy, potentially losing by four or five goals. In saying that, Eibar - for those who haven't been keeping tabs on anything other than the top four this season - are LaLiga's real surprise story...
This game carries plenty of intrigue about it and there'll be more than just fans of the two respective team keeping a close eye on proceedings. League leaders Barça have drawn their last two games in the competition and so have seen an 11-point gap over Atlético Madrid reduced to just* seven in that time. (*Yes, it's still a reasonable amount considering we're halfway through February)
Good afternoon from Spain where we're gearing up to bring you live coverage of Eibar vs Barcelona in Matchday 24 of LaLiga. Kick off is 16:15 CET and we'll shortly have the confirmed team news for you...