BETIS - REAL MADRID | JAVI GARCÍA
Javi García: "I've warned the lads - Real Madrid always bounce back"
The former Real Madrid youth team player, who has played for Benfica, Man City, Zenit and now Betis gave the lowdown on tonight's game to AS.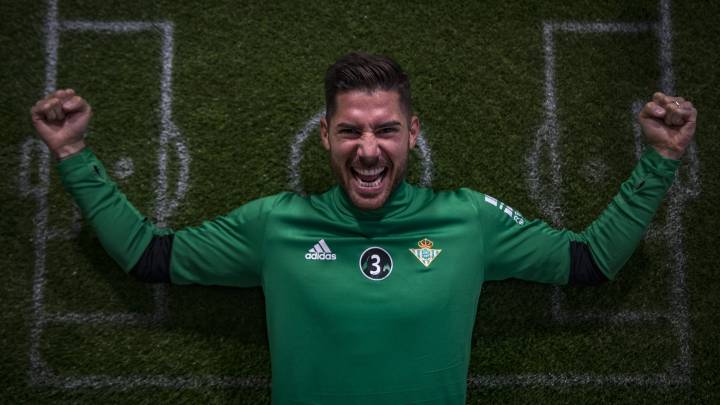 As a former Real Madrid youth team player, Javi García certainly knows a thing or two about the inner workings of the capital club who are guests of Betis later this evening. The 31-year-old midfielder took time out to chat to AS and says he has already warned his team mates that his old club are at their most dangerous when they wounded...
Javi García, almost a decade on
If what ways has the Javi García who left Madrid in tears to join Benfica in 2009 changed?
I've been in a lot of different places since then - all of them have been important to me. Lisbon, Manchester, San Petersburg... I was keen to return home to my country. When you first start out, you are more passionate out on the pitch, sometimes you run more than you need to. I'm still a very competitive player - like I was back then, but now I take my time to think before I react.
Is Setién's Betis a competitive team?
Of course. We have been criticized for our style of play - some people think we are too daring but it's a way of growing as a team. A club like Betis needs to be demanding, but looking at it from the outside, I think we are doing well. A lot of players who have come here have never played that way in their lives and so it's going to need time. Ok, we have conceded 40 goals but that's only because we have lost the ball at the back. Our style of play brings more benefits than disadvantages.
You were at Madrid when Zidane was still a player. Do you think he's being treated fairly?
That's right, Zidane was still playing when I started training with the first team. I don't think it's normal to see Madrid so far behind in the league, but I had a feeling that they'd beat PSG. I have warned my team mates: when all is said and done, they are Real Madrid, and they always bounce back. The league is looking very difficult for them but they're still in with a shout in the Champions League. It's their favourite competition and they could have a pleasant surprise.
As a madridista, it's not surprising to hear you say those things...
I joined them when I was a young boy and I've been through lots of good and bad moments - I've played against Atlético and Barcelona... you feel the pressure and it makes you even more of a madridista. When they are not the opposing team, I wish them all the best.
Coaches have to justify their jobs with silverware
Do you think the demands placed on Madrid's youth players are too high?
The fans are more patient with them, but the coaches want to win trophies because if the team has two poor months they'll be sacked. So you can understand why they are hesitant at playing young players in the first team.
Why do you think you are not still at Real Madrid?
Staying at Madrid or Barça long-term is extremely difficult to do. Every summer they spend 200 million on bringing in superstars. It's easier to stay where you are at human clubs.
Right now, Real Madrid have a squad to die for, you can just tell that they all get along really well. But the players who have come through from the youth teams don't get as much affection. It's just the way life is, the older players will always demand respect.
De la Red had what it takes to triumph at Madrid
Do you think Madrid need to take more of a chance on the youth players?
I've spoken about this quite a lot with Rubén De la Red - we both went through the same thing at Madrid when it was very, very difficult to break into the side. The team wasn't winning anything, we changed coach several times... I remember loads of young players coming through Barcelona's academy - Pedro, Busquets... Guardiola, who showed balls to do what he did... he gave all of them a chance and it worked. They could play with their eyes closed and win trophies.
Talking of De La Red, who retired with heart problems, he was in a long list of Fábrica products who showed great promise: Soldado, Negredo, Valero, Arbeloa, Diego López...
The quality was there, no doubt about it. But for me, De la Red was perhaps the only one from that generation who could have stood the test of time at Madrid. He didn't care that he was playing alongside Zidane or his next door neighbour. Guti was like that too, and that's the kind of personality you need to succeed at the big clubs.