Real Madrid score their 6,000th goal in LaLiga
The Spanish giants hit the landmark total with their third goal against Betis, the second on the night from Asensio.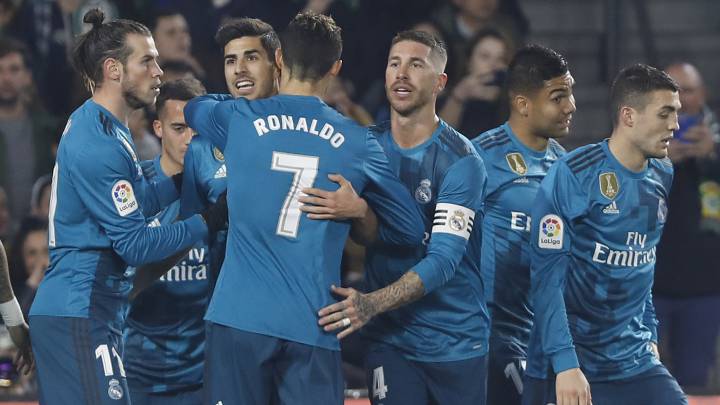 Real Madrid reached the landmark total of 6,000 goals scored in LaLiga, this evening in their match against Betis. Marco Asensio bagged the goal in question, Real Madrid's third of the night and the player's second. Real Madrid ran out 5-3 winners.
Real Madrid ahead of Barcelon
Real Madrid lead the scoring table in the Spanish top flight, now on 6,002 goals. Their closest rivals Barcelona have scored 5,962.
Real Madrid is the sixth side of the five big European leagues to reach the milestone, and the first from outside England. Everton, Arsenal, Liverpool, Aston Villa and Manchester United have managed the feat.
Real Madrid's landmark goal scorers
Real Madrid's first goal in the Liga was scored by Lazcano against Europa (1929).
1,000: Pahiño against Bilbao (1950)
2,000: Gento against Pontevedra (1963)
3,000: Juanito against Salamanca (1981)
4,000: Zamorano against Valladolid (1994)
5,000: Guti against Numancia (2008)
6,000: Asensio against Betis (2018)