CHAMPIONS LEAGUE
Chelsea 1-1 Barcelona Champions League: match report, goals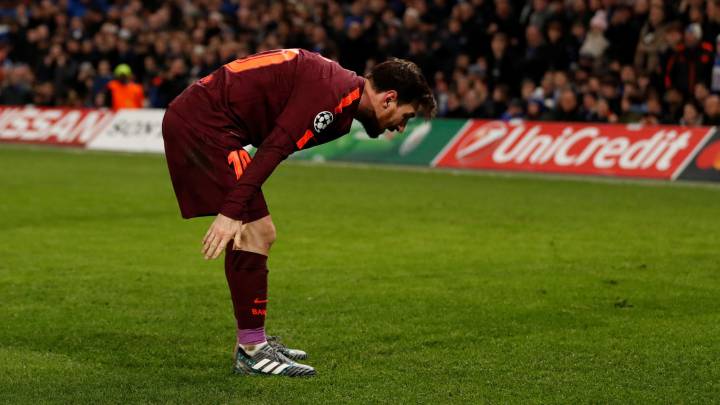 Chelsea 1-1 Barcelona: match report
90'+3' Game over in London! What a game. 1-1 it ends.
90'+3'   Hand ball by Chelsea now and that should do it. Barcelona happy enough with this result.
90'+3'   Into the last minute of added time now.
90'+3'   Drinkwater fouls Busquets. Tame enough effort really.
90'+2' Andres Iniesta being replaced by Andre Gomes.
90'+1'   Hazard fouls Sergi Roberto now. 
90' Busquets yellow now on Hazard.
90'   Plenty of time being killed now. Alba forced off but he is okay and wants to come back on.
88'   Drinkwater stands on Suarez. Moses stoof on Alba and the two are down in absolute agony.
87'   Messi plays it to Aleix Vidal and he tries to cross it towards Suarez but he took too much out of it and it's deflected up into Courtois' gloves.
86' Willian takes it. Out to Hazard and back again. Moses shoots and it looks to go out for a corner but instead Morata is booked for his protests.
85'   Umtiti fouls Hazard. The Bridge howling for a card but not coming as it wasn't that cynical and loads of men behind the defender.
84'   Conte trying to close things up without losing too much up front by bringing on a striker.
84' Fabregas off for Drinkwater.
83' Morata on for Pedro.
82'   Willian breaks and plays it out to Hazard and he has to turn around. Chelsea eventually win a corner. 
81'   Morata is coming on here.
80' Rudiger goes in full-blooded against Sergi Roberto and gets booked. Really meaty challenge.
79'   Suarez fouls Christensen as he tries to beat the defender. Very little in that. He battles really hard to win it.
78'   Willian plays it across to Moses and he waits, and waits before striking and Alba blocks it before it comes off Moses and out for a goal-kick.
77' Suarez was booked for his complaints earlier.
76' Messi GOAL! What a mistake from Christensen. He passes across the box and it falls to Iniesta, who pulls it back to Messi and he makes absolutely no mistake.
75'   Suarez absolutely raging. He wanted a penalty. But it never came after Rudiger trips him up.
74'   Willian breaks and Piqué launches himself into a one-on-one tackle and wins it. Very lucky there.
74'   Aleix Vidal fouled by Hazard. Stamford Bridge do not agree. Neither does Hazard. Very easy free in fairness.
72'   Willian needs help with a bloody nose. He caught a ball to the face a couple of minutes ago.
71'   Andres Gomes and Denis Suarez might be coming on here as they warm up too? Or maybe Dembele more likely.
70'   Dembélé coming on for Barcelona!
69'   Willian played through by Kante and he looks for Kante again but Alba slides in. 
68'   Aleix Vidal with the ball across the box and it goes all the way across goal. Alba misjudges the bounce of it and can't get to it.
67'   Barcelona do seem to be getting slightly closer. Still no luck for Messi though. He just got the ball at the edge of the penalty are and had about five players around him in an instant.
66'   Chelsea are so well set up here. Barcelona banging their heads against the wall.
65'   Suarez tries to barge his way through a number of Chelsea players but that's not going to work. 
65' Aleix Vidal on for Paulinho.
64'   That is an absolutely beautiful strike. He curled it around a number of players as it went low and around Ter Stegen, who was rooted to the spot.
62' Willian GOAL! he avoids the post this time and scores. Barcelona have been stung after so much possession. 
62'   Fabregas with a tame effort. Goes out for a corner but a very watery effort.
61'   Rakitic crosses from the set-piece. Another one straight to Courtois.
61'   Alba wants a penalty for handball. It wasn't but they win a corner. 
60'   Chelsea break. They give that away incredibly easy. 
59'   Suárez with the corner and Courtois safe.
59'   Suárez wins a corner. Moses dives in after the Barca striker runs around a couple of players.
58'   Piqué with an elbow to the back of Alonso's head and Chelsea win it. They lose out again though and it's looking more and more difficult for Chelsea here.
57'   Umtiti does foul Hazard now as he dives into a tackle.
56'   Hazard chases down a long ball. Piqué defends well and Hazard falls over but no free. Barcelona move forward.
56'   Alba to Suárez and his pass off target for Iniesta. Miles off by the way and Iniesta was very close to him. Strange one.
54'   Rudiger jumps in front of a pass for Messi. He wins it, drives forward and then loses out. Barcelona back in possession.
53'   Game hasn't reached the intensity of the first half but that's better from Suárez. He drives a strike towards goal after making a nice move to break free down the left. Courtois gets a hand to it and Barca pick it back up.
53'   Morata is warming up.
51'   Iniesta fouled by Azpilicueta in the battle of España there on the left hand side of Barcelona's midfield. 
50'   Rudiger drives forward now. Ball into Hazard and Umtiti seems to pull him back but referee literally waves it away. Free for Barcelona as they break. 
49'   Iniesta with a strike. Goes wide but seems to be slightly more space in front of him that time. Busquets with the pass. Chelsea soaking up pressure again.
48'   Iniesta versus Azpilicueta and he loses out. Throw.
47'   Messi runs forward and he is stopped again. He has absolutely no room to run into.
47'   Messi plays it out to Sergi Roberto and he drives a cross towards goal and it looked close at the back post. No dice though.
47'   Barcelona with possession to start so no changes there.
47' Let's see if Valverde made any adjustments at the break.
46'   No changes for either side. And we are back underway at Stamford Bridge.
  Waiting to see if there were any changes oat the break.
Back in the tunnel as the teams are ready to emerge! And they do just that. 
45'   Half-time. Barcelona hang on and need answers here in the second half!
45'   Sergi Roberto cross is very easily dealt with by Chelsea. Barcelona back in possession now as regular time runs out.
44'   Stamford Bridge faithful cheering on their side now for the opener. They can feel it's close. Just a couple of minutes to half-time though. Can they make this spell of pressure count?
43'   Hazard with a strike! Goes over the bar. Chelsea are really pushing Barcelona now.
41'   Willian with another post. He hits the other one this time! So, so close again. Chelsea wrestling control of this back off Barcelona. Barcelona have no answer.
41'   Rakitic with another foul on Alonso this time. He's very close to getting a second yellow.
39'   Fabregas looks for Hazard with a fast through-ball but it's too fast. Hazard reaches out but can't get to it. Into the waiting arms of Ter Stegen.
39'   Rakitic with a corner. Piqué heads it and he gets pulled down by Rudiger, who slipped. That might be a penalty in another game and Piqué makes sure to tell the referee what he thinks. 
38'   Moses versus Alba. Corner to Barcelona. Quite the battle going on down the left hand side of the field!
38'   Stamford Bridge singing now. They're happy enough with this first half.
37'   Hazard and Messi face off. Messi wins the ball back and wins a throw.
36'   Piqué concedes a throw.
35'   Rakitic with another foul. Conte not happy and the Croatian needs to be very careful.
34'   Chelsea have planned perfectly for this. Soak up possession and then break very precisely! They're comfortable when they are soaking the ball up too.
33'   Ball from Willian out to Hazard and he eventually passes it back. Shot comes in and Ter Stegen is beaten hands down! He is flat-footed and it rattles the crossbar.
33'   Sergi Roberto bundles over Hazard. Hazard having a really good game so far. 
32'   They're not giving up chances and this is how the game was planned by Conte.
32'   Barcelona assert their control again. Chelsea actually might be happy though despite Barca's dominance.
31'   Alonso rifles it towards Ter Stegen but that's handy for the keeper.
30' Rakitic with a deserved yellow card. He kicks Willian on the counter. Free for Chelsea now.
29'   Hazard tries to poke it towards Pedro but Piqué just about gets a foot to it. Barcelona drive forward again. More Chelsea recently but nothing doing.
28'   Umtiti gets an elbow in the face from Moses. Unintentional as he was battling for the ball but a foul nonetheless as Umtiti hits the deck.
27'   Again, no clear cut chances but it's only a matter of time.
26'   Sergi Roberto with a pass around the back. Headed clear. Barcelona absolutely all over Chelsea here.
25'   Barcelona with 75% possession but haven't look very dangerous. That is changing slightly though.
25'   Iniesta to Suarez and out to Alba. Moses ends up being fouled by Suarez. Chelsea survive again.
24'   Why didn't Messi read that better. Iniesta sends it across the box and he thought Suarez was going for it but he didn't. There was a chance there to strike on goal!
23'   Rudiger very unlucky to give a free away against Paulinho. The Brazilian went to go by him and he put out a hand but there was nothing really in it. Paulinho made the most of it.
22'   Ball into the box and Piqué seems to get a touch on it and it nearly falls to Paulinho. Barcelona wrestling control of this one from Chelsea. 
21'   Barcelona gifted a corner as Christensen puts a routine pass behind Azpilicueta. Can Barcelona make this count?
21'   Chelsea win a goalkick. Courtois to take now as Barcelona try to figure out how to break down this Chelsea defense.
20'   Christensen with a foul on Lionel Messi close to the halfway line. Messi picking the ball up very deep.
19'   Rudiger puts it out for a throw as Sergi Roberto tries to start an attack.
18'   Messi the sole creative figure for Barcelona so far. Aside from him, they haven't really done anything in possession.
17'   Rudiger heads a corner into the path of Luis Suarez and he hits it on the volley with his left. Blocked and Barcelona win back possession.
16'   Messi with a lovely ball into the box to Paulinho. He has a free header and misses the target. He set himself up all wrong for that and wasn't even facing the right direction.
14'   Chelsea very comfortable in and out of possession. 
13'   Hazard skips by Paulinho, into the box and cuts back. It comes back to him and he sends it back whence it came! Barcelona get it, clear and Kante handles the ball quite blatantly. Let off for Barcelona maybe.
12'   Ball over the top to Messi and it's too heavy. 
10'   Messi dropped his shoulder and just annihilated Rudiger. He droves forward and Paulinho gets it. His cross is cleared after coming in row.
9'   Cross comes in and Rudiger heads wide. He didn't catch it well but he had a free enough header. Good chance for Chelsea, who are making Barcelona sweat here.
9'   Corner for Chelsea. Barcelona struggling to get to grips with this one.
8'   Suárez gets a cheer as he stretches and puts the ball out for a throw. Barcelona struggling to get the ball.
7'   Fabregas clips the ball forward. Really tame effort in the end. Barcelona clear easily.
6'   Willian drives forward. Fouled by Alba as he obstructs the Brazilian.
5'   The ball passes around out on Chelsea's right side. Hazard gets it and absolutely drives it towards goal. Just over! Close.
4'   Rakitic hesitates and Chelsea win it back. Willian and Alba in a footrace and Alba wins. 
3'   Alba wins it back, plays to Messi and he loses out before Willian breaks. He loses it and Barca win it back.
3'   Messi with a dangerous run and cross. Christensen chests it down and clears.
Barcelona building now. Very patient and no space to move forward as they come back to Piqué.
2'   Should we get used to this tonight?
2'   Barcelona win the ball back on a handball and they have possession for the first time tonight.
1'   We are underway at Stamdford Bridge.
We are ready for action. Cesc Fabregas with a wave for someone in the crowd, who couldn't see him, so he kept waving! They saw him eventually.
The two teams emerge onto the turf in Stamford Bridge.
Some hugging in the tunnel as ever. Azpilicueta and Iniesta embrace at the top of the queue.
Nearly ready for action at Stamford Bridge.
Ivan Rakitic on Messi "working out more than ever" in the gym this year. He says it's evident in his form and fitness. 

High praise indeed but the problem is that Morata and Hazard were linking up that day and destroyed Atlético. Can Giroud and Hazard do the same tonight? 
Here is an interesting read on how Paulinho has turned Barcelona into a different style team.

It's a sell-out folks. 

Ernesto Valverde says Chelsea will be confident going into this one tonight. He says , "history counts" in relation to the game at Stamford Bridge tonight.

Plenty has been made of Barcelona's history with Chelsea and the fact that Lionel Messi has never scored against them. In 655 minutes of action, the little genius has never scored, making them his most difficult opponent in the Champions League. Here are the other six sides he has never scored against. 
Chelsea XI: Courtois; Azpilicueta, Christensen, Rudiger; Moses, Kante, Fabregas, Alonso; Willian, Hazard, Pedro.
Barcelona XI: Ter Stegen, Sergi Roberto, Pique, Umtiti, Alba; Busquets, Paulinho, Rakitic, Iniesta; Messi, Suárez.
We have team news as Ernesto Valverde decides to start Paulinho in midfield. No other real surprises in their side. 
Hello and welcome to our live feed of Chelsea vs Barcelona at Stamford Bridge in the Champions League. Kick-off in London is at 20:45.
Lionel Messi struck for the first time in nine games against Chelsea to give Barcelona the upper hand from the first leg of their Champions League last-16 tie on Tuesday by salvaging a 1-1 draw at Stamford Bridge.
Willian's fine strike just after the hour mark had put Chelsea in command after earlier hitting both posts in the first half.
However, one moment of carelessness cost Chelsea dear as Andres Iniesta intercepted Andreas Christensen's pass to tee up Messi to swing the balance of the tie in Barca's favour 15 minutes from time.
The English champions must now score when they travel to the Camp Nou on March 14 to have any chance of making the last eight.
Chelsea constantly tried to surround Messi with three or four blue shirts to limit the Argentine's threat, but he dug out a cross to the far post where an unmarked Paulinho headed wide.
Chelsea vs Barcelona live stream online: minute-by-minute