CHELSEA 1-BARCELONA 1
Valverde: "Dembélé? It wasn't the game for experiments"
Ernesto Valverde spoke after Barcelona's game against Chelsea and analysed his side's chances in the return leg, Dembele's lack of minutes and Paulinho.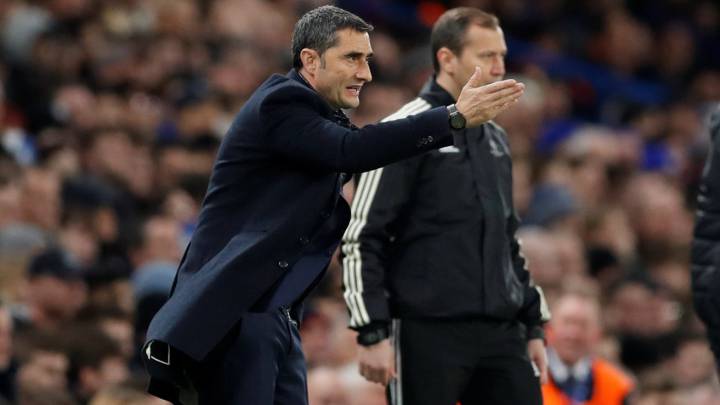 Ernesto Valverde spoke straight after the game to analyse his side's performance against Chelsea at Stmaford Bridge after Lionel Messi rescued a draw.
Was the result good and how was the team's play? "It seemed very good to me. We came to a ground that is difficult to play at. They are the champions of the Premier League and we carried that weight from the first moment. They have very strong players physically that can generate danger on the counter. With their goal, they got themselves ahead but we managed to draw. They barely had any chances. It is a good result and I think that we deserved the 1-1."
How do you attack good defenses like that? "Making good decisions. It is difficult when they have so many players back. It is difficult to find spaces. You combat with quality and with speed and with good decisions."
Messi was too far back and Suarez was left along up front? "It's possible, but they had a defense of five and we had no interest in gathering there. If we put five players there then there would have been 10 players there and then they were going to enjoy the space. We had to protect and in this sense, we are happy."
How do you see the return leg? "There's a lot left. There will be a decisive game. They will be more obligated but the planning might be similar."
Why Aleix Vidal and not Dembélé? "He spend a lot of time injured and for a game with this characteristics, the managers bet on the things they know and we have a seen it rather than an expectation. Aleix gives us things too, he has a distinct profile. When we arrive into a game of this calibre, I rely on certainty that I have to put Paulinho in the starting line-up and to put Aleix out there looking for more depth. It's not the moment for experiments or to do tests. That's how I see it."
Valverde also spoke during the press conference about the game
Rating: "I value it positively a battle of styles. We wanted control of the ball, the possession, arriving with the ball in their area. They wanted to surprise us on the counter, we had good minutes and we missed defining this more clearly. They defended well and had a lot of traffic close to their area. Willian had a few shots at the post that were the most clear for them. We failed to create clear chances, we continued insisting and we generated one error from them to draw. Good score to leave everything to be decided in the return leg."
Paulinho starting: "When we arrive into a game of this calibre this later in the season, at the time of making the team, I rely on what was done before now and in how it has gone. It was not the game for experiments, or to not have certainty. You have to be respectful of what has taken you to here. Paulinho had his chance, a date that never fails."
Champions League
*Update 20 de febrero de 2018