Real Madrid Castilla and Barça B on suspected fixed match list
El Confidencial has published a list of 51 games being investigated in Spain's lower divisions, including a 12-0 Barcelona B win.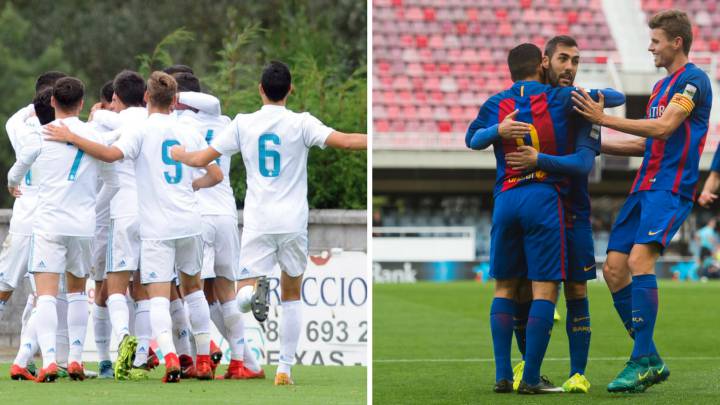 Real Madrid Castilla and Barça B (the two clubs' reserve sides) are included on a list of 51 games in the Spanish Segunda B, Tercera Division and Copa Federación being investigated for match fixing in relation to Asian betting houses, according to Spanish digital newspaper El Confidencial.
51 games over three seasons under the spotlight
The games in question took place over three seasons, 10 in 15/16, 26 in 16/17 and 15 this season (17/18). The game involving Barcelona B is the 12-0 thrashing they handed out to Eldense, which at the time raised immediate suspicion. An investigation was launched which revealed an international betting network related to Nobile Capuani, a boss at Eldense. Cheik Saad, then an Eldense player, revealed that four of his teammates had been involved and said Barcelona B had nothing to do with the result.
Meanwhile Real Madrid Castilla's visit to Cerceda this season, which finished 2-0 to the visitors, is also being investigated by the police.
200 police officers involved in investigations
According to El COnfidencial the games were fixed with the collaboration of various players, with two former players in touch with the players to control the outcome of matches in line with the match fixers' desires. Among these are believed to be five players who have been arrested, who plied their trade at Xerez, Jumilla, Águilas and Atlético Pulpileño. One of the supposed leaders is Jonan García, a former Athletic Club player, who according to sources consulted by this newspaper had looked at buying off match officials.
The 51 games under suspicion as published in El Confidencial
Season 2015-2016
Segunda División B
Real Unión - La Roda
Atlético Astorga - Racing de Ferrol
Tercera División
Paterna - CD Castellón
Loja - Maracena
Mora - Marchamalo
EC Granollers - Santfeliuenc FC
Recambios Colón - Novelda
Acero - Recambios Colón
UD San Pedro-Los Villares
Atlético Sanluqueño-AD Ceuta
Season 2016-2017
Segunda B
Baleares-Gavá
El Ejido-La Roda
Linares-Melilla
Arandina-Racing de Santander
Racing de Ferrol-Coruxo
Cornellá-Eldense
Barcelona B-Eldense
Villarreal B-Eldense
Atlético Baleares-Eldense
Eldense-Gavá
Tercera División
Écija Balompié-Sevilla C
Atlético Espeleño-Alcalá
CD Rincón-Dos Hermanas
Atarfe-Guadix
Zafra-Olivenza
Marchamalo-Talavera de la Reina
Alcalá-Écija Balompié
Alcalá-Atlético Espeleño
Atarfe-Loja
Atlético Espeleño-San Roque de Lepe
EAN Vanguardia-Yeclano Deportivo
Alcorcón B-Getafe B
Vélez-Atarfe
Murcia B-Águilas
Copa Federación
Ponferradina-Tenisca
Badajoz-Atlético Mancha
Current season 2017/2018
Segunda B
Jumilla-Écija Balompié
Cerceda-Real Madrid Castilla
UD Gijón Industrial-Unión Langreo
La Hoya Lorca B-EAN Vanguardia
Alcalá-San Roque de Lepe
Xerez-Olivenza
Xerez-Alcalá
Lebrijana-Xerez
Astorga-Real Burgos
Lebrijana-Alcalá
Alcalá-Sevilla C
Málaga B-Atarfe
Becerril-Virgen del Carmen
UD Gijón Industrial-Unión Langreo
Atlético Espeleño-Arcos
The operation against match fixing in Spain's lower divisions has seen around 200 police officers involved, under the control of Court Number 1 in Zafra, with the help of LaLiga and Federbet, a non profit organisation that seeks to stamp out match fixing.