CHAMPIONS LEAGUE
Sevilla 0-0 Manchester United Champions League: report
Sevilla could not beat David de Gea but came close on a number of occasions as Manchester United hung on for the draw in the Champions League last 16 game.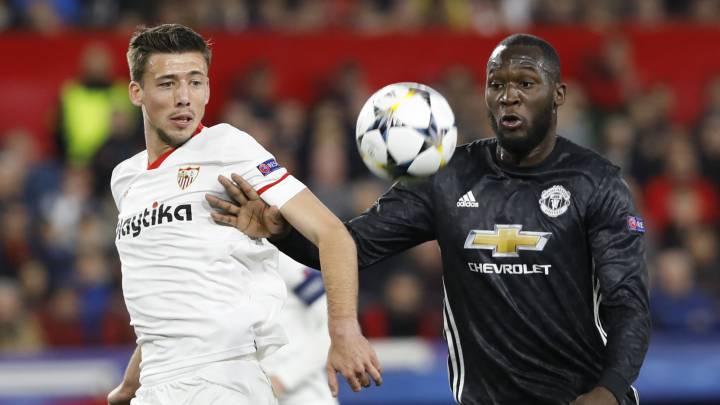 Sevilla 0-0 Manchester United: match report
David de Gea proved to be Manchester United's hero on Wednesay night in the Ramon Sanchez Pizjuan when he made to excellent saves at the end of the first half to keep the score at 0-0, which is how it would stay for the rest of the game.
Jose Mourinho made headlines by dropping Paul Pogba to the bench but he had to call on the club's most expensive signing when Ander Herrera had to go off early in the first half. It scracely matter, however, as United seemed stuck in second gear and unable or unwilling to get out of it.
Steven N'Zonzi headed the ball towards goal and De Gea denied the French midfielder before Luis Muriel had the chance of a lifetime only to see the Spanish shotstopper denied him again and this time from point blank range.
It kept the score at 0-0 and the second half began with much of the same. Sevilla didn't come as close but they had a swath of half chances that they could not convert as United failed to score an away goal and failed to convince too but the second leg will surely be a different story when Sevilla travel to Old Trafford in three weeks time.
Sevilla vs Man Utd live stream online: minute-by-minute coverage
90'+2' GAME OVER! Manchester United hold Sevilla at the Ramon Sanchez Pizjuan. 0-0 it ends.
90'+2'   That should be it. Mourinho delighted with himself.
90'+1'   Sergio Rico rushes off his line to smother a through ball that took a deflection. 
89'   Banega replaced by Pizarro.
89'   He shoots and that goes just wide.
89'   United with a chance now. They have a free after Rashford is taken down. He is ready to either shoot or whip it towards goal. 
88'   Great last few minutes.
87'   United straight up the other end. Martial crosses and it's to the back post. Pogba lays it off to Rashford and he strikes just wide.
86'   Sandro with a chance! It's blocked and then Pogba takes Navas down and no penalty. That looked like a penalty.
84' No, wait. It's Muriel who is replace by Sandro. Some confusion there on the bench for Sevilla.
84' Sandro replaces Mudo Vazquez.
83'   United thought they had a goal! Lukaku handled the ball as he cradled it in his chest. He scored but the ref had given the free the other way.
82'   Muriel with another effort. De Gea isn't getting beaten from that one.
81'   Rashford runs down the right and tries to beat Escudero but good defending and poor attacking result in a goalkick for United.
80' Mata replaced by Martial.
78'   Sevilla with another attack that breaks down.
77'   Correa was offside again. Sevilla a little overzealous with his run.
77'   Martial coming on now.
76'   Rashford races Jesus Navas and Navas wins. Then Matic fouls Vazquez. Game heating up again. United know they're under pressure.
75' Alexis taken off for Rashford.
74'   Sarabia was offside. he was through on goal.
73'   Ball into the back post. Sarabia heads just over. So, so close.
72'   Alexis tries to make something happen. He plays it to Lukaku and then back to Alexis before he gets it taken away.
71'   This is poor from United. Their most expensive signings not really producing and Sevilla look far more competent on the ball.
71'   Ball across the box and Muriel so very, very close to getting on the end of it! Ends up rolling to safety for United. 
70'   Pogba with an effort that goes a mile wide.
69'   Mata with another foul on Escudero.
68'   Corner comes to nothing as Manchester United foul in the air. Smalling on N'Zonzi, it looked like, but you can take your pic.
68'   Lukaku fighting down the left and Sevilla have to concede the corner.
67'   Banega strikes and that's straight to De Gea. No chance.
65'   Mata goes through the back of Escudero and Sevilla have a free. This time it is in a shooting position.
65'   Martial, Lingard and Rashford all warming up.
65'   Correa makes his way into the penalty area. He buys a yards for himself and shoots. Over the bar. 
64'   Great ball in by Banega and Lenglet is free. He heads down and De Gea saves.
63'   Banega ready to send it towards goal. He's definitely too far out to shoot.
63'   Correa pulled back and Sevilla win a free. Valencia lucky not to be booked for that as the home side were on the counter.
62'   united knocking on the door now. Mata sends one in that's defended and Sevilla win a free as Mctominay fouls Escudero.
61'   Lukaku does hit it and it hits the wall.
60'   Manchester United with a free now as Lukaku lines it up. Sergio Rico organises his wall but surely too far out to trouble the keeper?
59'   Mctominay surely obstruts Vazquez but referee says no. Now United win it back and counter. 
58'   Muriel brought his shooting boots but he never got them calibrated. Wide again. But he is getting into good positions.
56'   Vazquez has the jersey pulled off his back nearly by Lindleof. Referee sees if there's advantage and there's not. They lose out on the free though. United slow it down after Escudero fouls Mctominay.
55'   Corner comes in and Vazquez ends up launching himself into a tackle and handling the ball.
54'   Muriel wins another corner.
54'   Corner straight to De Gea.
53'   Muriel with a shot after a good break from Sevilla and they win a corner.
51'   Mudo Vazquez with a lovely move to free hmself up for the chance. Curls over the bar. Very close but the shot maybe not so much. Good effort.
50'   Muriel looses it again.
50'   Navas HOOFS clear down the left. throw for United.
49'   Muriel and Sevilla break but he sees his pass blocked.
49'   Nice move from United involving Young and Pogba before Alexis gets involved. They win a corner.
47'   Ball over the top to Muriel. He controls it well on his right and shoots with his left but that's a mile wide and over!
47'   Valencia outmuscles Correa and United win it back but Matic passes straight back to Correa.
46'   Sevilla get us underway for the second half!
Sevilla will be raging. De Gea's save was excellent but that should go down as a miss from Muriel. 
Can United withstand more of that pressure?
45'+1'   What a save. That's it for half-time. United relying heavily on De Gea to keep them in this.
45'+1' De Gea again from Muriel! 
45'   Mercado with a chilena and it's headed on by N'Zonzi. De Gea with a marvellous save.
45'   Sevilla break. Muriel to Escudero and he looks out to the left where a Sevilla player was free. Corner.
44'   Plenty of movement in the box and and the referee has to come over to tell them to calm down. Short corner. Alexis across to Valencia. They lose it.
44'   Mercado gets in the way of a cross and United win the corner.
42'   Correa kind of pokes one towards goal and forces a save from De Gea. He was at a difficult angle and with defenders in front of him but he did well to manufacture the shot but it was tame.
41' Alexis Sanchez chases Jesus Navas and fouls him. Yellow card for the Chilean.
40'   N'Zonzi heads the corner and it's out for a goalkick.
40'   Ball around the back to Correa. He backheels it to Escudero who overlaps and United happy to concede the corner.
39'   Young with a foul on Sarabia as he jumps into his back in the air.
39'   United with their backs to the wall a little bit here. Can they hold on until the break.
39'   Escudero with an effort and Smalling heads away. Corner for Sevilla.
38'   McTominay with an effort with his left foot and Rico beats it away!
37'   Alexis in the wars again. Caught on the top of the head this time.
36'   Correa back on top. Correa wins a corner from the right-hand side.
36'   Cleared by the first defender.
36'   Banega ready to clip it towards goal.
35'   Vazquex tripped by Matic and the Ramon Sanchez Pizjuan are crying out for a card or some action to be taken. They're right back in the game now.
34'   Out to the back post and out for a corner despite Muriel's best efforts.
34'   Another corner.
34'   Corner for Sevilla. A nervous moment there in the penalty area. Vazquez played through by Sarabia but he was caught flat-footed. Would have been a certain chance at goal there if he got that into his feet.
33'   United have gotten to grips with Sevilla now. Pressing them and there is no room moving forward for them.
31'   It was actually Mercado who fouled Alexis as he made his way towards the ball. It was an arm across the face.
31'   Sarabia loses out to Young and Banega ends up fouling Alexis on the counter. 
29'   Banega takes Lukaku down and he will get talked to. Nothing in that really. He was looking for the ball. Lukaku up and at them again. United with the free.
28'   Correa with a strike after cutting inside. De Gea saves.
28'   Continues to be a tense affair. Young back to De Gea and Muriel chases him down and forces him to kick it out over the endline.
27'   Lenglet and Lukaku getting a talking to. 
26'   Matic with a foul now and Sevilla have the chance to move forward. No luck going forward recently and Sarabia's cross straight to De Gea doesn't help matters.
25'   Lukaku finds himself in a little but of space from a good ball into the box. He volleys it well over. Nice technique but well off target.
23'   Ball into the box forces De Gea to move fast to win it. Correa well and truly boxed out of it there.
22'   Sevilla started this one very well but they have died out and it's very frantic now. Neither side with control of it.
21' N'Zonzi catches Alexis with an awkward one in the air. He's booked for it too.
21'   Young heads clear for a corner. Long ball in from Escudero.
20'   Pogba versus Escudero down United's right. He loses out and then Mata trips up the left-back. Free for Sevilla.
18' Pogba replaces Ander Herrera. A short-lived exile.
16'   Herrera is gone. He knows himself he's injured and motions to the bench that he is gone.
16'   Correa runs down a blind alley and loses possession again.
15'   Jesus Navas with an effort from miles out. Just wide of the post though. De Gea was scrambling over to it but couldn't make it.
14'   Lukaku battles for the ball and loses out in the end as Sergio Rico gathers it.
14'   Strike comes in from Ever Banega and that's well over the bar. De Gea barely moves.
13'   Correa with a couple of elasticos before losing out in the penalty area.
12'   Alexis Sanchez set free by Herrera and he gets turned upside down. Looked like a sore one. He was going too fast.
11'   Still no chances though.
11'   Ball in behind for Muriel is way off. Two plays on different pages there. Mudo Vazquez the one with the pass. United growing into this one.
9'   Jesus Navas fouls Herrera in the middle of the field.
9'   Lukaku with a massive switch across to the left. Comes in from Alexis and United win the corner.
8'   Correa overzealous as he fouls Valencia on the sideline with the ball in the air.
6'   Sevilla all over United early on. They can't keep the ball. High pressure from Sevilla too.
6'   Correa dives in on Mata. Foul on the Argentine.
5'   Smalling and Muriel do battle down the left. Smalling just about gets it away.
4'   Shot from Muriel. De Gea forced to reach and save that. Came out of nowhere but very close.
3'   Sevilla have started this game really well.
2'   Headed back up into the air and Correa wins it on the left for Sevilla. 
1'   Jesus Navas breaks down the right. Sarabia crosses and Smalling clears. Corner.
1' We are underway at the Ramon Sanchez Pizjuan.
Sevilla fans with a sign in English to welcome Manchester United to their stadium. "THIS IS SEVILLA" it says. They're really good away from home too.
Joaquin Correa was the only possible doubt for Sevilla but he makes it. Montella has this side playing much better. Let's see if they pass this, their first litmus test!
Loads of debate over Pogba. Some United fans saying that he needs to be dropped to remind him of what is requireed of him, other suggesting it's a travesty. History is written by the winners so if Mourinho gets a good result here, he is right and if not, there will be an investigation as to why he didn't play the French midfielder.
The Sevilla hymn never ceases to put the hair standing on the back of your neck!
Top scorer in the league, Ben Yedder, has been left on the bench for the home side along with three players who have recently made the move back to LaLiga from the Premier League: Roque Mesa, Nolito and Sandro
As we told you earlier, record signing Paul Pogba has not made it in time for the game. Mourinho has opted for two of his Spanish stars to turn it on in Sevilla - Juan Mata and Ander Herrera
Manchester United starting XI | De Gea, Valencia, Lindelöf, Smalling, Young, Matić, McTominay, Herrera, Mata, Sánchez, Lukaku
Sevilla starting XI | Rico, Lenglet, Banega, Correa, Nzonzi, J. Navas, Sarabia, Escudero, Muriel, F. Vázquez, Mercado
We've got the team news confirmed from both sides...
Interestingly, Sevilla (3) and Man Utd (1) have won the last four Europa League titles between them, although they'll both be much happier playing on Tuesday and Wednesday evenings in Uefa's showpiece tournament instead. 
This meeting between the teams managed by Vincenzo Montella and José Mourinho is the second match up between the Premier League and LaLiga in as many nights. Yesterday we brought you live coverage of the 1-1 draw at Stamford Bridge between Chelsea and Barcelona.
Good evening from Spain and welcome to more live action from the Champions League as Manchester United travel to Sevilla for the first leg of their Last 16 tie.