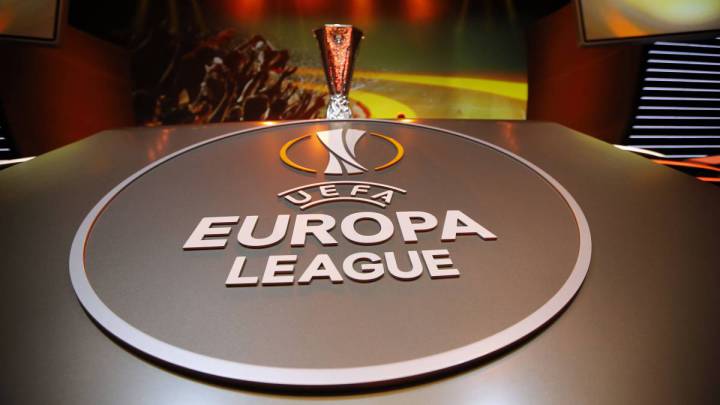 UEFA Europa League round of 16 draw: as it happened
That concludes the Europa League round of 16 draw. The matches will be played on March 8th and March 15th. 
AC Milan vs Arsenal.
Borussia Dortmund vs RB Salzburg. 
Sporting vs Viktoria Plzen. 
Marseille vs Athletic Club. 
CSKA Moscow vs Lyon. 
Atlético Madrid vs Lokomotiv Moscow. 
RB Leipzig vs Zenit.
Lazio vs Dynamo Kiev is the first tie. 
  Mr Marchetti is running through the rules and regs. As a reminder, this is an open draw and there is no seeding. HOWEVER, Russian teams cannot be paired with Dynamo Kiev due to political reasons. The Dynamo Kiev ball has been placed in a seperate bowl. Once the first tie is decided, the Russian club balls will be poured in to the main bowl. 
'Local football legend' Eric Abidal is up on the stage. He is the ambassador for the 2018 final. 'Lyon deserve the result and the goal for the club is to reach the final and win the trophy,' he says in excellent English. 
'Together to Lyon' flashes up at the end of a highlights montage. Now that's out of the way, on we go. Giorgio Marchetti, the Deputy Secretary General of UEFA is now upon stage. He's expressing his sadness about the grim events in Bilbao yesterday evening, where a police officer died amid violence between Spartak Moscow and Athletic Club hooligans. 
We're underway in Nyon! UEFA honcho Pedro Pinto is saying a few words in the auditorium. 
CSKA Moscow midfielder Alan Dzagoev puts his neck on the line ahead of the draw: "I don't have any preferences. We will play whoever we are drawn against." 

Lokomotiv Moscow, RB Leipzig, Arsenal, and AC Milan are the only clubs in the draw making their Europa League round of 16 debuts. 
WHEN WILL MATCHES BE PLAYED? March 8th and March 15th. Both Thursdays, of course. In principal, the games will kick off at 19:00 (CET) and 21:05 (CET).
POTENTIAL TIES: Eyes will be on Atlético, Arsenal, Borussia Dortmund, and AC Milan. But the draw could throw up some other interesting match-ups, not least an intra-Red Bull tie between RB Salzburg and RB Leipzig, which may cause Against Modern Football types to spontaneously combust in a puff of smoke and umbrage. 
DRAW FORMAT: The draw is open. There is no seeding and clubs from the same country can be drawn against each other. However, for political reasons, Russian and Ukrainian teams will not be able to meet in the round of 16. As a result, the first tie to be drawn will be the one involving Dynamo Kiev. 
Hello and welcome to our live coverage of the Europa League round of 16 draw, which takes place in Nyon, Switzerland, and will begin at 13:00 (CET). We will take you through the process as Atlético Madrid, Arsenal, AC Milan, Borussia Dortmund and more will find out their opponents for the next round.