Raúl González: "I'd like to see Zidane stay at Real Madrid"
The ex-Madrid captain, who will present the 2018 Laureus awards, hopes Zidane will remain in the job: "He's had a fantastic impact".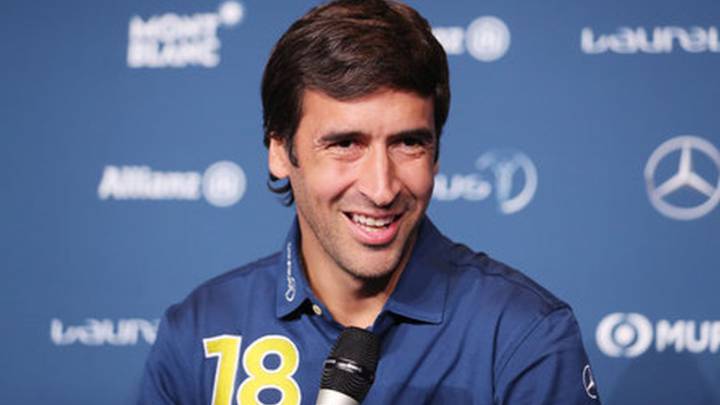 Raúl attended the media this afternoon in Monaco, where tomorrow the 2018 Laureus Awards will be held. This year, the gala will highlight the work done by the Fundación Laureus Sport for Good, who organize over 100 programmes in 35 countries in the battle to help young people in danger of social exclusion.
The eternal captain also answered a few questions about Real Madrid.
Do you think the 3-1 advantage from the leg against PSG is enough to see Real Madrid advance to the quarter finals?
In the draw, PSG were among the favourites to go on and win the trophy. So one of the favourites is going to end up being eliminated. It's a good result for us, but not definitive. For PSG, the return leg is going to be the game of the year and there will be a great atmosphere in Paris. And they also have good players. But we have shown that we know how to handle those kinds of atmospheres. This Real Madrid team always rises to the big occasions and they do well. We are confident, and hopeful although we know that we are going to suffer.
Real Madrid, Raúl's favourites to progress to the quarter finals
Who do think will be in the quarter final, PSG or Madrid?
Real Madrid. But we have to wait and see, but I hope it's Madrid who make the quarter finals.
What do you think of the impact that Zidane has had at Real Madrid?
It's fantastic. He's only been in the job for just over two years and he has already won the Champions League twice, and a whole load of other trophies. You cannot really ask any more of a coach.
Should Madrid fear Neymar, Cavani and Mbappé?
PSG are a good side but they have other players as well - Di María, Verrati, Draxler... We can't just be focusing on two players.
Do you think Madrid are close to ending a cycle? How would you renew the squad?
I don't think Madrid are coming to end of a cycle. We have make assessments at the end of the season. It has been an erratic season. The team are way behind in LaLiga and out of the Copa del Rey but we know what could happen in the Champions League and we are feeling confident. If you look at the squad objectively, we have to continue showing faith in these players - they can bring a lot of happiness because they've still got a lot of football left in them.
Why do you think we've seen two very different sides to Madrid this season?
It's been a year in which… no one knows what the answer is. The season started with the team winning three trophies then the league just slipped away. Although there's still a long way to go in LaLiga so little by little…
LaLiga title race still on
By that do you mean that Real Madrid are still in with a chance of winning LaLiga?
The title race is still on for everyone - Barça, Atlético... the teams who are still involved. What we are pleased with is the sensations which the team has been showing in the last few games where the individual level has been very high - or at least at the same level of the past few seasons.
If Madrid are knocked out by PSG would the season be a disaster?
The team has already won three trophies, but obviously if that happened it wouldn't be a good season for Real Madrid… But Madrid have been through all of that before - not winning anything in a season. I experienced myself. I've even experienced not qualifying for the Champions League.
Real Madrid's status in Europe
What is it with Real Madrid and the Champions League?
Everyone says: "Watch out for Real Madrid". And it's true, we've won it for the past two seasons. The players, the caste, the Bernabéu… The team deserved the result they gained in the first leg against PSG.
Would you like Zidane to continue as coach at Madrid?
He's under contract. I'd like to see him stay, without any doubt at all.
Do you understand the pressure he's put under?
I think Zidane's very relaxed. On the outside, people think he is under pressure, but it's the same as you have as a player. It's something he deals with naturally.
Has he told you that he's relaxed?
I don't know, I see him all the time and he seems very relaxed to me, and confident… And that's what he gets across every time he speaks. He seems fine to me and he puts me at ease too, and besides I obviously do get a chance to chat to him (laughs).
Raúl on Piqué and shushing the crowd
Do you think the image of Piqué with his finger to his lips, 'silencing Espanyol fans' is just another part of football?
I can't really say anything on the matter because I did it myself (laughs). I have great respect for the people at Barcelona and I have great friends there. I think healthy rivalry in football, which is understood by both sides, is a good thing. The less importance put on certain things, the better for the game.
The English clubs are looking strong in Europe this season. Which one of them would you like to meet in the quarter finals of the Champions League?
When you want to win a tournament, you have to beat the best teams and this season, the English clubs are looking very strong. Madrid might end up facing an English team in the quarter finals or the semi-finals - or in the final, because they are showing they are strong this season too.



LaLiga Santander
*Update 26 de febrero de 2018