Betis 'sing' the Andalusian anthem
February 28 is the Day of Andalusia and the Betis players paid tribute to Spain's beautiful southern region. Lucky they were all good at football...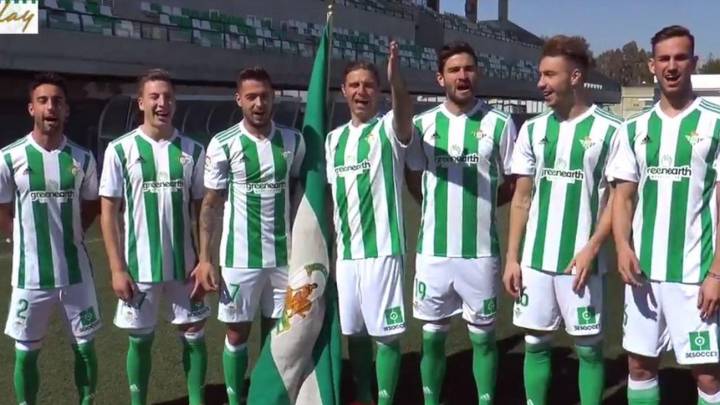 Andalusia celebrates its regional day today, 28 February, and the Betis players (Rafa Navarro, Sergio Leon, Joaquín, Francis, Antonio Barragan, Loren Morón, Fabián Ruíz) decided to pay tribute by singing the region's anthem, the Himno de Andalucia.
Betis sing the Andalusian anthem
As they themselves admitted: "Luckily, we're better at football".
Here are the lyrics, written by Blas Infante, an Andalusian politician, writer, historian and known as the father of Andalusian nationalism. He was summarily executed by Franco's forces when they took Seville at the start of the Spanish Civil War.
The White and Green Flag (English translation)
The Green and White Flag
returns after centuries of war
to sow peace and hope
under our land's sunshine.

Andalusians, stand up!
Demand land and freedom!
For a free Andalusia,
Spain and Mankind!
And here's the original Spanish
La bandera blanca y verde
La bandera blanca y verde
vuelve, tras siglos de guerra,
a sembrar paz y esperanza,
bajo el sol de nuestra tierra.

¡Andaluces, levantaos!
¡Pedid tierra y libertad!
¡Sea por Andalucía libre,
España y la Humanidad!