Neymar injury: PSG have final say on whether he has surgery
The Brazilian newspaper Folha de Sao Paulo says that the decision over his treatment is Paris Saint-Germain's rather than the player's. Cruz Azul vs America: Liga MX, live online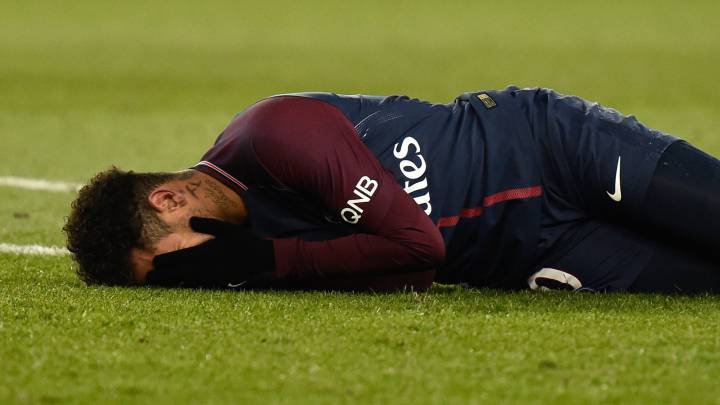 The recent injury suffered by Paris Saint-Germain's Neymar is developing into something of a saga. The forward wants to have surgery on the cracked metatarsal in his right foot, which would rule him out for around two months; however, that clashes with PSG's desire for a more conservative solution that would give him a chance of making Tuesday's Champions League second leg against Real Madrid.
Final decision is PSG's, says Folha de Sao Paulo
And according to Folha de Sao Paulo, Neymar's PSG contract stipulates that it is the club who have the final say on how his injury is treated.
Early on Tuesday, word was leaked of Neymar's intention to go under the knife, with his decision said to have been swayed by his eagerness to be in optimum shape at the upcoming World Cup. Making known his preference for surgery was, says Folha de Sao Paulo, intended as a way of putting pressure on his employers.
That led PSG coach Unai Emery to insist publicly that no definitive decision had been made on Neymar, and to invite optimism over the star's participation in the last-16 return: "There's a small chance that he'll be there..." Emery's remarks were greeted with a swift response from Neymar's father, who told ESPN Brasil: "PSG know they won't have Neymar available for six to eight weeks."
Defying club could see Neymar contract terminated
According to the terms of his contract, says Folha de Sao Paulo, a flat-out refusal by Neymar to follow club orders would potentially result in the unilateral termination of his PSG deal, with the player also liable for compensation. However, the newspaper reveals that the 26-year-old's camp do not expect such a scenario, and believe they can persuade PSG of the need for an operation.
Indeed, the head of the Brazil national team's medical staff, Rodrigo Lasmar, travelled to Paris on Wednesday, and is scheduled to meet with PSG club doctors with a view to deciding on a course of action together with the player and his advisers. "We have to keep calm at this time," Lasmar told SporTV.
---
Update: Neymar to have surgery, Paris Saint-Germain confirm
---