LALIGA
Las Palmas 1-1 Barcelona LaLiga: match report, goals, action
Las Palmas frustrated Barcelona to earn themselves a draw in their battle against relegation as Valervde's Atlético dress rehearsel goes awry.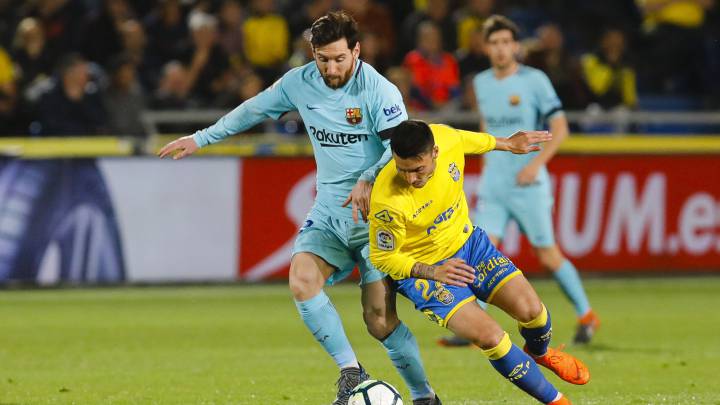 Las Palmas 1-1 Barcelona: match report
Barcelona were held to a 1-1 draw at relegation-fighting Las Palmas on Thursday in an unexpected setback that left them with a five-point lead in La Liga ahead of their top-of-the-table showdown with Atletico Madrid this weekend.
Lionel Messi fired Barca ahead in the 21st minute with a thunderous free-kick into the top corner but third-bottom Las Palmas pulled themselves back into the game with a penalty by Jonathan Calleri three minutes into the second half.
The Argentine forward sidefooted the ball into the top corner after stand-in defender Lucas Digne was judged to have handled the ball after it hit the post, the first time Barca have given away a spot kick in the league for over two years.
The Catalans had little fortune with refereeing decisions and their players and coach Ernesto Valverde were furious when Las Palmas goalkeeper Leandro Chichizola was not punished for appearing to handle the ball outside of the area.
Barca lead the table with 66 points ahead of Atletico, who visit the Nou Camp on Sunday having won their last eight games in all competitions. Barca have drawn four of their last eight.
Las Palmas vs Barcelona live stream online: as it happened
90'+6' Full-time in Gran Canaria. What a result for Las Palmas.
90'+6'   Las Palmas win a corner now.
90'+6'   Dembele strikes and that is saved by Chichizola.
90'+6'   Suarez with a shot in the box and he is blocked and Las Palmas prevent it from going out for a corner.
90'+5'   Dembele with a run down the right and he is stopped.
90'+4'   Roberto with a foul now and Las Palmas won't be in any hurry over this one.
90'+4'   Coutinho scoops one towards Rakitic and he volleys but it's put out for a throw.
90'+3'   The tension is high now. Game has lost any form of pattern.
90'+2'   Corner for Barcelona now. This is getting a little close for comfort for Las Palmas.
90'+1'   Six minutes of added time.
90'   Tana with a ball in behind Barca's backline. He gets crowded out and Barcleona back up the field.
89'   Sergi Roberto with a foul on Aquilani.
89'   Las Palmas with their backs to the wall here.
88'   Halilovic wins a throw.
87'   Dembele on the right and that's cleared when he crosses. Another effort and Aguirregaray puts it out for a throw.
86'   Etebo down now too. Not sure what's wrong with him.
85'   Hamstring gone for Jairo. 
84'   Fouls by Busquets, surely? No ref waves it on. Lahoz will have some critics from both sides after this game.
84'   Chichizola rushed out to smother a through ball from Messi. suarez the target.
83'   Las Palmas through on goal! It's Tana and he has support but his pass across the box is too short. Umtiti covers and gets it! So, so close. Lordy.
82'   Barca improving but all very unstructured.
82'   Calleri bundles Rakitic over now and Barcelona are awarded a free.
81'   Big blue bandage on Calleri's head as he continues to battle on.
80'   Dembele with a nice cross from the right. Suarez takes it down with his chest and it is too heavy a touch. Chichizola comfortable with that one.
79'   Kick to the head for Calleri as Vermaelen cleared and he followed through slightly.
77'   Free for Barcelona.
76' Castellano off too for Michel.
76' Dembele on for Iniesta.
74' Castellano with a hamstring injury. He needs to be replaced. It was a collision with Coutinho earlier.
74'   Lucas Digne with a dreadful ball from the left. Miles wide and over the bar. 
73'   Vicente Gomez off for Aquilani.
71'   Las Palmas with a sloppy ball out from the back. Barcelona starting to turn the screw slightly here.
69'   Messi hits the wall with the free.
69' Another yellow. Galvez slides in and takes Messi down with a nasty tackle. 
68'   Penalty shout from Barcelona but it came of the Las Palmas player's shoulder.
67'   Too far out to shoot but we've said that before with Messi.
67' Etebo fouls Coutinho as he drives towards goal.
65'   Suarez looks for Messi but that's a poor pass. He has been poor as his edge is gone.
64'   Handball by Sergi Roberto.
63' Paulinho off for Rakitic.
62'   Busquets out to the back post. Taken down by Suarez. Struck with his right and then with his left with the second going over the bar.
62'   Coutinho with some nice footwork and a pass to Suarez that's returned but Las Palmas put it out for a corner. 
61'   Etebo tries to drive forward down the left. He is stopped this time though. He has been excellent so far for Las Palmas.
60'   What a sliding tackle from Aguirregaray. He stops Messi with perfection. The Argentine was through on goal.
59'   Ball in around the box for Barcelona and it's backheeled towards goal but Chichizola is off his line to clear. 
58'   Calleri in behind again. But his chested takedown takes it away from him.
57' Coutinho replaces Aleix Vidal.
57'   Halilovic with a lovely run in behind the back but can't scoop the pass into a dangerous position. Las Palmas looking good.
56'   Corner for Las Palmas as they move up the field quickly.
55'   Galvez launches himself into a challenge and wins it and plays it all the way back to the keeper from miles up the field. Dodgy decision.
54'   Rakitic warming up now for Barcelona. Ready to come on actually.
53'   That was a waste. Straight over the bar.
53'   Galvez with a free that goes over the bar. 
52'   Umtiti booked now as Etebo gets in front of him and he pushes him in the back. Las Palmas giving Barcelona all sorts of problems here.
50'   Aleix Vidal wins a free as Galvez fouls him.
49'   Gran Canaria fans have found their voice again. Barcelona pegged back.
48' What a finish! that's as good penalty as you'll see.
47'   It hits the back post Sergi Roberto fouls Aguirregaray at the front post. Very tame really but he did foul him.
47'   Goal at Las Palmas' mercy.
Suarez and Messi back out on the field. Let's see if they can extend their lead or if Las Palmas can level things up.
47'   Etebo drives forward and plays it out to Calleri. Corner as the striker tries to square it again!
46'   We are back underway for the second half.
45'+1'   Not without some controversy though. Chichizola runs out to stop Suarez and he kicks the ball up onto his hand and he is outside his box. No card or free or yellow or anything. Strange one from the referee.
45'+1'   Half-time. 
45'   Into the last minute off normal time in the first half.
43'   Barcelona back up the field. Vidal to Messi and on to Iniesta. He strikes over with a right-footed curler.
43'   Corner comes in and Vermaelen can't control it properly.
42'   Corner for Barcelona again. Suarez wins it this time with a run down the right.
41' Sergi Roberto with a yellow now for kicking the ball away to slow it down as Las Palmas win a throw.
40'   Suarez down the left and pulls it back to Messi, who strikes, but a sliding tackle from a Las Palmas defender stops it. Almost a trademark Messi strike.
40'   Shot from Etebo from miles out. Ter Stegen dives but he's never beating the keeper with that even if it was on target.
39'   Schoolboy stuff from Las Palmas as Castellano is offside after a throw and then a pass back to him.
37'   Vermaelen is not though as he concedes a free in the middle.
37'   Suarez puts his foot in as Galvez wins it and he pulls back as quick. He is watching his ps and qs tonight.
36'   Calleri takes a long ball down on his chest. Lovely move, with a hint of offside, but his touch takes it away from him and he drives over the bar! Las Palmas best chance possibly.
35'   And another foul. Paulinho the culprit this time.
34'   Busquets with a foul now. It's so open that there have been so many fouls.
33'   Paulinho closes down Chichizola but the keeper with a neat but risky pull back and avoids the danger.
32'   Las Palmas threatening on occassion but haven't had any proper chances so far. Barcelona under some pressure but comfortable too.
32'   And another one to Jairo but Umtiti turns it around for a corner.
31'   Nope. Ball in around the back and Calleri can't do anything with it.
30'   Umtiti forced to defend deep and he just clears it for a throw rather than takes a risk.
30'   suarez tries to thread one through to Messi but he can't manage to find him and Chichizola saves.
27'   Ball in behind Digne but he recovers and clears.
26'   Umtiti meets the corner with his head and that's saved.
26'   Corner for Barcelona. Luis Suarez is so afraid of getting a yellow that he is putting his hands up every time he goes near the ball.
25'   Halilovic with the free and it goes over the wall but over the bar too.
23'   It wasn't Digne who fouled Etebo though as he drove into the penalty area. It was Paulinho. Maybe the left-back said something to the ref.
23' Loads of yellows. Digne is booked now.
22'   I get the sense that this isn't the last goal we will see tonight.
21' Messi buries it! Las Palmas playing with fire by fouling Messi there and they are made to pay this time. 
21'   Navarro finally dusts himself off and Messi gets ready to take the free.
19' Another yellow for a goul on Messi. This time it's ximo Navarro. Just outside the box. 
18'   Las Palmas looking really dangerous. Another drive forward and it's scrambled clear by Barca.
17'   It comes in and headed back to the front post and Aguirregaray tries an overhead and lands on his head.
16'   Aguirregaray wins a corner. 
16'   Calleri with a nutmeg and a lovely run up the field. Plays it inside and Las Palmas moving forward.
14'   Calleri fouls Umtiti now but Las Palmas want a free from before. Really good game so far. Neither team backing down.
14'   Hits the wall and out byt Las Palmas win it back and drive forward.
13'   Foul now by Umtiti. Las Palmas look to respond.
13'   Halilovic with a strike and that takes a deflection.
12'   Las Palmas attacking now and cross comes in and it's headed out by Digne.
11'   Chichizola with a nice save. Might have been going wide anyway.
11'   Perfect position for Messi. Just outside the box.
10' Castellano pulls Messi down and that is a really silly and cynical foul. Castellano booked.
9'   Ball into the back post and Vermaelen tries an acrobatic effort but it's wide.
8'   Messi plays Suarez through after a dreadful mistake by Navarro and it's saved by Chichizola. Corner. What a chance that was.
8'   Etebo fouled in the middle of the field. Las Palmas with a chance to attack now. 
7'   Busquets with a rare mistake. He records though and Messi drives forward, plays it to Vidal but his return pass is no good. Too hard into Messi's feet.
6'   Ball in over the top to Digne and he wants a corner but ref says no. Goalkick. 
5' Iniesta is fouled by Aguirregaray. He gets a yellow. 
3'   They're pressing really high up the field. Aguirregaray launched himself into the air and controls the ball with his arm. Free for Barcelona.
2'   Dangerous ball across the backline by Aguirregaray but Las Palmas bailed out.
2'   Las Palmas win a throw in the end. 
2'   Las Palmas throwing the ball around a bit to start. Barcelona pressing but making sure not to get completely caught out.
1'   We are underway.
And now they face each other and line up to take each other on!
Moments silence for Quini as Las Palmas and Barcelona face each other.
Teams are out and we are very close to action on Gran Canaria.
And Diario AS editor Alfredo Relaño spoke about how the Barcelona player couldn't get booked even when he wanted to.
There was plenty of chat about Luis Suarez' lack of a booking with Javier Tebas suggesting that the Uruguayan deserved a suspension for trying to get a suspension.
All eyes will be on Luis Suarez and whether or not he can avoid a yellow card tonight. He is one away from a suspension and he tried his best to get one against Girona but couldn't accomplish the task. 
A lovely gesture from Barcelona as they offered medical support to Anthony Borges and will give the youngster the chance to meet Lionel Messi after his act of heroism during last month's Florida school shooting.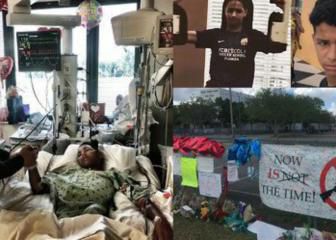 Paco Jemez has said he "won't excuse my player being cowards" so you can expect plenty of action tonight in both goals. 
Las Palmas XI: Chichizola, Aguirregaray, Ximo, Galvez, Castellano, Gomez, Etebo, Halilovic, Tana, Jairo, Calleri.
Barcelona XI: Ter Stegen, Roberto, Umtiti, Vermaelen, Digne, Busquets, Iniesta, Vidal, Paulinho, Messi, Suarez.
Barcelona put their unbeaten league season on the line again tonight. They have drawn five and won 21 games so far and face into a very important four days with Atlético coming at the weekend.
Here is Barcelona's squad for the game tonight: 
1. Marc-André Ter Stegen 3. Gerard Piqué 4. Ivan Rakitic 5. Sergio Busquets 8. Andrés Iniesta 9. Luis Suárez 10. Lionel Messi 11. Ousmane Dembélé 13. Jasper Cillessen 14. Phillippe Coutinho 15. Paulinho 17. Paco Alcácer 19. Lucas Digne 20. Sergi Roberto 21. André Gomes 22. Aleix Vidal 23. Samuel Umtiti 25. Thomas Vermaelen
Atlético Madrid are breathing down Barcelona's neck and are in the best form this season. Barcelona need a win tonight and so do Las Palmas. Jemez has improved Las Palmas but enough to beat Messi and co.?! Well, that remains to be seen.
Hello and welcome to our live online coverage from the Estadio de Gran Canaria as Ernesto Valverde and Paco Jemez go toe-to-toe in LaLiga with kick-off at 21:00 CEST.