Ter Stegen and Oblak: face to face ahead of Sunday's clash
The goalkeepers, who have both been in sensational form this season, looked ahead to Sunday's game when they will be opposing sides at Camp Nou.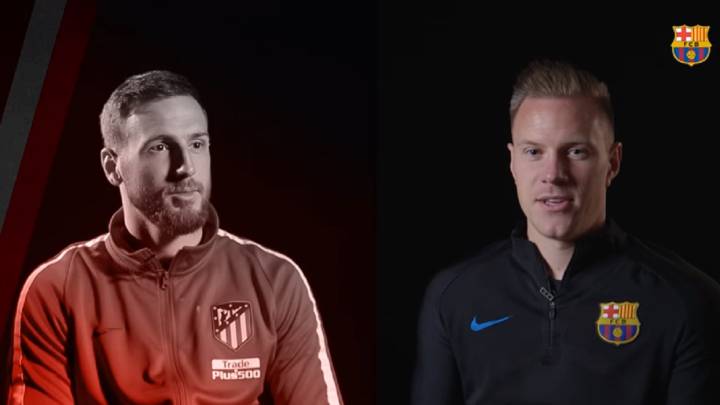 Sunday's battle at Camp Nou will be a test between the teams who occupy the top two positions in LaLiga and also between the two goalkeepers with the best figures in the league, Jan Oblak and Marc-André Ter Stegen. Both players looked ahead to the game in an interview with BarçaTv.
Which player on the opposing team has given you the most problems?
Ter Stegen: "I think, up until now, it has to be the player who scored past me in the first minute - that was Fernando Torres in the Copa del Rey".
Oblak: "Barça have a lot of good forwards, but I can safely say the one who has given me the most problems has been Messi".
The keepers with the safest hands in LaLiga
Your best save in LaLiga this season?
Ter Stegen: "The one I made against Villarreal. The ball came in from the wing and one of the their players got a touch, I can't remember who it was, but I had to dive to my left".
Oblak: "I don't know which one was the best. Every save you make is important so I haven't got one particular save in my career or this season that stands out".
Who was you hero when you were a kid?
Ter Stegen: "When I started out as an outfield player, my big hero was Marcel Ketelaer, who played for Borussia Mönchengladbach. When he left to join Hamburg, I started playing in goal. My major reference at that time was Oliver Kahn. Not so much for his style of playing but for how motivated he always was out on the pitch".
Oblak: "When I was little, my first hero was my Dad, who was also a goalkeeper".
Different positions
If you weren't a goalkeeper, what position would you like to play?
Ter Stegen: "Midfield I think. I would prefer being a midfielder than a striker. When you are in attack you are always under pressure to score... In midfield, I think I'd feel more at home".
Oblak: "Striker".
What are the strong points of your rivals?
Ter Stegen: "He is always relaxed. He handles every kind of situation well and gives the rest of the team stability. Apart from that, making saves on the goal line is the sign of a great keeper".
Oblak: "For Barça's style of play, Marc-André's ability to play with his feet is one of his best qualities".