Ronaldo 300: 10 of the best LaLiga goals from the Real Madrid sensation
From a killer strike at Camp Nou to a devilish derby double, we look at 10 of Cristiano Ronaldo's best goals in LaLiga, the 300th of which he scored against Getafe.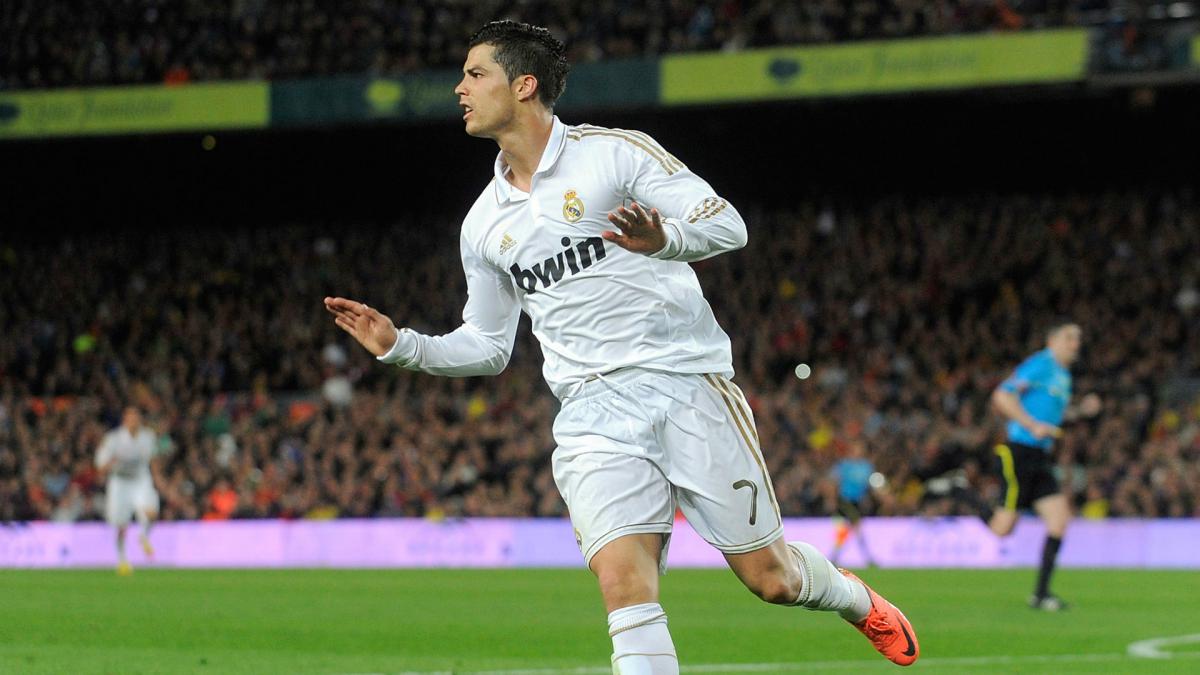 Cristiano Ronaldo has become only the second player in history to score 300 goals in LaLiga.
Messi and Ronaldo the only ones to reach landmark
The Real Madrid star struck against Getafe on Saturday (and also scored his 301st goal later on in the match) to reach his latest career milestone in just 286 appearances in Spain's top flight.
The only other man to achieve the feat is Barcelona's Lionel Messi, who did so in 334 outings, which perhaps highlights just how spectacular Ronaldo's scoring record really is.
Since arriving from Manchester United in 2009 for a then world-record fee of €94million, Ronaldo has established himself as Madrid's greatest goalscorer and arguably their finest ever player, winning 14 major trophies and breaking a string of records.
Trying to whittle down his league goals for the club into a standout 10 is no easy task, but here is out best attempt...
#RMLiga
Golazo after golazo after golazo... feast your eyes on some of @Cristiano's finest LaLiga strikes! pic.twitter.com/BugQZXaSAK

— Real Madrid C.F. (@realmadriden) February 25, 2018
Villarreal (H): February 21, 2010
Ronaldo's first season at the Santiago Bernabéu might have been devoid of trophies, but a haul of 26 goals in 29 league games was a telling sign of what was to come.
Perhaps the pick of those to come at home was in the 6-2 thrashing of Villarreal in February 2010. Having had his run checked by Mateo Musacchio 25 yards from goal, Ronaldo promptly picked himself up off the turf and sent a swirling, dipping free-kick into the top-right corner to break the deadlock, with 17 minutes played.
Almería (A): April 15, 2010
Ronaldo has developed into more of a penalty-box poacher in recent seasons, but this effort against Almería was a reminder of how devastating he could be when starting with the ball outside the area.
Rafael van der Vaart won back possession in the Almería half and the ball was worked to Ronaldo, who accelerated past two challenges, left a third defender for dead with a stepover, and drilled home with his left foot. The visitors would go on to win 2-1.
Sevilla (A): December 17, 2011
Sevilla have grown sick of the sight of Ronaldo – he has scored 25 times against them, after all – but this strike in a 6-2 thrashing is perhaps the best of them all.
Collecting Karim Benzema's pass 30 yards out, Ronaldo took advantage of the time and space given to him by the defence to blast a shot into the top-right corner, the swerve on the ball making it totally unstoppable. It was one of three he scored that day at the Ramon Sanchez Pizjuan.
Rayo Vallecano (A): February 26, 2012
This was the first time in 3,396 days that Rayo Vallecano hosted their illustrious neighbours in LaLiga, and Ronaldo ensured it was a memorable encounter.
The Portugal star scored the only goal of the game to keep Madrid's title push on track in impudent fashion, backheeling the ball through a crowded penalty area and into the bottom corner after Rayo failed to clear a corner. It was a rare moment of genius in a scrappy game.
Atlético Madrid (A): April 11, 2012
It might seem a stretch to choose two goals from the same game when looking at a total of 300, but the quality and importance of these efforts speak for themselves.
The first is another free-kick, from a similar position to the Villarreal effort, but a quite different strike: Ronaldo sent the ball high over the wall from nearly 35 yards out, before it dipped into the bottom-right corner, leaving Thibaut Courtois completely flummoxed. It was also Ronaldo's 50th goal of the season.
Atlético Madrid (A): April 11, 2012
Goal number two from this game came in the second half of what ended up being a 4-1 win for Madrid and a crucial step towards a first LaLiga title win since Ronaldo's arrival.
With the score at 1-1 68 minutes in, he collected the ball wide on the left, steadied himself, and sent a stunning strike into the far corner beyond Courtois' despairing dive. Madrid did not look back from then on.
¡¡¡SIIIUUUUU!!!

We seeing that celebration, @Cristiano! pic.twitter.com/IluHJRXuEo

— Real Madrid C.F. (@realmadriden) March 3, 2018
Barcelona (A): April 21, 2012
Same year, same month, but perhaps the most important LaLiga goal Ronaldo has ever scored.
A defeat in this Clásico would have allowed Barcelona to move to within a point of Madrid at the top, with four games left, and they looked hopeful of doing just that when Alexis Sanchez cancelled out Sami Khedira's opener.
Ronaldo soon put a stop to it, though. Racing onto Mesut Özil's pass in the 73rd minute, he clipped a fine finish past Victor Váldes and celebrated in style. It was the decisive goal in Madrid's run to a first league title since 2008, as Jose Mourinho finally ended Pep Guardiola's domestic dominance.
Valencia (H): May 4, 2014
It was not enough to keep Madrid's title chase alive but this was another goal that showcased Ronaldo's killer instinct and dexterity.
In second-half injury time, with Valencia 2-1 ahead, Ángel Di María volleyed over a cross from the left and Ronaldo swivelled to score a backheel volley and snatch a point.
Levante (H): October 17, 2015
Some might wonder why this has made the cut. In the Ronaldo back catalogue, it's a relative footnote: some good control from a Toni Kroos pass and an accurate low strike into the bottom-right corner from 18 yards out.
Well, it was a goal that earned Ronaldo a pretty momentous piece of history: it was his 324th in all competitions, taking him beyond the club record held by Raúl, who needed 431 more games to reach that figure himself.
Espanyol (H): January 31, 2016
The most recent one on our list showed Ronaldo isn't quite done when it comes to solo runs and spectacular finishes.
With Madrid already 3-0 up in what would prove to be a 6-0 thrashing, James Rodríguez's pass was deflected into Ronaldo's path and he did the rest, showing brilliant footwork to skip beyond three challenges before rifling home from the edge of the area with his left foot.