LALIGA
Barcelona vs Atletico Madrid live stream online: LaLiga
The title race could very well be right back on if Atletico Madrid can win at the Camp Nou against Barcelona with kick-off at 16:15 CET on Sunday 4 March.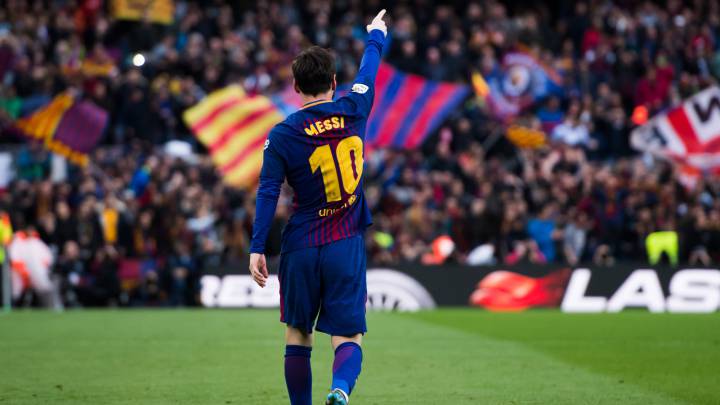 Barcelona overcame another significant hurdle in their bid to reclaim the Liga title with a 1-0 victory over their nearest challengers Atlético Madrid in Camp Nou, which opened up an eight-point lead for Ernesto Valverde's side with 11 games of the domestic campaign remaining.
Leo Messi's 600th goal for club and country will be remembered as a significant one, the Argentinean maestro curling a free-kick over the Atlético wall and beyond the outstretched glove of Jan Oblak to secure three points and hand Barcelona the advantage in this season's Liga campaign. Although the leaders have by no means got a run-in devoid of peril, Barça will have to lose three of their remaining games to let Atlético back into the chase. Sevilla, Valencia and Real Madrid are among their opponents between now and May 20 but the result in Camp Nou against the only side with any reasonable chance of catching Valverde's team also preserved the only unbeaten league record of any club among Europe's "big five" top flights.
The Atlético Madrid side that had won their last six consecutive Liga games and had rattled in nine goals against Sevilla and Leganés in the space of a week simply did not turn up in Camp Nou with Diego Simeone reverting to his defensive nature. A flat midfield four with little in the way of width left Diego Costa – who scored high on histrionics but failed to make an impact – and Antoine Griezmann isolated and the visitors lacked the fizz on the break of recent games, failing to take advantage of Barça's high line when the game opened up a little in the second half.
Atlético enjoyed more of the ball than most guests at Barça's Liga banquet but lacked any clear ideas as to what to do with it, aiming pointless punts in the vague direction of the front two and limp crosses into a melee of claret and blue shirts when they did manage to get to the touchline. A total of 41 tackles by the visitors tells its tale as to where the true attacking intent lay and Barça managed 16 attempts to Atlético's six, Simeone's side drumming up just a single shot on target.
Griezmann fails to impress against potential employers
Substitute Kevin Gameiro did have the ball in the back of the net five minutes from time but the goal was rightly ruled out for offside as Costa strayed just beyond Barça's defensive line before knocking down for the Frenchman. Of Simeone's substitutes Ángel Correa had the greatest impact, running terrier-like at the home back four and stretching the game to open spaces for Griezmann. But whether the France striker is feeling the effects of an accumulation of games or was simply off-key Atlético couldn't find the right notes to trouble Valverde's side, who were not exhilarating either but possess arguably the finest striker of a free-kick in the game today in the shape of Messi.
As is so often the case, it was the left foot of the Argentina captain that settled the affair, his opposite number in the Atlético number seven shirt fluffing his lines in what may yet prove to be his new home ground next season. A wayward shot that clipped the clouds on its way back down summed up Griezmann's afternoon as Atlético wilted under the glare of history, unable to summon that fighting spirit that secured the Liga title on the same ground in 2013-14 while simultaneously offering limp resistance to Barça's inexorable march towards this season's prize.
Barcelona vs Atletico Madrid live stream online: as it happened

90'+3' Game over! Barcelona seal the win and pretty much wrap up the title too.
90'+2'   Koke with a mishit pass. Slices it behind himself. Lucas fouled. Atletico Madrid running out of chances now. Surely this is it.
90'+1'   Suarez with a chip and tries to catch Oblak out. He can't but had the keeper scrambling backwards.
89'   Three minutes added on.
88'   Dreadful by Griezmann as he tries to cut it back and then a fairly obvious hand ball from Lucas Hernandez.
87'   Another foul by Suarez and this time on Gimenez. 
86'   It was Gameiro who scored. 
85'   Goal for Atletico but it's ruled out. He was offside.
84' Paulinho replaces Coutinho. 
84'   Costa is offside. Nope. Just not happening for Atletico. Very sloppy game now.
83'   Suarez down in the area. He looks to have hurt his knee but play continues. Godin the man who tackled him.
82'   Costa hits the ground after a decent move again. No way in a million years is that a penalty.
81'   Rakitic on the ground now after a good move by Atletico. Gameiro loses and fouls.
80'   Coutinho goes down in the box after a very nice run and no penalty. Referee tells him to get up.
79'   Griezmann tries to control a long ball but he can't. Atletico seem to have peaked and aren't getting that goal.
79'   Game continues to open up. 
78'   Atletico counter and then break.
78'   Busquets with a shot at the back post. Oblak saves. 
77'   Another corner. Messi shoots and Gimenez blocks it out for a corner.
76'   Suarez with the ball in the back of the net and he's offide. Ran from an offside position.
76'   Barcelona win another corner. Game is really opening up now.
75'   Then Costa kicks Rakitic before the ball and gives away a free.
75'   Lovely move from Atletico but Griezmann stopped by Umtiti and no free.
74' Filipe Luis replaced by Lucas Hernandez.
74'   Costa lays it off for Griezmann and he drives it over the bar.
73'   Barca better in the last couple of minutes but Atletico still getting the better of them in the second half here.
73'   Thomas Partey fouls Alba.
72'   Free comes in and that is handy for Ter Stegen.
72'   Lucas Hernandez coming on for Atletico.
71'   Atletico attack and then Correa crosses but it's very deep. Atletico keep it and build a new attack.
71'   Luis suarez pulled back, it looked like, by Gimenez, but ref plays on. 
70'   Free comes in and Godin pushes Gomes in the back. 
69'   Rakitic catches Correa and gets a yellow card for himself. Broke down a good counter from Atletico.
68'   Oblak grabs another corner. 
68'   Another poor cross from Filipe Luis this time. Caught by Ter Stegen.
67' Gameiro on for Gabi.
66'   Gameiro ready to come on.
66'   Umtiti this time but that's wide.
66'   Pique heads the ball from the corner. It's deflected out for another corner. Coutinho to take.
65'   Well done by Thomas as he battles with Alba down the left and concedes a corner but it could have been much worse.
64'   Cross from Thomas Partey is too close to Ter Stegen.
64'   Scramble in the box and Barcelona clear but Filipe Luis sends it straight back down. Much better from Atletico Madrid in this half.
63'   Koke ready to swing it in.
63'   Umtiti catches Costa in the face. Free for Atletico.
62'   Griezmann drifts offside. Very, very poor from him. Frustrating day for him so far.
62'   Sorry, Pique is back on but he is not comfortable whatsoever.
61'   Headed out and then back in but Saul's backwards header is caught by Ter Stegen.
60'   Correa involved early. Wins a corner.
60' Pique off for Vermaelen too.
59'   I don't think Pique can continue, it looks like.
58'   Pique down hurt after a collision with Thomas. A kick to the calf muscle.
58'   Not this time though as he hits the wall.
58'   Free now for Messi. It's on the left though so tough for a left-footer but he is capable of anything! 
57' Gimenez takes Rakitic out of it and gets a yellow just outside the box.
56'   Atletico with a nice counter but they go backwards. 
55'   Looks like Simeone about to bring on Correa here. 
54'   Coutinho flicks the ball to Suarez, who loses out. The striker has been poor today.
54'   Ball into the box headed clear by Umtiti now.
53'   Vrsaljko steps in front of a pass to Alba from Messi. Good anticipation from the Croatian.
53'   Gabi foul now on Roberto.
52'   It bounces up all awkward for Saul and he slices it wide.
51'   Hand ball from Busquets. Free for Barcelona.
50'   Slightly better from Atletico. Still no chances though.
50'   Ball behind Gabi but Atletico win it back. Filipe Luis looks for Diego Costa and Pique slides in to clear.
49'   Koke with a long and diagonal ball but Saul is offside.
47'   Long ball to Costa. He gets it and plays it back to Koke and on to Gabi. Atletico go all the way back and then a long ball to nobody.
47'   Dangerous break from Barca and Messi. He plays it to Suarez but Atletico get men back and clear.
46'   We are back underway at the Camp Nou!
Looks like no changes for either side.
45'+1'   And they do. Half-time at the Camp Nou and Barcelona lead through a Messi strike.
45'+1'   Free for Barca now as Atletico try to make it as far as the break.
44'   Barcelona win a throw and in no hurry to take it.
44'   Atletico trying to do something here before the end of the half.
44'   Pique heads the corner over the bar.
43'   Corner for Barcelona again.
42'   Koke looks for Costa but that ball is too far beyond him. Pique recovers easily.
41'   Andre Gomes with a foul now on Vrsaljko. 
40'   Partey with a foul on Coutinho. 
38'   Shot from Andre Gomes and he slips as he takes it. Atletico up the other end and ball to Costa is really poor.
37'   Shot from Coutinho and it's batted away by Oblak. Corner. 
37'   Long diagonal ball to Vrsaljko and that's headed back in by the right-back but Saul loses out. Barcelona looking dangerous again.
36'   Some nice possession for Atletico now but they can't break Barcelona down and look nervous on the ball.
35' Ah here we go. Iniesta is replaced by Anfre Gomes.
35'   Iniesta continues to play on even when it looked like he tore his hamstring.
34'   Coutinho with a nice run and link with Suarez but his left-footed effort is saved by Oblak. Well read by the keeper.
33'   It's all kicking off now. Another foul in the middle of the field.
32'   Koke gives it away and Suarez wants a penalty as Gimenez blocks the shot. No chance.
32'   Iniesta can't continue.
31' Vrsaljko with a yellow now. He clips Suarez' ankles. Cynical foul.
29'   Coutinho goes into a tackle with Koke now. A feisty game this is turning into.
29'   They have a history.
29' Messi goes in late on Filipe Luis. Yellow for Messi. 
29'   Gimenez chests it down from the header back into the box but can't strike it.
28'   Free for Atletico.
28'   Griezmann launches himself into a tackle and wins it back for Atletico. Camp Nou in fine voice now. 
26' Messi with the free kick. Curls it into the top corner. What a finish.
26'   Messi goal.
25'   Sore one on the shin for Messi but he'll take this one. Nice position for the Argentine.
25'   Suarez shot is blocked and Partey fouls Messi. Free in a very dangerous position.
24'   Backs to the wall again for Barcelona. Coutinho thinks about a shot on his left but doesn't and Alba's cross is blocked for a corner.
24'   He's back on the field and looks to be okay?
23'   Iniesta's right hamstring definitely gone. He pulled up with no contact from Vrsaljko.
22'   Iniesta's hamstring gone. 
21'   Back in action and Barca back in possession. Atletico win it and give it straight back. Messi breaks free from three men. Incredible. Shoots into Oblak's hands.
20'   Atletico's most promising move forward but way to slow.
19'   Injury up the field as Atletico break. He took a bad fall when he collided with Saul. Atletico put the ball out. 
17'   Filipe Luis finds Costa but he's about half a yard offside, if that. Very, very close but Ter Stegen was off his line like a light.
17'   Atletico need an out ball somewhere. They don't have it.
16'   Alba cross blocked and then he gets it back and pulls it back. Suarez looks for a pass inside but Atletico clear again.
15'   Ball across the Roberto on the right but they're on different pages as it goes out for a throw. Sergi Roberto wasn't where he was supposed to be.
14'   Costa living off scraps so far. Neither sides really better but Barca dominating in the middle. No proper chances though. 
13'   Messi free hits the wall and out for a throw.
13'   Messi lines it up.
12'   Gabi fouls Suarez just outside the penalty area. A kick on the ankle. Gabi is very lucky there is wasn't half a yard further back or that was a penalty.
11'   Griezmann on the ball now down the line. Pass from Koke is lovely and he finds Costa but his pass is too far ahead of Griezmann. More promising from Atletico but still nothing in the final third. Barca dominating possession.
11'   Four corners now for Barcelona. They win another one as Partey hoofs it behind.
10'   No dice for Atletico going forward so far. Griezmann hasn't been involved and Costa's touch looks off.
9'   Another Barca attack ends in nothing. Alba not happy with a push in the back as he passed the ball there.
8'   Ball comes in from the left and Suarez pushes Gimenez in the back. Oblak goes up with a fist and misses but there was a foul from Suarez on his compatriot.
8'   Filipe Luis finds Costa but he loses out and Barca break. Suarez vs Gimenez and Atletico concede the corner. Three now for Barca. They play it short again.
7'   Really nasty challenge on Costa from Umtiti. Free Atletico. No card.
7'   Shot comes in from Coutinho and it takes a wicked deflection but it also takes the sting out of the shot and Oblak saves.
6'   Iniesta on the left and he wins another corner. 
5'   Corner Barcelona. Nothing comes of it but they keep possession.
4'   Saul with a handball but ref doesn't see it. Crossed and put into the path of Koke but Pique steps in and averts the danger.
3'   Alba and Suarez link on the left and Alba crosses but it's too long. Atletico recover.
2'   Iniesta takes a tumble under a challenge from Vrsaljko. Camp Nou on its feet! 
2'   Vrsaljko gets it on the right and plays it backwards before Filipe Luis goes down the left and is stopped.
1'   Good pressure from Atletico and Barca forced to go long before they win that after a poor Thomas header. Picked off and Atletico on the attack.
1'   We are underway! Will there be a league after this?
A moment's respect for Quini now. 
Atlético Madrid exchange handshakes with Barcelona now. They're wearing their yellow shirts. Barca in their classic blaugrana.
Players in the tunnel now and ready for action.
Huge round of applause for a Quini tribute video with some of his best goals in a Barcelona jersey.
Weather in Barcelona is wet and cold. 14 degress, which isn't brutal but the rain really not helping. 
Just a few minutes out now and the atmosphere building at the Camp Nou. 
Antoine Griezmann has scored seven goals in his last two games! Lionel Messi has 23 in 26 but not as in form as the French striker he will go head-to-head with today. Luis Suarez as 20 in 23 and has bagged four in his last three.
Barcelona's biggest lead of the season was in game week 20 when they led by 11. That has been cut to five in just six week though and you have to think Barca are feeling some kind of pressure. On the flipside, Atlético must be feeling like the chase is about to get a lot more interesting.
Vrsaljko comes in for Juanfran. Thomas retains his place and Gabi comes in for Correa. 
Atletico Madrid XI: Oblak, Vrsaljko, Gimenez, Godin, Filipe Luis, Gabi, Thomas, Saul, Koke, Griezmann, Costa.
Coutinho comes in and Dembele stays on the bench. Jordi Alba also replaces Digne from midweek and Pique returns to the fold too. Iniesta starts also with Valverde's first choice midfield in place to try and break down Atlético.
Hello and welcome to our live feed with Barcelona and Atletico set to face off against each other at the Camp Nou in LaLiga. Simeone will be trying to reduce Barca's lead at the top of the table to 2 while Barcelona could really shut things down with a win, which would extend their lead to 8 with 11 games to play! Kick-off is at 16:15 CEST.