Tottenham Hotspur 1-2 Juventus Champions League: match report
Juventus blitzed Spurs in the second half and within a few minutes had taken the lead against the Premier League side which saw them through to the quarter-finals.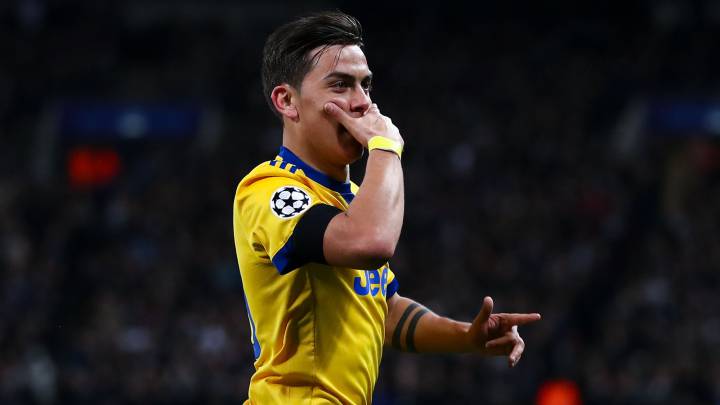 Tottenham Hotspur vs Juventus live stream online: minute-by-minute
90'+3' GAME OVER! Juventus have qualified for the quarter-finals.
90'+3'   He gives the free.
90'+3'   Dybala on the ground and the referee stops play for some reason. 
90'+3'   Davies with a cross but straight into Buffon's breadbasket.
90'+2'   Sturaro shoots and Lloris gathers and launches.
90'+1'   Three minutes of added time.
90'   How close was that?!!?!?!? Harry kane heads it onto the post. That was the chancer. Lamela almost there to poke it home but yet so far away! 
88' A couple of Spurs shots blocked. Juve were built for this. Dembele fouls Dybala then. Yellow for the midfielder.
86'   No way through for Spurs.
86' Dele Alli replaced by Fernando Llorente.
85'   Eriksen with a shot now. 
84' Higuain off. Sturaro on.
83'   Son with a strike that goes just wide! So, so close again. Spurs putting pressure on now. Can Juventus hold on?!
82'   First one comes to nothing and they win another corner.
80'   Davies out to son at the back post. He squares to Eriksen and he strikes! Corner.
79'   Good spell from Spurs comes to an end and Juve break. Higuain comes back around and Pjanic slows it down entirely.
78'   Chiellini with a clearance. Son with the one-touch cross and Kane waiting for that to fall for him.
78'   Son out to Davies and he pops it inside but Juve survive.
77'   Handball, surely? Ref says no but that looked like a certain hand to ball.
76' Lamela replaces Dier.
76'   Spurs on the ball now but not urgency and few spaces in Juve's defense.
74'   Ball from Son but Kane can't reach it. Eriksen breaks after Juve cough it up.
73'   Trippier fouls Pjanic. Frustration creeping in for Spurs now.
72'   Dembele fouls Dybala. He helps him up but Spurs look a little lost.
71'   Son wins it and Spurs back on the ball. Juve, a horrible team to need to score against.
69'   Juve in the ascendency now! Spurs are shocked. They need a response.
68'   Do Spurs have a reponse.
67' GOAL! Spurs losing. Dybala with a lovely finish. Higuain puts his compatriot through and he absolutely buries it.
66'   Son bundles Lichtsteiner over. The Swiss right-back has injected some purpose into Juve's attacks.
64'   Higuain. GOAL! He turns it home. Lichtsteiner cross, headed on by Khedira and the Argentine turns it home. GAME ON!
63'   Ball out to the right hand side of Spurs' penalty are and it falls to Dybala. He drives it a mile wide on the bounce.
62'   Chiellini fouled by Kane? It looks like Kane just backed into him. Nothing malicious.
61' Lichtsteiner replaces Benatia. 
61'   Higuain gets to a cross from the left. Over!
61'   Allegri needed to do something! 
61' Asamoah replaces Matuidi.
60'   Corner comes in and Kane gets a foot to it but that's straight into Buffon's gloves.
59'   More pressure from Spurs. Son again.
58'   Son takes on Barzagli again and turns inside but shoots over the bar.
57'   Barzagli with a kick to the shin of Son. Another sore one. He's lucky not to be booked. The only one out of Juve's backline not to be booked.
56' Alli needs to be careful now. He's getting involved in plenty of little scuffles. Fouls Khedira this time and goes in the book.
55'   Dele Alli and Pjanic getting into it. Kane comes in to calm everyone down.
54'   Offside. Dybala runs off Higuain and gets it but the striker, Higuain, was offside.
53' Chiellini with a yellow now. He takes Alli down on the break. He really needed to because Spurs were in there if he got by him! 
52'   Pjanic with a corner to.....nobody! Even his teammates were confused with that one.
52'   They win a corner this time. Alex Sandro streaming down the left. 
51'   Yet again, Juventus give it away and Alli strikes. Wide!
51'   They cough it up very easly and Spurs counter. Promising position but cross is cleared. 
50'   Juve finally get on the ball. Let's see what they can do.
49'   Some frustration creeping into Juve's play now.
49' Benatia takes Alli down now with a high tackle. Caught him around the ankles but Alli was in the air. 
48'   Matuidi takes Ben Davies out after he clears the ball. Spurs continue on with the ball. Juve chasing shadows.
48'   Son down the left again and Barzagli struggling again. Headed out. Spurs back on the ball again though. Very bright start by them.
47'   Eriksen sizing this one up. He lays it off to Vertonghen and he strikes with his left but that's headed out by Juventus. Spurs recover and they're back on the ball.
46'   Douglas Costa taken down by Dele Alli.
46'   We are back underway for the second half! 
45'+2'   Good decision as the ref blows the whistle on the first half as Son's strike separates the sides.
45'+2'   Davies fouls Costa. 
45'+1'   Trippier finds Alli with a little scooped ball over two defenders. He can't get a cross away though.
45'+1'   Eriksen takes the ball down in the penalty area and sends it all the way back to Sanchez. Spurs delighted with this lead. No rush from them now.
44' Pjanic booked now for a swipe at the ball but Alli got there first and he takes him out. Although there was very little contact.
43'   Sent into the box and Sandro heads over. 
43'  Higuain hits the ground under pressure from Dele Alli. Chance for Juventus now before the break.
41'   Juventus with a chance. Costa sends it across the box and it falls to Sandro, who lays it off to Pjanic but he strikes just wide. Lloris was stretching for it but he wasn't needed in the end.
39' Son with a finish! Juventus need two all of a sudden. Alli with a shot that is blocked and it falls to Trippier. He sends it across to Son and he strikes. It takes a kind bounce up off the ground and beyond Buffon.
39'   Son with his trademark move. A stepover to buy himself a yard and a shot. Drags it just wide of Buffon's post. So, so close.
38'   Dembele goes around two Juve players and they have to foul him. Brilliant from the midfielder.
37'   Pjanic with a free now. This is somewhere that Juventus might be able to hurt Spurs but Sanchez heads that away. Can't see where Juve are going to get this goal they need!
36'   Ball down the line and Spurs defend that easily. Juventus haven't gotten into this at all.
35' Sandro sticks his studs in on Trippier and that's another sore one on the ankle. He gets booked.
34'   Kane on the left with an ambitious shot. Curls wide but a second there where it might have gone in! Well wide in the end really.
33'   Replay shows Barzagli bulldozing Son out of the way there. Sore one for the attacker.
33'   Son stays down after a heavy tackle in the air. Spurs have it though and work their way up the field. Alli with a strike and forces a save from Buffon.
32'   Higuain chases down a chipped ball in behind but he's a half a yard offside in behind Sanchez.
30'   Spurs doing a really good job of pressing Juve high up the field.
30'   Son to Dier, who has returned, but his cross is blocked.
29'   Juventus concede possession again and Spurs, who look far more comfortable on the ball, now attacking. Son been very good on the left for the home side. 
28' Vertonghen booked in the end for a tackle on costa this time.
27'   Juve in possession now but it's all very docile from them. They haven't managed to bring the ball into the danger zone too often.
26'   Dier up on his feet and it's unclear if he can continue. Doesn't look comfortable.
25'   Eric Dier down and looks hurt. 
24'   Vertonghen nearly has his jersey pulled off by Benatia from the corner.
23'   Lovely ball from Dembele to Son and he strikes. Corner. Lovely move by the South Korean.
22'   Khedira to Higuain and he lays it off to Dybala. He strikes from distance but that's blocked.
21'   Ball from Trippier to Kane, who runs down the line. Nice run and lovely ball. Laid off to Dier and he strikes but Buffon saves.
19'   Son in the box. Plays it to Alli and Shot comes in from Eriksen. Saved. Back out and Son heads it towards goal and Buffon punches it away. Spurs unlucky there not to score.
17'   Penalty! Surely. The referee doesn't give it. Douglas Costa goes down under a tackle from Vertonghen. Juve players are livid.
16'   Alli out to Kane, who is on the left this time. He looks for Trippier on the other side of the field. Juventus break. 
15'   Kane goes so, so close. Ball comes in from Alli and Kane goes around Buffon before firing into the side netting from a tight angle. Kane outmuscles Chiellini.
14'   Son down the left side again and the ball goes out of play but it's a goalkick. 
14'   Penalty claims waved away.
13'   Eriksen through to Kane. Hint of handball as Chiellini slides in and catches it with his hand. Kane continues but gets stopped before shooting. 
12'   Ball back to Lloris and Spurs start another attack but Juve win it back. They can't string too many passes together as Spurs applying pressure on them. Sandro does get a cross in this time but Vertonghen gets it away with his head.
10'   Nice ball in from Davies and it nearly falls to Kane but Chiellini clears.
10'   They eventually win a corner through Son. 
10'   But Spurs continue to put some pressure on Juve with this attack. 
9'   Ball across the box and Son swings a right foot at it and can't connect. 
9'   No pattern to this one yet. Spurs not being let implant their style on proceedings.
8'   Another long ball from Spurs. They win another throw and Eriksen takes it down the line to win another one. 
7'   Ball in from Douglas Costa, who looked offside. He sends one all the way across the box to Higuain but that's over his head. 
6'   Kane has Chiellini down the right and slides in. Spurs win a throw but they win it back and go on the attack.
5'   Ball down the line to Matuidi but way too much on that. Allegri off his bench and shouting and roaring at his players.
5'   Pjanic moves forward but too many white jerseys around him. Spurs win it back easily. 
4'   Son with a stepover and strike. Saved by Buffon! Good effort.
3'   Son with a ball into the box and it's headed away. Promising from Spurs again. Higuain cuts inside from the left and passes but Lloris gathers.
2'   Alex Sandro takes off down the left and is ruled out for offside.
1'   Another long ball and Kane crashes into Benatia. Decent start by Spurs.
1'   Long ball to Alli and he puts Benatia under pressure early.
1'   We are underway! 
Chiellini in tears during that. Really powerful and so sad. 
A minutes's silence respected for Davide Astori at Wembley. 
The players make their way onto the field and there it is, the Champions League anthem!
This could be Gigi Buffon's last game in the Champions League. The retirement is fairly certain, unless they win the Champions League, but it still needs the seal of approval from the president: "I don't have to make any more reflections because they've already been made -- we just need to agree them with the president, but his are pretty much the same thoughts that I have," he said. "It's not the right time to talk about an individual now, though, even if that individual is me.
We are just ten minutes away from action now at Wembley. 
Here is some of the praise that has been heaped on him. Rio Ferdinand says he should be at Real Madrid with Gareth Bale. Also, Pochettino said, "I have told you - and some people use my word to describe him - he is a genius of football. He is this type of player I put next to Ronaldinho, Maradona, [Jay-Jay] Okocha – players that I was lucky to play with. For me, he is one of the unbelievable talents in the history of football.
Moussa Dembele has been the talk of the town since his performance against Juventus tonight. He says, "It's a good feeling. Everybody likes to be appreciated. It's a good feeling, but there's so much to play for still."
Serge Aurier is suspended for tonight's game and Kieran Trippier starts in his place while Heung-Min Son starts in place of Erik Lamela. The Argentine was excellent in that first leg and was vital to how Spurs pressed but Son is in good form, scoring two against Huddersfield at the weekend. He also says: "It's a Champions League game against a difficult opponent. We play at home but we are not scared. We need to play our game, be confident and play forward like we play at Wembley. That's the most important thing."
Spurs could take a massive step towards European respectability tonight by knocking out a club who have won it twice. Is tonight the night they announce themselves on the scene in Europe? The 2-2 means Juve have to score and that makes things very interesting with Dybala and Higuain starting in attack for the Old Lady.
Tottenham Hotspur XI: Lloris, Trippier, Sanchez, Vertonghen, Davies, Dier, Dembele, Eriksen, Dele, Son, Kane.
Juventus XI: Buffon, Barzagli, Benatia, Chiellini, Alex Sandro, Khedira, Pjanic, Matuidi, Douglas Costa, Higuain, Dybala
Hello and welcome to our live coverage of Spurs vs Juventus in the Champions League as Pochettino's side try to build on their positive 2-2 draw in Turin. Kick-off from Wembley at 20:45.