PSG's Neymar: Real Madrid better placed than ever to sign star
Zinedine Zidane was not shying away from a move for the Paris Saint-Germain ace on Friday, admitting: "Any team would find space for him". Jamaica vs USA: Gold Cup live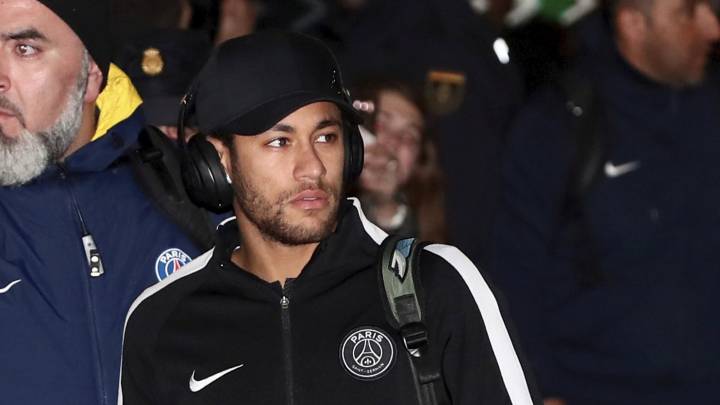 Zinedine Zidane certainly did not shut the Real Madrid door on Neymar when, as expected, he was asked about the Paris Saint-Germain star on Friday. The question came in the wake of the news first published by AS (see below) that the Brazil international has his price - 400 million euros - and is both eager to pull on the white shirt and reluctant to remain in the cold and rain of Paris.
"Is 400m too much to pay for Neymar?" Los Blancos' coach was asked and, after pausing for thought, he did not shy away from such an outlay: "They [PSG] paid 220 a few months ago, didn't they? That's the way things are. I remember when I was bought [by Real in 2001] that it was 72, and that seemed like crazy money. A decade or so later it's 220... It's well possible that it'll be 400 in another decade's time - or before then."
"Any team would find space for Neymar," says Zidane
"Any team would find space for Neymar!" the Frenchman told reporters when probed on whether the 26-year-old would fit into Real Madrid's. In this day and age, nothing is said just for the sake of it in football; before every press conference, the coach looks over the hot topics with the club's press chiefs. And, after AS's front page, there can be little doubting what the central issue of the day was.
As the smoke clears at the Parc des Princes after Tuesday's Champions League defeat to Real, the damage assessment is firmly underway at PSG. And Neymar - happily back in Brazil, with his focus seemingly on the World Cup as he hosts pals at his newly-built mansion in Mangaratiba - is seen as being all too detached from the crisis at the club. "He'll not even be back in Paris for another five weeks," lamented Le Parisien on Friday. The forward is recovering from his fractured metatarsal under the supervision of Ricardo Rosa, his trusted physio from his days at first club Santos; PSG, meanwhile, appear pushed to the margins.
"He's going to stay at PSG, 2,000%" said the Ligue 1 leaders' president, Nasser Al-Khelaifi, before the Champions League tie against Real Madrid. Now, however, the Qatari knows that Neymar needs a better stage on which to challenge for the Ballon d'Or. He needs Madrid.
Real have far from blown all their transfer funds over the past couple of years. Since buying Gareth Bale for 101m and James Rodríguez for 75m in 2013 and 2014, respectively, their biggest spends have been around the 30m mark: Mateo Kovacic, Danilo, Álvaro Morata, Theo Hernández... Nevertheless, the signing of Neymar would cost the same as the much-awaited, long-promised revamp of the LaLiga giants' stadium, the Santiago Bernabéu.
Neymar's image rights could be Real Madrid stumbling block
Meanwhile, a potential problem for Neymar is that, according to AS sources close to the player, his PSG contract gives him 100% ownership of his image rights. He is sponsored by Nike, Gillette, Claro, Red Bull, Gaga, Replay, Rexona, PokerStar, Konami... With 90.5 million Instagram followers and another 38.5 million to his name on Twitter, his face is a money-making machine, with all the profits going to him. However, Real's policy is clear: every player (except Cristiano Ronaldo, who gets 60%) must split his rights down the middle with the club.
Before Neymar signed for Barcelona ahead of Real in 2013, he had agreed to go 50-50 on any endorsements signed after joining, while keeping the entirety of all deals in place beforehand. That could once more prove to be the solution. With their victory in the French capital in midweek, Real advanced their hopes of winning a third straight Champions League - and, just possibly, of snaring the only true 'galáctico' on the market other than Cristiano and Lionel Messi.