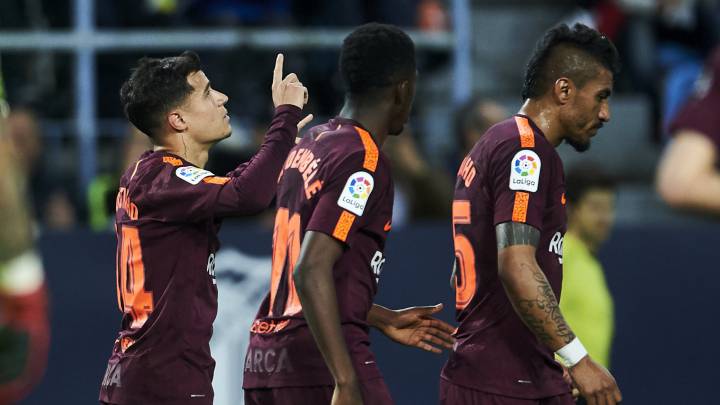 If a traditional game of football lasts for 90 minutes, spectators at La Rosaleda can feel short changed tonight as the LaLiga clash between bottom side Malaga and table topping FC Barcelona lasted just last 30 minutes. In that time Ernesto Valdverde's men had put two past Malaga keeper Roberto (the best player for the home side) and saw Samu red carded for a poor challenge on Jordi Alba that saw Jose Gonzalez's men reduced to ten.
Goals from Suarez, his first strike against the Costa del Sol outfit and a delightful back heeled effort from Coutinho were enough for the men in burgundy to put the leaders in a comfortable position against a team that seem destined to end a decade in the top flight.
Despite the adversity, Malaga never threw in the towel and with better precision and finishing could have dragged themselves back into the game.
The less said about the second half the better as Barcelona had one eye on their midweek Champions League last 16 tie against Chelsea and one sensing that Malaga would have settled for a 0-2 home defeat to the unbeaten Catalan giants.
Málaga 0-2 FC Barcelona: as it happened
Whistles from the home fans as the players head towards the dressing room. Barça on autopilot in the second half. 
FT...all over in La Rosaleda: Malaga 0-2 FC Barcelona
90'   Barcelona move to 72 points whilst Malaga remain rooted at the foot of the table on 13 points and staring a step down to the second tier after a decade in the top flight of Spanish football.
90'   2 minutes of time to be added
88'   Delightful work from Barça with a sweet 1-2 in between Suarez and Coutinho. Malaga still attack and a credit to Gonzalez's men.... Chants of "you don't deserve to wear the shirt" now ring out from the home fans...  
86'   Call for a penalty from the home fans as a Malaga striker was unended in the Barça area... Martinez Munera waves play on .... 
Dembele making way for Vidal
Barcelona make the change and it's Vidal who comes on 
Suarez booked for a foul and misses the next game
83'   Change imminent for the visitors with Alcacer set to make an entry
81'   Free-kick for Malaga after Gomes fouls Brown...Rosales to take... decent distance for the captain...floats the ball into the box but easily dealt with by the FC Barcelona rear-guard. 
80'  En-Nesyri off- Brwon Ideye on (Malaga)
78' Change for Malaga: Rolan off / Success on  
77' Change for FCB: Alba off-Digne on
76'   Dangerous free-kick for Barça ... Suarez poised to strike again and this time drives the ball wide
74'   Another half chance for the home side with the final delivery lacking quality as Iturra fires the ball across the face of Ter Stegen's goal
Sergi Roberto off-Gomes on for FC Barcelona
71'   Andre Gomes poised to make an entry 
69'   Credit due to Malaga.... heading down to the second division , 0-2 down at home to the unbeaten Barça in LaLiga, down to ten men..but still launching semi dangerous counter attacks.
68' Semi-ironic chants of "Ole" from the home fans every time their side strings together two or three passes...not ideal support to be frank !
65' Fierce drive from Dembele who fires a fine drive straight at Roberto in the Malaga goal.
63'   Once again chants of "Al Thani Vete Ya" (Al Thani go now!) ring out as the disgruntled Malaga fans vent their spleen with the club owner 
The moment Samuel was red carded in the first half

Change for Malaga. In: Lestienne-out Chory 
56'   Long range effort from Coutinho. Been impressed with Dembele this evening ...very accomplished performance from the lad! 
54' Very flat first ten minutes so far in this second half with very little tension about the game .... Malaga you feel would settle for this scoreline and as time wears on Barça will have one eye on the Champions League game on Weds. 
51' It's gone eerily quiet in La Rosaleda with the normally noisy Frente Bokeron ultra group somewhat quiet in the stand behind Roberto's goal. 
50'   Suarez to take ....straight into the wall...would have been perfect for a certain Lionela Andres Messi ! 
49' Dangerous freekick as Iturra fouls Suarez just outside the box and earns a yellow for his action. 
Valverde looking sharp this evening at La Rosaleda

46'   We're back underway in Malaga by the way ... No changes for either side at the break. 
Barça players emerge from the tunnel...no changes in the ranks of the Catalan side who, if the scoreline stays like this, now hold an 11 point lead over Atletico Madrid who play Celta tomorrow 
45'   HT: Malaga 0-2 FC Barcelona
45' Into time added on at the end of the first period. Malaga making a fist of it one has to say ... chances for the men in blue and white few and far between but with the scoreline at 0-2 conscious that a goal could give them a glimmer of hope.  
Al Thani vete ya rings out the chant as Malaga fans call for the owner of the club to leave, clearly unhappy with his running of the institution with relegation to Segunda beckoning.  
41' Malaga keeper Roberto called into action once again and pulls-off a fine stop from a Coutinho curler. The Malaga No. 1, best player for the home side tonight  
Possession stat after 40' 

38'   Lacen fires over as Malaga refuse to roll-over 
Malaga are top of the table when it comes to red cards this season now with 8 following Samuel's dismissal.   
35' En-Nesyri misses an excellent chance heading down and wide with the goal gaping. Malaga will not get a better chance to recover a foothold back in this match. 
32'   If tonight was going to be a slog for the home side, Samuel's action has made this as good as an impossible task. Malaga 0-2 down and with ten men against a rampant Barça.  
28'   Jordi Alba in trouble and limping heavily.... What was Samuel thinking of ? A career threatening tackle and a deserved red.
Red for Samuel after a very rash challenge on Jordi Alba ... crashing down on the defender's ankle.... very, very nasty !
28'   What a delightful goal from the Brazilian after fine world from Dembele.   
Golazzzzzzzzo from Coutinho .... Barça two up...
27'   More pressure from Barcelona with Luis Suarez in inspired form this evening. The Catalan side certainly showing no signs of missing Leo Messi.  
Luis Suarez celebrates his headed goal at La Rosaleda 

The Barça XI ahead of tonight's game 

23'   Decent effort from Malaga as Rolan breaks and fires a cross which is overhit and  misses everyone, including the Barça rear-guard. Despite the adverse scoreline the Malaga fans are still making plenty of noise  
22'   Putting one's footballing allegiances aside for one minute ... the way Barça move the ball around really is a joy to watch !
18'   Moroccan striker En-Nesyri tries a long range effort that is easily dealt with by Ter Stegen. 
Malaga 0-1 FC Barcelona 

14' Gol gol gol.... Luis Suarez bags his first goal against Malaga to the delight of the 200 or so visiting fans latching on to a delightful cross ball from Jordi Alba 
12'   Danger for the home side as Chory brings Ter Stegen into action just as Luis Suarez breaks down the other end and forces an excellent stop from Roberto.
10' Words of wisdom from tonight's match analyst Micheal Robinson (former Liverpool, Brighton, Osasuna and R. of Ireland international: "Every time Barça are on the ball they look comfortable, each time Malaga are in possession they look terrified" .....True words !    
7'   Plenty of noise coming from the home fans as they attempt to rally their men. Calm and composed possession game from Barça in full flight now....
5'   Both sides pressing with great intensity with the game yet to develop a pattern, as expected plenty of possession from Barça
3'   La Rosaleda looks reasonably full tonight for the visit of the league leaders. The sadly predictable whistles ring out each time Pique comes into contact with the ball .. 
We're all set as match official Martinez Munurea sounds his whistle
Barça tonight in their third kit of burgundy shorts, socks and shirt 

Malaga set to play in their classic sky blue and white striped shirt, blue shirts and blue socks. Possibly the smartest kit in Spain's top flight! 

A mild evening on the Costa del Sol with a temperature of 15C. Clear with periodic clouds and an ideal temp. for the game of football. 

The corresponding game at La Rosaleda ended 2-0 to the home side last season. Jony & Sandro on target for the men in blue and white .... Here's how the action unfolded. 

Here's how the league table currently looks .... a loss for Malaga and one feels their proverbial goose is somewhat cooked !   

No Messi at La Rosaleda tonight, heres why ....

Hello and welcome to La Rosaleda (Malaga) for live LaLiga action as table toppers FC Barcelona face the Costa del Sol based side