BARCELONA
André Gomes "feels ashamed" about his time at Barça
The Barcelona player opens up in a conversation with Panenka about how his time at the Camp Nou has turned into "hell" and he says thinking too much has really hurt him.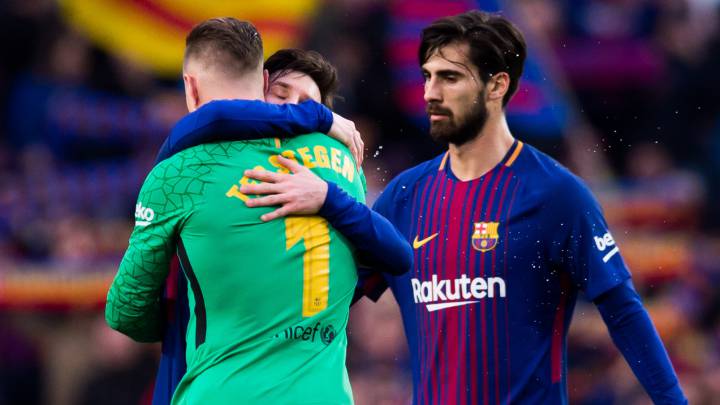 André Gomes is not going through his most enjoyable stage as a footballer at Barcelona. The Portuguese gave a frank interview to Panenka magazine in which he outlines how unhappy he feels on the field. Since his arrival at the Camp Nou, he says he doesn't "feel good on the field" and that he doesn't enjoy it. Met with criticism, he says there are "times when I don't want to leave my house".
"I don't feel well on the field, I am not enjoying the thing I like to do. The first six months were pretty good but then things changed. Maybe it's not the correct word but it turned into a bit of a hell, because I started to feel more pressure. With pressure I feel fine, but with pressure on myself, I don't. The feeling that I have during games is bad," he says.
Also, he says the pressure he feels has also crept into training. "In the sessions, I am calm. I feel comfortable with my teammates. Obviously there are days that I feel a little low on confidence, and in training it is noticeable. Maybe I played the day before and I still have the image of the game in my head, and that doesn't let me move forward," Gomes tells the magazine.
The whistles and criticisms have also affected his personal life. "On more than one occasion, I didn't want to leave my house. Because people look at you, having the fear of going on the street out of shame. My friends tell me I am going with the handbrake on. I close myself off. I don't take the frustration I have out. Then I don't talk to anybody, I don't bother anyone. It is like I feel ashamed. Thinking too much has hurt me. I think about the bad things and what I have to do. Although my teammates help me a lot, the things don't work out the way they want them to work out," he finished.
Gomes, 24, arrived at Barcelona in July 2016 from Valencia for €35 million with €20 million more in variables. He has a contract until 2021.