REAL MADRID
Karim Benzema: 44 goals less than Higuain since he left
Zidane says Benzema's stats back up his place on the team but a quick look at this stats shows that this is not necessarily the case with the French striker.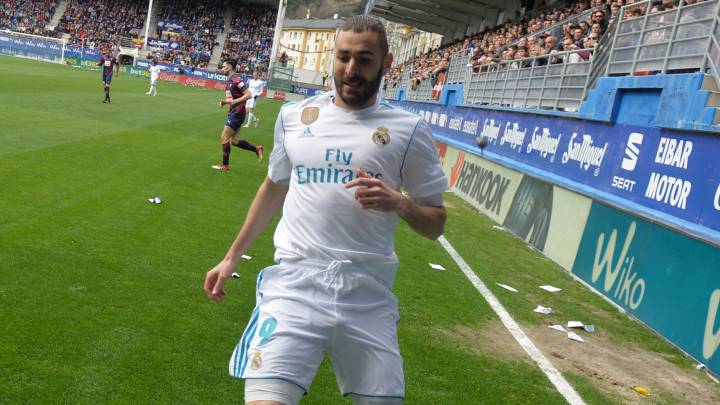 "Those who like footbal have to like Benzema," said Zinedine Zidane in his umpteenth defence of the French striker. "He has to continue, he has shown in the last nine years that he is good. I'm not the only one to say it. I like him a lot, but the stats say the same," Zidane continued. It's time to analyse those stats. For example, Gonzalo Higuain, who left in 2013 when he got tired of sitting on the bench for the preferred Benzema, has scored 44 more goals than his former teammate.
Benzema is the striker Florentino went to sign personally in the suburb of Bron-Terraillon, close to Lyon. "A black, high-end car stopped at the door, a man wearing a suit got out and knocked on the door," he told AS in 2009 when describing the scene. Now, Karim also has the protection of Zinedine Zidane too: the past season Morata scored 20 goals in 1,872 minutes - one every 93 minutes - and Benzema score 19 in 3,239 minutes - one every 170 minutes. The Spaniard was the one sold though. This season, with the pressure on his place only being applied by Borja Mayoral, he has scored just eight goals in 2,303 minutes.
During the summer of 2013, when Higuain left, he had scored just one goal less during the four season the pair shared minutes with los Blancos. His tally of 86 came in 20 games less than the French striker -163 games to 183. Back then, the numbers did not give much reason for the transfer and now they still don't make sense.



LaLiga Santander
*Update 12 de marzo de 2018