Barcelona 2 - 0 Atlético
Barcelona beat Atlético into Uefa Youth League semi-finals
Atlético Madrid were no match for Barça's young guns at the Mini Estadi as first half goals from Marqués and Collado put them into the UEFA Youth League semi-finals. Jamaica vs USA: Gold Cup live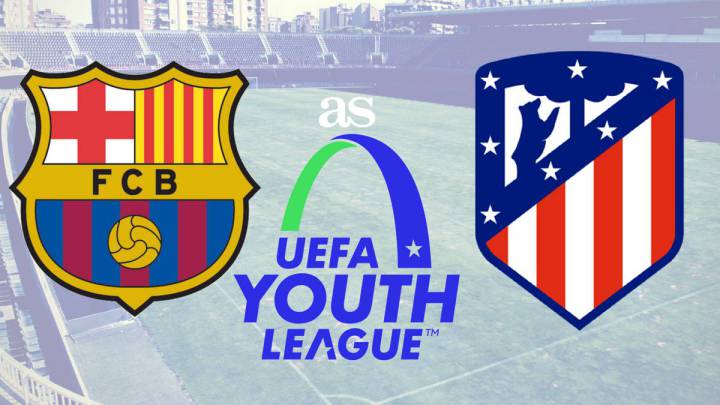 Barcelona u-19 vs Atlético Madrid u-19 live stream online: minute-by-minute
90'+4' GAME OVER! Barcelona win out quite comfortable winners over Atletico at the Mini Estadi in Barcelona.
90'+4'  Last chance for Atletico really. Headed up in the air and cleared, eventually, by Barcelona. 4 on 1 but Dos Santos saves it. 
90'+4'   Juan Aguero, Atletico's liveliest player all night, makes a run down the field and wins a corner.
90'+2'   Just two minutes left of the four now that will be added on. 
90'   Good chance. Salido receieves the ball and his touch takes it straight into Pena's chest. 
88'   Another Atletico chance wasted. Goalkick.
87'   Castro fouls and Barcelona in no hurry to take this either. Last few minutes.
85'   Barca coming back into it now as they throw the ball around. Atletico have run out of gas trying to get that goal. Never came and looks like their challenge is over. they're chasing shadows now.
84'   Strike from Marques Mendez but that's well over the bar.
82'   Barcelona win a throw as Perez stands over it. He is in no hurry to take it.
80'   Atletico have the ball in the back of the net. Aliaga fouled the keeper though as Salido heads home. Free to Barcelona.
79'   Atletico win a free. Aguero the man felled. They look to be getting closer and putting more pressure on but still no clear chances. That has to change as they're running out of time.
78'   Ball across Barcelona's box and it's put wide by Atletico.
77' Jaime has to come off for Barcelona with what seems like cramp. Orellana replaces him.
76'   Atletico down the left again. Effort that almost curls by Pena but he gets a hand to it and pushes it away from his goal.
75'   Ball into the box but Pena gathers that as it rolls along the ground. 
72' Comas replaces Brandariz for Barcelona in their first change. An injury to the defender the reason. Otherwise, they look very comfortable and no need for changes yet.
71' Salmonon replaced by Riquelme.
70'   Jose Carlos with an effort from downtown but that is nowhere near Pena. 
68'   Barcelona scramble away as Atletico try to figure out a way through.
66' Abel Ruiz down the right but he runs down a cul de sac and loses it. Atletico free as Miranda fouls Aguero. He's booked too.
65'   That man again, Collado with the effort. Dos Santos gets across to his right well to save the free.
64'   Puig fouled outside the box. A clear foul on the impressive midfielder.
63'   That's not doing much. Salomon with an effort that goes wide. Atletico resorting to those kind of shots a clear sign of lack of ideas and frustration.
61' Another change for Atletico. Salido comes on in place of Munoz.
60'  Nothing working out for Atletico tonight. Ball comes in from the left and Isaac tees it up on the volley but he slices it about 15 yards wide.
59'   Another chance for Barcelona. Perez with a nice run and cut inside with his left. Dos Santos saves but it falls to Marques Mendez and he misses. Fairly handy one, it has to be said, and he knows it too. 
58'   You just get the feeling that Barcelona are in complete control of this one. Regardless of their lead, they look more dangerous when attacking and look confident and rarely hurried at the back.
56' Here comes that change. Navarro replaces Moya.
56'   Atletico with a bright spell but nothing comes from it. A dangerous corner and then a run into the box but Barcelona staunch at the back.
54'  Atletico change. Navarro coming on for Atletico now.
54'   Might have been Atletico's best chance. Isaac in the box but again too man Barcelona players in the way. 
52'   Atletico being pinned back again after their lively start. 
50'  He's involved again and lays it out to Abel Ruiz. Perez takes it down and Miranda drives his shot well over the bar.
49'   Collado runs straight down the right and past a number of players. Lovely ball into the box too. It rolls by a couple of players before Perez strikes and it's blocked. Atletico survive a scare. Collado causing problems for them.
48'   Atletico win a couple of throws in succession as they move up the field but Barcelona win it back and break. Collado cuts in on his left again but his shot from outside the box is blocked.
47'   Salomon lays a pass off and it comes back into the box for Munoz but he is muscled out of it and falls. Ref says no penalty, and he is right.
46'   Atletico really start off with intensity. they want a hand ball outside the box but ref says no.
46'   Second half is underway from Barcelona.
45'+1'   HALF-TIME! Barcelona good value for their lead with goals from Marques Mendez and a slightly more fortunate effort from Collado. They lead 2-0.
45'+1'   Carles Perez gets a sniff of a 3-0 lead and tries to take it. He comes in off the right and drives a shot towards goal but that's blocked.
45'+1'   60 seconds of extra time.
44'   Barcelona over-complicate things in the penalty area. Ruiz had a chance to shoot but passes it up and lays it off. A couple more should-be shooting chances but Atletico get it away. That's before Barca attack again and win a corner. Atletico crying out for the half-time whistle.
44'   They have a mountain to climb now to keep themselves alive in the competition.
43'   Barca been clinical with their handful of chances and Atletico can't find a way through their defence.
42' GOAL! 2-0. Collado doubles Barca's lead. Miranda plays it to him and he strikes with his left foot. It was not causing Dos Santos but a deflection changed its direction and beats the keeper.
41'   Long ball in the direction of the goalscorer, Marques, but his glances header is into the path of an Atletico defender. Not cleared properly though.
41'   Atletico getting closer, maybe to an equaliser, but no real chances so far. Aguero making moves though and he crosses from the right. Falls to Moya and he decides to take it on his chest rather than hit it first time. Costly mistake because Barca round on him and win it back.
39'   Juan Aguero with the shot but that's nowhere near. Pena gets down to his near post but he doesn't have to save it. Goalkick.
38'   Atletico applying more pressure but Barca enjoying that and finding more space to pass. They do eventually lose it though and Salomon breaks. He plays it to his support and Atletico kee it on the right. Aguero wins a free. Probably not a shooting position but not far off.
36'   Juan Aguero with a nice move down the right but his chipped cross is into his chest.
35'   That's better from Atletico, who are pushing for an equaliser. Isaac loses out to Abel and another attack collapses though.
34'   Atletico move forward. Salomon with the ball on the left. He has support and Atletico work the shot. Munoz with the shot. That didn't trouble Pena but it nearly dipped under the bar.
31'   Nice move by Barcelona as Puig sets Perez free but his shot is well off target from a tight angle.
30'  Oscar looks for Salomon with a through ball but that's way to heavy for the attacker.
29'   Ball comes in from Barca and Dos Santos punches away. Atletico counter and have a 2-on-2 situation. 
29'   Marques Mendez looked to have his jersey pulled there but loses out and concedes a throw. Atletico need to get a little more adventurous here after that goal.
28'   Barca on the attack again and they lose out. Atletico goalkick.
26' GOAL! Marques Mendez. The Venezuelan finds a yard for himself in the box and drives home with his left foot.
24'   Salomon turns his man down the endline and his touch lets him down a but. Miranda recovers and puts it out for a corner but Salomon fouls him. 
23'   Moya shoots but that is a mile over the bar .
22'   Dangerous from Barcelona. Mix-up at the back and Pena plays it to Morer but Atletico jump the pass. Clemente fouled and the Barca player picks up a yellow. Atletico been pressurising the keeper and came close to forcing an error before. Dangerous free now.
21'  Puig to Ruiz, and Puig again. He sends it out to Jaime but Atletico see it out for a goalkick with pressure from Gastanaga.
20'   Atletico break but they lose out and Barcelona attack again. They've gotten to grips with Atlético's decent early spell. They've subdued them since.
19'   Juan Miranda breaks down the left-hand side and wins a corner for Barcelona. Been promising so far has the left-back. 
18'   Another dangerous attack and Collado sends that cross way out to the back post. They recover and Carles Perez takes it into the box. Strikes and that's blocked by his own player and wide.
17'   Ball comes in from the right and Abel Ruiz nearly gets a leg to it. Really dangerous from Barcelona.
15'   Corner for Atletico.
13'   Atletico win a free now as Barca foul on the counter.
12' Barcelona looking more dangerous now with a lot of possession in Atletico's half.
11'   Atletico break but Barca survive again. Atletico had the better of the opening ten. 
10' Sent into the box and Collado is closing in on the headed clearance but his teammate throws a leg at it and takes it away from him. He was ready to hit it on the volley. BArcelona with another corner from the left this time.
9'   Barcelona win a corner now. 
8'   Corner for Atlético noe and that very nearly fell in the box for Jose Carlos.
7'   Chance for Atletico as Isaac sends a cross into the box but Barcelona clear.
6'   Salomon plays it back to Isaac and Atletico keep it. Sent forward and Salomon chases it down but Barca win it.
5'  Atletico doing much better in possession now. Sent across the field by Miranda chests it into a teammate's path before Barca lose it again. 
4'   Atletico want a free as Puig drags down a player on the burst. Ref says no.
3'   Barcelona with all the possession. Ball headed back to Dos Santos and he picks it up and Atlético start an attack.
1'   Miranda whips one in for Barcelona and it's punched away.
1'   Barcelona throw the ball around at the back to start. Atlético sitting back and not putting them under too much pressure.
1' We are underway! 
Just a couple of minutes out from kick-off now. Atletico and Barca out and the away side in their yellow strips. Barcelona in their classic azulgrauna jersey.
It's 13 degress and cloudy in Barcelona today so conditions not amazing but not bad for this clash. This, as it is at first team level, will likely be a clash of styles. Barca line out in a 4-3-3 and Atlético in  4-4-2. Barcelona will also be buoyed by the fact they're playing at home. Should be a good on regardless as the draw was very kind to us.
Atlético defender,  José Carlos Aliaga, said on the club website: "We got here after a lot of hard word and sacrifice. I think it is where we should be and where we deserve to be." He continued, "we know how they play and we will try to hurt them in their weak points. The most important thing is to be a united team, be together and when we have the ball know how to take advantage."
English Premier League referee, Robert Madley, will take charge of this one.
Some info from UEFA regarding both sides' brief histories in the competition: Barcelona won the inaugural competition in 2014 and have got through two of their three quarter-finals. Atleti lost at this stage in 2015 and 2017, both times to the eventual winners.
Atlético managed to get a 1-0 win over Basil in the last 16 and Barcelona beat PSG 1-0. Carles Perez, who plays on the right, scored in the second half for Barca. Atlético pushed their luck a little bit with an 83rd minute win in a very tight contest. Alberto Salido, the super sub, got the winner for them! 
And here is a look at the pearl of Atlético's youth academy.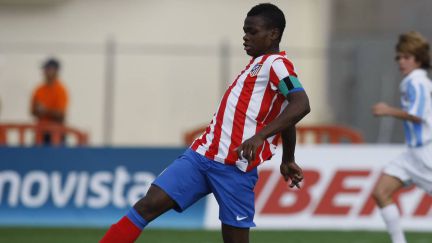 A player to keep an eye on for Barcelona today is Abel Ruiz. He will be leading the line for his side and is a big, bruising number nine, who is quite mobile at the same time.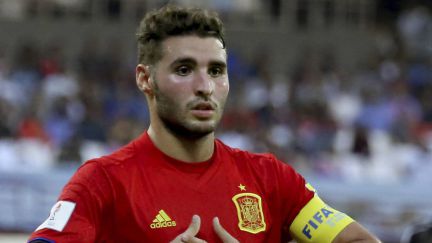 Spurs currently trailing Porto 0-2 at half-time in today's other quarter-final. 
Barcelona XI: Peña, Jaime, Mingueza, Brandariz, Morer, Ruiz, Collado, Pérez, Puig, Mendez, Miranda.
 Atlético XI: Dos Santos, Isaac, Gastañaga, Montero, Aliaga, Dorta, Moya, Aguero, Salomón, Clemente, Muñoz.
Hello and welcome to our live coverage from Mini Estadi, Barcelona, as Barcelona welcome Atlético Madrid in the UEFA Youth League quarter-final with kick-off at 18:00 CET.