Gareth Bale's yellow cards a worry for manager Zidane
The Welshman has accumulated four cautions in his last nine LaLiga games, two of which were for comments made to the officials, and his manager has concerns.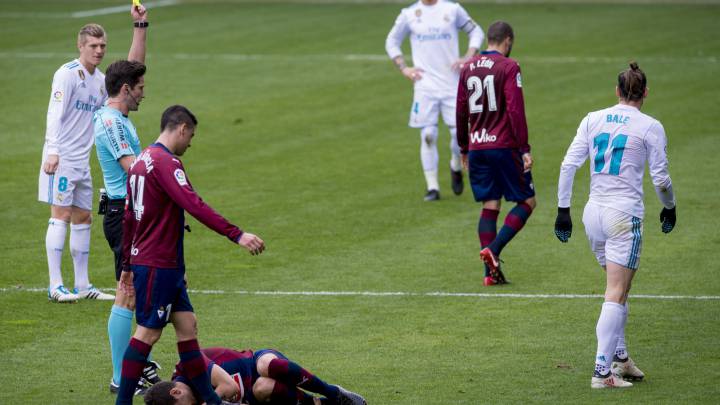 Real Madrid manager Zinedine Zidane is worried about the recent glut of yellow cards that has been shown to Gareth Bale. In the Welshman's last nine games he has picked up four cards, and two of those were for comments made to the referee.
Discipline problems away from Madrid
Interestingly, the cards have all come away from the Santiago Bernabéu. Two of them were for strong fouls on opposing players, the most recent of which was against Eibar at the weekend with his tackle on Escalante. But it is the manner of the other two, those that were given for dissent, that has Zidane most concerned and is something he wants to stamp out.
The first of these was against Valencia at the end of January, a game Madrid won 1-4. The referee brandished the yellow at Bale when the player protested a throw-in. The frustration for Zidane at seeing that could have been even worse as his number 11's protest included a gesture that the official was blind; something that could have resulted in a red card being shown.
The other needless card came in matchday 24, in Sevilla against Real Betis (3-5). Although Bale had a case in this instance, his protest towards referee Gil Manzano for a corner after his shot was deflected went too far.
Less secure, more frustration
Some suggest that the loss of his 'irreplaceable' status in Zidane's starting XI is leading to more frustration, leading to more outbursts. Now on the verge of a league suspension, Zidane will not want the same to happen in what is Madrid's last chance of success this year, the Champions League.