Valverde on the treble, Roma, Busquets, Iniesta, Athletic...
The Barça coach also discussed his side's Champions League draw against Roma: "Saying there are easy draws in the quarter-finals is dangerous".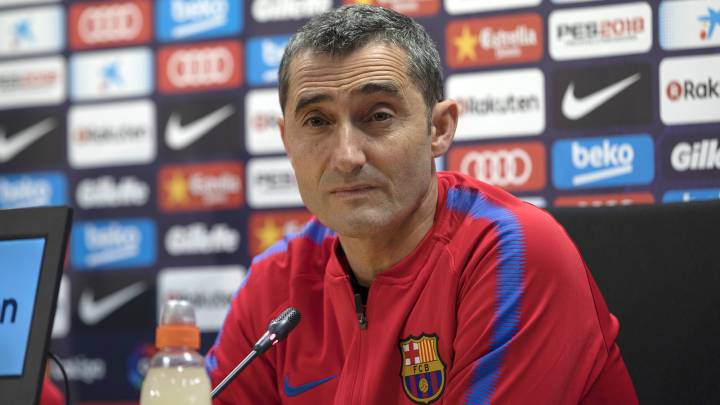 Barcelona boss Ernesto Valverde spoke to the press as Los Culés prepare to welcome his former club Athletic Club to the Camp Nou on Sunday afternoon (16:15 CET).
What can we expect from the Athletic game?
"They're always a threat, or at least that's the impression. For me it will be special. They always have great spirit. We're eight points ahead of Atlético and we can't afford to take our foot off the gas; three points are crucial because we're heading into the home straight, with 10 games to go. Our season will be defined after the international break. It's an important time for them [Athletic] because they're only eight points off the relegation zone".
What affect will Busquets' absence have?
"It's not the first time he has been unavailable and we do have other players; Rakitic has played well there before. But Sergio is the best around in that position and it's hard to replace him. Losing players is never good, and Busquets is key to linking defence and attack and pressing the other team. Not having Luis Suárez could be a problem".
Roma in the Champions League
"Saying that there are easy draws in the quarter-finals is dangerous. We didn't want to play against Real Madrid or Sevilla because we know each other well. Italian teams are always dangerous, and Roma beat Chelsea and finished ahead of Atlético in the group stage. They have a lot of potential. There are many reasons why it won't be easy: their progress, their trainer, Monchi. Many reasons".
Did Iniesta's comments surprise you?
"It depends on him, but I wasn't surprised. I'm not thinking about next season; I'm thinking about what's in front of us. Barcelona without Iniesta would be strange".
Are you thinking about the treble?
"Too much toing and froing. Before we drew three games and now there is talk of the treble. It's not in our minds; there is a chance, but nothing more. You can slip up at any time. I don't believe in past records, regardless of whether Pep and Luis Enrique did it in their first year".