Simeone: "I'm not worried, I've a small squad, but a very good one"
Atlético de Madrid's coach weighed up the alternatives to Filipe Luis at left-back. "Setbacks happen in football, you can't plan for them".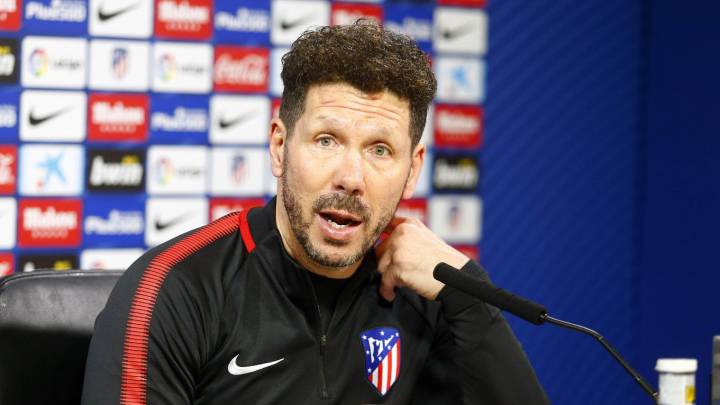 Diego Pablo Simeone joined the media to preview tomorrow's trip to Villarreal in this afternoon's press conference. The Argentine coach also spoke about being without Filipe Luis for the next two months.
You have highlighted the versatility of your players which allows you to have a relatively small squad. But now Filipe and Juanfran are out injured, isn't it a big risk to only have a slim group to select a team from?
No, because even if you have a squad of 25 players, six could get injured. There are no guarantees in life; nothing is assured.
El Cholo's thoughts on Friday's Europa League draw
What are your thoughts on Sporting Clube de Portugal, the team's quarter final opponents in the Europa League?
We watched their meetings with Barcelona in the Champions League. They are a competitive team with a highly competitive coach, who has done well and gained good results wherever he has worked. They have talented players from midfield to attack. It is a very finely-balanced tie.
How do you feel about having players out injured and a smaller squad than when the season started?
Nothing is ever guaranteed. Nobody wants injuries but you have to be prepared to resolve any setbacks you might have to deal with. I'm not worried. I have a small squad but a good one, one which will compete.
The next game is all that matters
Does it mean that you will need to be extra careful not to lose any more players to injury?
We don't need to be careful. We only look to the next game - that's always our most important one - and especially tomorrow's against a side who play good football and who are strong at home. Oblak, Savic and Gameiro will be taking part in this afternoon's session and we'll see how they are tomorrow.
What are your alternatives at left-back to cover for Filipe?
Filipe has suffered injuries in the past, and the team has compensated for that in the best way possible. Without Filipe, our passing game will be affected but Saúl has played there when necessary, Lucas is good going forward and Sergi and spent a while training with us - and he if gets a chance, I'm sure he will do well.
LaLiga Santander
*Update 17 de marzo de 2018