Barcelona 2-0 Athletic Bilbao: LaLiga goals, result, report
First-half strikes by Paco Alcácer and Lionel Messi saw LaLiga leaders Barça comfortably defeat Athletic Bilbao at the Camp Nou on Sunday. USA vs Mexico: FIFA Friendly live online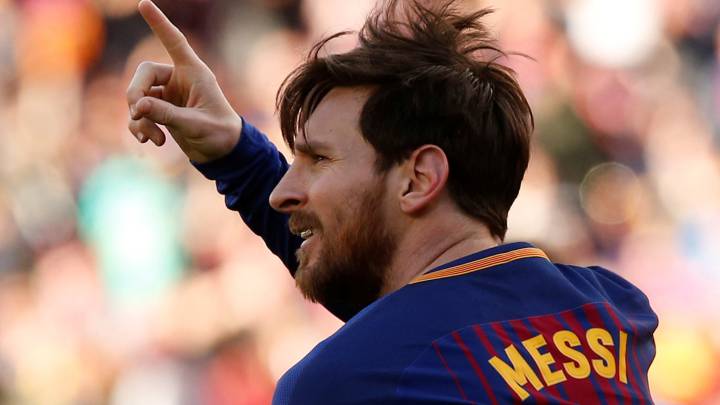 Barcelona remain on course to reclaim the LaLiga title after goals by Paco Alcácer and Lionel Messi saw them comfortably beat Athletic Bilbao on Sunday.
Alcácer, Messi wrap up points in dominant first half
Handed his first start for Barça since early February, Alcácer sidefooted home after just eight minutes, before Messi drilled in a low shot on the half-hour mark in a hugely one-sided first 45. Indeed, Philippe Coutinho hit the crossbar twice for a team who could well have been significantly further ahead at the break.
Iniesta given standing ovation after China admission
However, Athletic averted what had threatened to be a cricket score with an improved showing in a goalless second half at the Camp Nou - one that witnessed a huge ovation for Barcelona substitute Andrés Iniesta.
Fresh from revealing that he has until the end of April to decide whether to leave for China, the reception he received - complete with chants of "Iniesta, please stay" - will have left him in no doubt about the Barça fans' opinion on the matter.
Barcelona maintain firm grip on LaLiga top spot
Barcelona now sit 11 points clear of second-placed Atlético Madrid, who were beaten by Villarreal this evening, 2-1.
Barcelona vs Athletic Bilbao live online: as it happened
Thanks for joining us! Real Madrid - Girona up later.
90'+2' And that's it! Barcelona win 2-0, comfortably enough. Athletic improved considerably after the break but Barça had done the job in the opening 45, when they could have put four or five away. The woodwork saved Athletic on three occasions.
90'+1'   Ter Stegen makes a low save from Aduriz but the flag was up anyway.
90'+0'   Two minutes added.
89'   Athletic so close to a consolation! Lekue squares for Williams but it's just behind the Athletic man. The slightest touch there and it would have been 2-1.
88'   Barça get a free kick as Rakitic is taken out in midfield. There's no hurry to take it as the home side watch the clock tick down.
87'   Messi wriggles into a shooting position and lets fly, but for once he doesn't hit the target and Kepa watches it roll wide.
86'   Free kick to Athletic out on the right, it's a dangerous inswinger and Ter Stegen comes out to punch clear confidently, getting fouled in the process. 
85'   Aduriz carves out a chance in the area and tries to chip Ter Stegen. The Germany international was on his line though and barely had to move as the ball landed in his gloves.
84' André Gomes comes on, and gets himself an ovation to boot.
84'   Aduriz and De Marcos don't read each other's intention well and the striker puts the ball straight out for a goal kick.
83'   Messi races clear on the left and drives at the defence. It takes four Athletic players to stop him, but stop him they do.
81'   Athletic first to every second ball now. It's been a completely different side in the second half.
80'   Messi! The Argentinean embarks on his trademark cut in from the right and have a pop with the left routine and Kepa is glad to see the latter part of that well-worn script take a defelction and land plum in his outstretched palms.
78'   Camp Nou chant Iniesta's name as the White Knight leads Athletic a merry dance on the right. He really is a one-of-a-kind player.
76'   Aduriz gets a sight of goal and forces Ter Stegen to divert it into the side netting. He was offside though. Huge improvement from Athletic this half and more so since Aduriz came on with the visitors' shot count up to eight now. Which again calls into question Ziganda's original line-up.
75' It comes to nothing though. Athletic try and feed it back into the mix for Aduriz but it's overhit and asking a little too much of the striker to chase down. Goal kick.
74'   Athletic ping a ball into the area and Aduriz is there to meet it but Piqué does well to wrest the opportunity away. Corner to Athletic...
73' Alcácer trots off to warm applause after his goal-scoring performance, Aleix Vidal comes on.
72'   Corner to Barça, Coutinho swings it in but Aduriz gets his first taste of the ball as he heads it clear with typical force and decisiveness. If they can get him doing that at the other end, Athletic may yet get something out of this.
71'   Glorious first time ball from Saborit, fired into Williams' feet, but the winger can't quite pull a shot out and it hits the nearest defender. Athletic looking the more likely to score at the moment. Barça have been very quiet going forward this half.
70' Aduriz on for Merino, about 70 minutes too late.
70'   Athletic still trying to get back into this and Williams wins a corner.
68'   Ter Stegen makes a save of sorts as Saborit's effort clips Raúl García's heel and heads goalwards. Bread and butter for the keeper there.
67'   Athletic thead a ball towards Williams in the area and Jordi Alba does exceptionally well to slide in and prevent the Athletic winger getting a sight of Ter Stegen's sticks.
65'   Iniesta displays his incredible ball control surrounded by three Athletic shirts. The Camp Nou coos in appreciation.
64'   Lekue skins Sergi Roberto but then clatters into Paulinho. Still by far Athletic's most dangerous player today.
63' And the biggest cheer of the afternoon goes up as Iniesta assumes the armband and comes on. He can't really be considering going to China, can he?
62'   Umtiti flattens García. García glowers. but there's not much else in it.
61' And here comes Williams, about 61 minutes too late.
60'   Athletic enjoying a period of possession, but Raúl García's eventual cross is overcooked.
That's four shots from Athletic so far in the second half, to none in the first.
58'   Athletic knocking on the door but Umtiti is not in the mood to throw it open and clears the danger. This is much better stuff from the visitors, begging the question why didn't they start like this an hour ago?
56'   A loose ball from Jordi Alba gives Athletic the chance to break again but they can't take it, tripping over each other and gifting possession back to Barça. Coutinho finds himself in a shooting position but rather gift-wraps a soft effort for Kepa to embellish his saves made stats.
54' It's straight into the wall though. Messi gets a second chance but again it hits a defender and Lekue has the opportunity to break. He tries to thread a ball through for Merino but Piqué is equal to it.
53'   Messi goes on a driving run down the middle and is brought down by San José. Free kick, Messi range.
51'   Merino gets a shot off but Umtiti is there to divert it behind for a corner. A much more adventurous start from the visitors in the second half.
50'   More Athletic players warming up on the touchline but Aduriz is not one of them. An odd game for Ziganda to ignore his top scorer. 
49'   Corner for Barça as Paulinho tries to get in down the right. It's short though - when do they ever work? - and Athletic take it straight up the other end. Merino gets a sniff of goal but skews his shot wide off his weaker left peg.
48'   Lekue gets into the area, does a couple of step-overs and fires in a cross but it hits a Barça boot and pings to safety. If Athletic are going to get anything out of this, they could do worse than get the ball to the number 15 as often as possible.
47'   Coutinho has the Camp Nou on its feet as he jinks past three Athletic pursuers but it was all style and no substance, his final ball finding an opposition player.
46'   Lekue manages to carve out a chance, Rakitic with the unwitting assist, but the Athletic winger drags his shot wide.
46'   And we're back underway!
Beñat the man to make way.
And indeed he does, Iturraspe is out on the pitch as Athletic await the arrival of the home side. Not sure who's gone off at this stage.
Barça racked up 13 shots in the first half. Athletic have yet to muster one. Let's see if Ziganda decides to change anything for the second period. 
Goalscorer Messi has terrorised Athletic in the opening 45.

45' And that's the half! A more one-sided affair would be hard to imagine. Plenty for Ziganda to ponder at half time. Not much for Valverde to do.
43'   Athletic force a corner as they finally figure out what what that white thing with the German fella standing in front of it is. Ter Stegen gets a firm punch to the delivery and that is a close as the visitors have come to ruffling his feathers this afternoon.
43'   Woodwork 3, Barça 0! This time it's Paulinho who rattles the post with a cracker from distance.
41'   Barça launch yet another attack but not only does Messi's shot crack Alcacér in the old Annie Mac, but the Spaniard is called offside as well.
Which, frankly, we never get bored of watching. 

39' Lekue next onto the list as he scythes down Messi, who was looking to run from his area to Athletic's there, down in midfield. Shame, we could have been on for a Getafe goal or similar there.
38' Dembélé in the book now for a trip on Saborit. Messi is still remonstrating with the ref. Barça feel there was nada in that.
37'   Williams, Iturraspe and Etxeita all out on the touchline now as Ziganda considers shaking this up a bit. Athletic need to try something different. The visitors still haven't had a single shot.
35'   Messi jinks and turns and is brought down, but nothing given. The Argentinean is furious with the ref there.
34'   Crossbar! Barça are busier than an Ikea warehouse this season bothering the old woodwork. This time it's Coutinho, put through by Paulinho, who lifts an effort over Kepa and onto the top of the bar. Kepa puts his head in his hands.
33'   A hit and hope free kick almost sneaks into the Barça area for Merino but Piqué reads it like a book and clears with some studied cool.
32' Raúl García in the book now for a quiet work with the ref.
31'   That's 25 for Messi in the league now as he seeks to pull back Mo Salah in the race for the Golden Boot.
29' Goooooooool! Messi! It has been coming. The Argentinean makes it 2-0, whipping an unstoppable shot past Kepa from the edge of the area from Dembélé's cross. Hardly any back lift there and he gave the Athletic stopper no chance.
28'   Some wonderful skill from Alcácer (do not adjust your screens) almost puts Coutinho through but De Marcos swings a boot at it and clears.
26'   Iñaki Williams is out warming up already... we could be knocked down with a feather if one was handy. Athletic have got nothing going forward and nobody of William's pace to cause any problems on the flanks.
25'   And by a miracle it doesn't come on the very next move! Dembélé draws a fine save from Kepa, Coutinho can't quite get the rebound under control and then Messi tries to find a way through four red and white shirts two yards from goal but is bundled off course.
24'   Athletic take their sweet Georgia time over a throw, glad to just have a breather. It's back in Barça's control again though as the home side look for a second.
22' Shots so far: Barça 8 Athletic 0. Possession: 73:8 - 26.2. Pass success 91% - 73%. That pretty much sums it up.
20'   Dembélé charges down the left onto a long ball but Kepa is quick off his mark and beats the winger to it.
19'   Umtiti needs to watch his step here. Raúl García is down and the Frenchman protests his innocence but he's walking a fine line. We doubt García will forget that either and could use his, shall we say, "game experience" to wind Umtiti up.
17'   Umtiti then goes down in the area and appeals for a penalty, as does the Camp Nou, but there was nothing in that. Iñigo Martínez held his ground and the Frenchman fell over him. Ref suitably unmoved.
16' The handbags are out in the Athletic area and Umtiti finds his way into the book. We're not quite sure for what. A bit of back chat perhaps.
14'   Barça swarm forward again, and it's nearly a second as Alba's low cross is desperately hacked clear by Athletic with Messi closing in. It's one-way traffic so far in Camp Nou and Athletic are hanging on by a thread. 
13'   Coutinho! The Argentinean renews Barça's long acquaintance with the woodwork this season, rattling a fizzing shot off the underside of the upright. 
12'   San José quite right to pull Kepa up for that. Not a good idea to play a short ball out of the area to your defender with two Barça players lurking, particularly if one is Messi.
10'   San José gets into a pickle and Messi almost wriggles through but De marcos is there to deny the Argentinean. A Messi shot is then parried by Kepa. Barça turning the screw already. Kepa is on for a busy afternoon.
9'   Rakitic, operating in the Busquets role, channels his defensive midfield past to cut out a ball heading to Saborit in a dangerous area. Good work from the Croatia international there.
8'   Athletic look to reply immediately but Saborit's run down the left is halted by the lino's flag. That was Alcácer's sixth in the league this season.
7' Gooooooooooool! Messi drops between the lines and picks up the ball, feeds Alba on the left and the Spain international pulls back an inviting ball for Alcácer, who says thanks very much and side foots past Kepa expertly. 1-0 to Barça!
6' Saborit swings in a cross from the left but there's nobody there to meet it in a red and white shirt. That could be a recurring theme this afternoon unless Raúl García gets up in support of the striker, who risks being left a little isolated by Ziganda's formation.
5'   Raúl García looks to put Merino through but Piqué reads it well and cuts it out.
4'   And it's a decent hit from Messi, clearing the wall and drawing Kepa into action. Corner to Barça on the right, Coutinho to swing it in. But Athletic clear without any fuss.
3'   Free kick to Barça in Messi territory as San José brings the Argentinean down. Dangerous for Athletic this...
2'   Barça stroking the ball about patiently, Messi dropping deep to link things up. Dembéle and Coutinho are hugging the wings.
1'    A little bit of a nervy moment from Ter Stegen, who isn't expecting the ball back at his feet but he moves it on to Umtiti and Merino's pressure comes to nought.
And we're off!
Messi captaining Barça today with Iniesta on the bench. He's scored in each of his last four against Athletic.
And here come the teams! The Barça anthem blares out of the stadium speakers.
We're just five minutes away from kick-off now. When they were teammates at Athletic, Ziganda hit 66 goals and Valverde 30 for The Lions. Which of the old friends will get the better of their opposite number today?
Meanwhile, Barça have scored 72 goals this season compared to just 29 for the visitors...
Athletic have lost their last three away games by a score of 2-0 each time, against Girona, Atlético and Sevilla. In fact, The Lions have won only three on the road all season, against Eibar, Levante and Betis, their last triumph outside San Mamés coming on December 22. Since then, Ziganda's side have picked up just two points away from home.
So what has Ziganda got up his sleeve, we wonder... Sabin Merino leading the line, Aduriz on the bench, Iñaki Williams also not in the starting line-up.
Leo Messi, who is on 24 league goals in 27 games this season, missed the trip to La Rosaleda last weekend as he welcomed his new son Ciro into the world but it made little difference as Barça cruised past Málaga in his absence.
During his pre-match press conference, Valverde warned against taking anything for granted in Barça's pursuit of a treble, noting thay "you can slip up at any time." Will there be a banana skin for the champions-elect today?

Athletic of course went on to score a memorable victory over Barça in the subsequent Spanish Super Cup, winning 5-1 on aggregate. The Lions have not beaten Barça at Camp Nou since 2001-02 though, a run of 21 games without victory.
As ever, we've knocked up a handy guide as to how and where to watch this one wherever you happen to be. Or of course you can stay right here and follow it live with AS English.
Barcelona welcome Athletic Bilbao to Camp Nou on Sunday as Ernesto Valverde seeks to pull off a Liga double against his former side. Cuco Ziganda's visitors have been underperforming for most of the season and find themselves in 13th in the table and the odds on an upset against the unbeaten leaders are pretty long indeed.
Barcelona vs Athletic Bilbao live online: match preview
League leaders Barça host a struggling Athletic Bilbao at Camp Nou as Ernesto Valvderde's side look to strengthen their grip on the title against a visiting side who are in desperate need of points if they are to have any chance of getting back into Europe next season after being dumped out of the Europa League by Marseille at the last 16 stage.
Barcelona
Valverde's Barça remain unbeaten in LaLiga this season and hold an eight-point advantage over second-placed Atlético after seeing off Diego Simeone's 2013-14 champions at Camp Nou two weeks ago. That result that makes the home side odds-on favourites to regain the title in what has been something of a procession this season: Barça have dropped just 12 points in 2017-18 and have failed to win at home just twice, against Celta and Getafe, scoring 38 goals at Camp Nou and conceding just six.
The Barça boss has a few notable absentees for the visit of Athletic, who haven't scored a league victory at Camp Nou since 2001-02. Sergio Busquets is out for three weeks with a fractured metatarsal and Luis Suárez is suspended, leaving Ivan Rakitic to fill the holding role and André Gomes, who received an ovation for his cameo in place of Busquets against Chelsea, to complete the midfield three.
Ousmane Dembélé, who was on target in the Champions League, and Philippe Courinho are likely to flank Leo Messi in the home side's attack.
Athletic
It has been a disappointing season at San Mamés. Cuco Ziganda has failed to adequately fill the managerial boots of former Athletic boss Valverde and his side have been below par in every competition contested in 2017-18, going out of Europe and the Copa del Rey earlier than expected while slumping to 13th in LaLiga and nine points off the European places.
Injuries have played a part but players including Aritz Aduriz and Iñaki Williams have found their form under Valverde desert them in the league, with the team misfiring in front of goal and lacking the defensive solidity with which Athletic have traditionally been associated, even after the controversial January capture of Iñigo Martínez.
Ziganda's 4-2-3-1 will lend Athletic some numerical superiority in midfield but Kepa Arrizabalaga can expect a busy afternoon with Messi looking to add to his 24 Liga strikes this season.