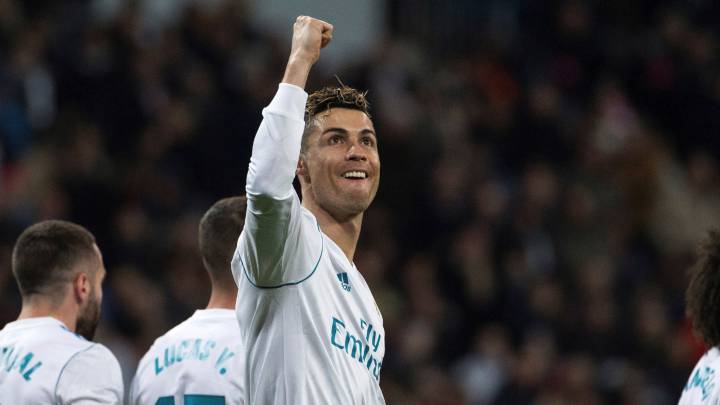 Climate change has made the transition from winter to spring uncertain. Unseasonably cold weather forced some clubs to postpone matches in the United Kingdom, with the country blanketed in a layer of white. Yet some things stay the same. Cristiano Ronaldo gets in to his stride when the trees turn green.
The 33-year-old scored four goals in a manic match against Girona, leaving him just three goals behind Lionel Messi in the scoring stakes.
Zinedine Zidane left Luka Modric and Gareth Bale on the bench for Girona's first ever visit to the Bernabéu. His selection appeared questionable as the first half wore on. Cristhian Stuani cancelled out Ronaldo's opener to equal the scores at half time and Pablo Machín's side seized control of the midfield.
Ronaldo re-established the lead shortly after the restart, before Lucas Vázquez and another Ronaldo goal made it 4-1. Both teams fully committed to attack in the latter stages. Stuani and Juanpe scored again for Girona, while substitute Bale and that man Ronaldo found the net to give Madrid the generous share of nine goals in a rambunctious match.
Real Madrid 6-3 Girona: as it happened
90'+3' FT. There's a big of handbags at the end, with Marcelo seemingly unhappy by Olunga's challenge on him. 
90'+3'   It's not over yet! Olunga out-muscles Marcelo, steals the ball, and forces a save! 
90'+1' GOOOOOOOOL! Ronaldo scores a fourth! Kroos threads a pass through Girona's porous defence, and Ronaldo directs it beyond Bounou with a crisp finish. 
90'   The fourth official signals three minutes of added time. 
88' GOOOOOL! Juanpe reduces the deficit with a glancing header from a corner. Madrid have been disastrous at defending set-pieces. Max Allegri will be taking note... 
88'   'This team never gives up,' yells a commentator as Olunga lays the ball to Portu, who stings Navas' palms. 
87' Pablo Machín makes a final change: Olunga for Stuani. 
86' GOOOOOOOL! Bale! Girona's three-man defence have a lapse of concentration that allows Modric to thread the ball to Bale. He dinks the ball over the 'keeper with his right foot and wheels away towards the corner. 
84'   Ramalho is wrongly flagged offside as Mohica whips in a ball from the left. In the end, it doesn't matter, as the centre-half can't scoop the ball out of Marcelo's feet to finish.
83' Both teams make a change: Isco replaces Benzema for Madrid, Aday replaces Maffeo for Girona. 
82'   Attentive defending from Ramalho to prevent Ronaldo and Benzema completing a one-two on the edge of the box. Girona are still committing players forward, and Lozano chases a long-ball right back to Navas. 
80'   Varane commits a serious boo-boo, flaunting the 'don't play it across your own goal without looking' instruction that youth coaches always trot out. He tries to play it back to Navas, but feeds Portu. Luckily for Varane, Navas recovers and spares blushes all round. 
79'   Oooh, Ramalho glances Granell's delivery inches wide of the post. 
78'   Lucas trips Mohica, who will swing a ball in from the corner of the box. Madrid clear to the far side, but Nacho commits a foul on Maffeo and Girona have the chance to deliver a similar cross from the other side. 
74'   Granell completely miskicks an outswinging corner, as if he's leathering it to an imaginary Paul Scholes on the edge of the box. Ramalho is alert and rushes back to mop up the spillage. 
72'   Bale's first contribution is to miscontrol a through ball. His second contribution is to knock the ball out of play with a heavy touch. He looks a tad rusty. 
71' Zinedine Zidane makes a double change: Bale for Asensio and Modric for Kovacic. 
70'   Girona counter-attack from defending that free-kick. Portu and Lozano steam forward. The former tries to find the latter, but Varane gets back in time to touch the ball to Keylor Navas. 
69' First, Pablo Machín makes his first change: Jonathan Lozano for Borja García. 
69'   Marco Asensio trips under pressure from Pere Pons, and Madrid will be able to deliver a cross from the touchline. 
67' GOOOOOOOOL! Stuani again! His noggin is a magnet for the ball. He beats Carvajal - who really shouldn't be marking him - to head home from a corner. 
67'   Stuani goes down under the challenge from Varane just outside the box. He looks around to the referee, who just points for a corner. 
64' GOOOOOOOL! Ronaldo hat-trick! Benzema shoots inside the box and Bounou parries it straight to the toes of Ronaldo. From three yards out and with the goal unguarded, he claims the match ball. 
62'   Nacho rattles the bar! It starts with a backheel swipe from Marcelo, down the line for Asensio. His cross evades Bounou, who is caught in no-man's land. Nacho can't capitalise and sinks to his knees in frustration. Chin up, champ. At least you had an outing out from the back. That's the centre-half's dream. 
61'   Karim Benzema is doing his defensive work diligently, too. He cuts Granell's dangerous free-kick out for a corner, which Madrid then clear at the near post. 
59' GOOOOOOOOL! Lucas Vázquez finishes an incisive move! Benzema lays the ball to Marcelo and spins away as Marcelo plays the ball back in to his path. Benzema crosses for Ronaldo who, with his back to goal, takes the unselfish option. Instead of shooting on the turn, he lays it to Lucas who tucks it in to the bottom corner. 
58'   Luka Modric and Gareth Bale are both limbering up on the touchline. 
56'   Marcelo shapes a sumptuous ball towards Ronaldo, who is lurking for his hat-trick at the far post. A crucial intervention from Bernardo sends it behind for a corner, which Ronaldo heads over at the near post. 
15 goals in eight games now for Ronaldo... 
54'   Mohica goes for the near top corner, gets under it, and sends it in to the crowd behind the goal. 
53'   Lucas trips Stuani on the edge of the box. Mohica is over it as Navas adjusts the wall. 
52'   Real Madrid have followed that goal with some very pleasant football. Benzema is having his best game in a long while, drifting around and linking play.
48' GOOOOOOL! Ronaldo! BAR. FLOOR. ROOF OF THE NET. The perfect trio. Benzema threaded the No.7 through one-on-one, and from 12 yards out he did the rest. 
46' Off we go again! 
The 300 travelling supporters give their red-and-white players a round of applause as they trot on to the pitch. 
The teams are coming back out of the tunnel. Theo is drinking from a red plastic cup like he's at a frat party. 
And here is an explanation of how Pablo Machín has made Girona a good team. 
45'+1' HT. Referee Gil Manzano calls time on a very fun first half. 
45'+1'   Ronaldo goes for a spectacular bicycle kick at the far post. He makes a clean contact, but sends the ball straight up in to the Madrid night sky.
44'   Stuani almost gets his head on another one! Portu crosses from the right, and only the clawing paws of Keylor prevent Stuani nodding in at the far post. Stuani's turnaround this season has been remarkable. Not long ago I saw an MK Dons defence of Kyle McFadzean and big Antony Kay keep him at bay in a 0-0 draw at the Riverside. Perhaps Real Madrid should sign more Yorkshiremen. 
42'   Off the wall and in to the 'keepers expectant arms. When is Ronaldo going to stop trying to score spectacular free-kicks? Real Madrid are basically conceding possession every time they have a set piece in sight of goal. 
41'   Another free-kick for Real Madrid in a dangerous area. Granell nibbles at Lucas' heels and Lucas goes straight down. Ronaldo and Asensio are over it. Given the position to the left of goal, it will probably be Ronaldo to take. 
39'   Girona continue to ask questions of the Madrid defence. Mohica whips a devilish ball through the box. Portu flings himself towards it at the far post, but didn't eat enough greens when he was a kid and can't reach it. 
36'   It's Asensio who strikes the dead ball. He strikes it well, too. But not well enough to beat Bounou, who beats it away. 
35'   Two Girona players simultaneously take down Kroos and Kovacic. The referee blows for one of them (both were 30 yards out), and Ronaldo has another chance to wallop at goal. 
34'   Madrid have been stroking the ball around in Girona's half - pretty much constantly - since that went in. 
31' Mohica went in to the book for that elbow. He also failed to clear his chin when trying to spit, and was wandering round like an exuberent retriever, with a big droop of slobber hanging off his goatee. Anyway, enjoy dinner. 
31'   Carvajal conceded the free-kick, then lost his marker. Not a great minute for the full-back. It gets worse as he receives an albow to the chops from Mohica and collapses in a heap. He looks a bit sorry for himself but is fine to continue. 
29' GOOOOOOOOOOL! Stuani! The Uruguayan scores his 16th of the season, meeting Granell's outswinger at the near post and thundering *AN ABSOLUTE BULLET HEADER* past Navas. Carvajal wsa supposed to be marking him. 
28'   Ooooh, Portu! The No.9 bustles his way through the Madrid defence after the ball is given away cheaply. He pokes the ball past Navas but not inside the post. The Catalans keep on the pressure though, as Carvajal concedes a goal by the corner flag. 
27'   Girona are playing their way back in to this as the game approaches the half-hour mark. The visitors look the more likely team to score at the moment. 
27'   Carvajal plays the ball off Mohica to clear the danger. 
26'   Portu is free in the centre of the pitch but Stuani doesn't notice and plays it to Mohica instead. Girona lose momentum but still manage to get a corner out of that phase of play. 
23'   GOOOOO... NO! Lucas Vázquez tucks the ball in to the corner, but the linesman's flag is up. Ronaldo was certainly off, but not interfering with play. Lucas looked to be onside. 
22'   Lucas Vázquez receives the ball from Ronaldo on the corner of the box and immediately looks to curl on to the far corner. He undercooks it slightly, allowing Bounou to shimmy across his line and claim. 
Ronaldo has now scored 18 goals in 2018 in all competitions - two more than Griezmann and Messi. 
19'   Benzema is looking lively, by his docile standards. The Frenchman gets to the byline and whips a ball across the face of goal. Bernardo is well-positioned to knock it clear. 
18'   It was aimed towards Bernardo at the back stick. Navas plucks it out of the air before he has a chance to direct it at goal. 
18'   Marcelo turns the ball behind with his shoulder and Girona earn their first corner of the evening. 
16'   Ronaldo takes the ball mid-stride out on the left, cuts in, and aims for the far corner. He was looking to curl it towards goal but ended up curling it away from goal. It whizzes comfortably wide. 
15'   Oooof! Mohica shows Carvajal a clean pair of heels on the left and crosses for Portu, who leaps like a salmon and sends it just wide. In AS Towers, meanwhile, I'm wondering whether I could have fitted any more footballing cliches in the previous sentence. 
13'   Pablo Machín stands with his arms crossed on the touchline, scarf wrapped around his neck. His side have been streamrollered so far. 
11' GOOOOOOOL! Cristiano Ronaldo! Straight from the training ground. Kroos takes a corner short to Marcelo. Marcelo lays it back to him. Kroos cuts the ball to Ronaldo, who lashes it in to the far corner with his left foot. Knife through butter, etc. 
10'   Borja García peels off the back of Carvajal and takes Maffeo's diagonal pass down with a silken touch. He uses the overlapping Mohica as a decoy before twisting inside and testing Keylor Navas with a lovely drive.
9' Ramalho flops down under pressure from Ronaldo, and Girona have the chance to relieve the incessant pressure. 
7'   Girona fail to clear the ball after some in-box pinball and Benzema lays it in to the path of Lucas. He surges through one-on-one with the 'keeper... and hits it straight at the 'keeper. He should have tucked that away. 
6'   Silky stuff from Varane, who watches the ball float over Borja's head before cushioning down on his chest, spinning, and laying the ball to Carvajal. 
4'   Marco Asensio steals the ball off Mohica and darts inside towards the box. Alex Granell is having none of it, and trips Asensio 25 yards from goal. Ronaldo over the ball... OOH! Fine save from Bounou to tip it over the bar and Girona clear the resultant corner. 
3'   Marcelo concedes possession on the edge of the Girona box, allowing Portu to scamper - and his running style really is that of a scamperer - up to the other end. Good industry from the No.9, but he fails to win a corner and Navas clears. 
1'   Mohica finds some space on the left in the first 15 seconds after Madrid's midfield press like rabid terriers and leave gaps behind. The Colombian swings in a cross, puts too much on it, and it arcs out for a throw-in on the far side. 
1' Peeeep! Girona get this show on the road! 
Marcelo is the man with the captain's armband on this evening. He goes through the pleasantries with Girona captain Alex Granell. 
And out they come! 
The teams are gathering in the tunnel! Cristiano leans against a wall, encouraging his team-mates as they trot down the steps. 
Earlier today, Barcelona beat Athletic Club and Atlético collapsed against Villarreal, conceding two late goals to lose at La Ceramica. If Real Madrid win tonight, they'll close the gap on Atleti to four points. 
Here's how and where to watch this evening's match. 
Want to know more about Girona boss Pablo Machín? Our esteemed AS English colleague Robbie Dunne has written about the man in the away dugout. 

Girona boss Pablo Machín had this to say: "They're the most in form team in the last few weeks, but we're not scared of any team in LaLiga, Madrid included."
Zinedine Zidane was full of praise for Girona in his news conference on Friday. "They're having a great season and we can all see what they've achieved," he said. 
The Real Madrid forwards will need to be on fine form if they want to find a way past Girona 'keeper Yassine Bounou. The Canada-born Morocco international has not conceded a goal in March, 

Buenas tardes! Hello and welcome to our coverage of Real Madrid vs Girona. Just three places separate the two sides ahead of kick-off at the Bernabéu - a figure that not even the most glass-half-full Girona supporter could have imagined at the start of their maiden LaLiga campaign.