CHINA CUP
China 0-6 Wales China Cup: Report from Giggs' first game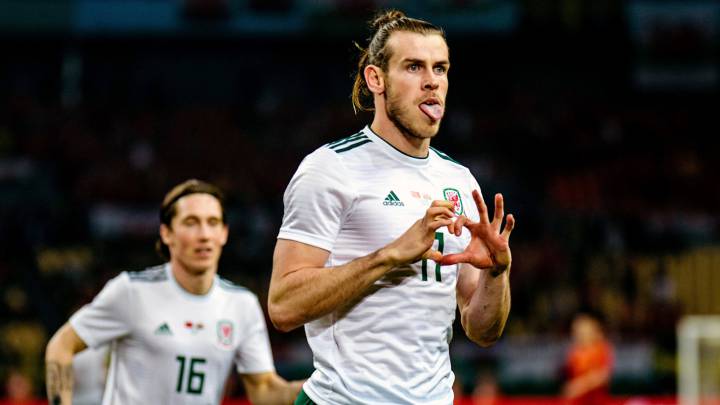 China 0-6 Wales: match report
Ryan Giggs' tenure as Wales manager could not have gotten off to a more quintessential start. Gareth Bale scored a hat-trick, Sam Vokes a brace and Harry Wilson got one as his side beat Marcello Lippi's China team by six without conceding a shot.
They barely conceded a shot until later in the game either, to be fair. Giggs' side will now play either Uruguay or Czech Republic in the final of the China Cup. Aside from all the goals, the former Manchester United player and manager's Welsh side attacked from the first minute and played an intense, at times high-pressing, and versatile game that mixed long balls with methodical build-up play.
Bale, with his triple, overtook Ian Rush as Wales' top goalscorer with 29 goals to his name in his country's jersey.
China vs Wales live stream online: as it happened
90'+2' GAME OVER!
90'+1'   Bradshaw throwing himself in front of another cross trying to head it home. Woodburn the courier this time. He heads wide but wants a corner. No dice.
90'   Two minutes of added time. This one been decided a long time ago though. To be fair, Giggs can't really have hoped for a better start.
88'   Hanchao with an effort now. He's been lively since he came on.
87'   Headed over from the corner by Mepham.
86'   Sting gone out of this one. Giggs said we were definitely going to see goals in this one and he was right although I'm sure he figured it might be more even.
82'   Evans goes down in the box but that's no penalty. Yiming says no penalty and he's right. Ref says it too. Evans not so sure but he has to accept it.
80'   Wales pushing for 7 but they seem happy enought with the half dozen for now. 
77'   What a shot. What a save. China's best effort by a country mile. Hanchao forces a save from Hennessey with his left hand and onto the post. Wales keep their clean sheet but only just.
76'   Williams stays up from the corner and drives a shot towards goal.
75'   Played into the box and Woodburn gets it. He has options but there are loads of red jerseys too. His cross is cleared at the first obstacle and Wales win a corner.
72'   Fourth official have some serious problems with his display board. 
70' Davies for Mepham. Chester off too for Watkins.
70'   More changes incoming from Giggs.
70'   Foul on Woodburn by Zheng.
69'   Long ball from China and that very nearly finds its target but Hennessey is out and collects. 
68'   China chasing shadows now as Giggs' side zip the ball around. Cross comes in and Bradshaw tries to head it home but it's well over.
67'   Vokes comes off now too for Bradshaw and Allen is replaced by Evans.
64'   Bale is taken off after a good hours' worth of work. Replaced by Woodburn.
62' BALE HAT-TRICK! Extremely long back and takes it down before slotting home with his left. 
61'   Vokes nearly has his hat-trick. He gets it at the back post and sends it across goal. Inches away from 6. Won't be long before we do see it, I'd say, but not yet.
60'   Davies hits the ground as he heads away a cross. Caught a nasty bang on the head from Wei. He's back up again and just said "no problem, my friend" to the Chinese player as he makes peace with his opponent. All good.
57'   Giggs getting his subs ready.
57' Through ball from Wilson and Vokes gets on the end of it. He slots it home and this is turning into a rout.
56'   China with a strike off the right foot of Xuri. He makes room for himself for a shot outside the box but it takes a deflection and Hennessey still to be tested.
55'   Wales asserting some control back on this one. Not as much attacking intent though. At 4-0, there doesn't really need to be.
51'   Corner into Wei and he strikes over from an awkward position at the front post.
51'   China attack down the right and win a corner.
51'   China slightly more coherent to start the second half.
49'   Wu plays a through ball after racing through on the leg. Cut out by Allen and Wales attack again.
48'   Bale with an effort after a slight mix-up at the back for China. Effort saved.
46' Dabao also replaced by Xuri.
46' Bowen replaced by He Chao at the break.
46' Back underway for the second half. Can China find a way back into this game?
45'   HALF-TIME! Wales cruising here.
45' Harry Wilson goal! He curls it home with his left. Lovely goal, that is. 
44'   Bale with a shot from miles out! Nice trajectory but it's into Yan's chest although it might leave a mark.
42'   Wales with some very direct football. Allen plays throught to Vokes but he's thrown off the ball.
40'   Corner for Wales. China's heads have dropped.
38' GOAL! Vokes finished. Ball to the back post that King knocks down to Vokes and he pokes home beyond a sprawling Yan. Reall well worked goal.
37'   Gao looks for his left-back on the wing but that pass is out for a throw. Disappointing.
34'   China on the ball with Wei. He plays it centrally and backwards. They have no penetration whatsoever. They bring it out wide and Wu crossess to Hennessey. He gets down on his knee and collects.
33'   Wales put it into neutral for the moment but keep possession.
33'   China can't string two passes together now and Wales can sense the game is there to finish off. Bale picks it up very deep and plays back to Davies.
31'   Ball into the box and Gunter gets to it in the nick of time and lays it back to King but he can't do anything with it.
30' Bale having the ankles kicked off him now. He stays down and Wei. Wei is booked.
28'   Not sure if Wales are really good or China are just very limited. Wales do look decent though and regardless of opposition, they're playing with a fairly serious intensity.
28'   Ball in behind the back and China survive. They let it long and Wales win it back. Bale called offside.
27'   Bale taken too far out to the left and plays it back towards Vokes but that won't do. China clear but are becoming more and more stretched at the back with close to a half an hour played.
26'   Wales move the ball into the penaly area and King takes a touch before going down under the tackle from Zheng. He wants a penalty but that was more like a dive! Lucky he's not booked. Goalkick.
24'   Bale fouls Zheng on the sideline as the pair do battle.
23'   Vokes pounced on a mistake by China and he played it forward to Bale, who made no mistake.
22' BALE GOAL! He slides that one past Yan.
21'   Corner comes in and it falls to Williams at the back post but he has to stoop to low and he heads it over the bar.
20'   Corner for the visiting side.
19'   Wilson fouled and Wales back on the attack.
17'   Wu with a strike but Hennessey isn't troubled with that. Wales well on top here. A ball into ball and Yan is off his line. The Real Madrid man takes it under control and tries to beat the keeper. He gets the ball of Bale. 
16'   Vokes hit in the back as he jumps to compete for a long ball. Free for Wales again as they play themselves out of a tight spot with a long-ish ball.
14'   Wales build from outside the box. A chipped Allen pass forward is too strong and Yan gathers.
12'   Bale flung to the ground by Guan He. Free and it' sent into the box. Bobbles around for a minute and Vokes strikes from an offside position. A dribbler anyway but he was offside.
11'   China win the ball back just outside Wales' penalty area. Couple of potential fouls that the referee never blew. Back to Hennessey in the end as China try and fail to break down Wales again. Hennessey throws it down and launches it into that right wing back position again.
10'   Another ball knocked towards ball but Yan is out of his goal to clear.
9'   They're pressing high on China in certain situations. Bale to Vokes but he can't make it to the ball and bring it under control.
8'   Foul on Zheng. Wales back off for the time being. 
6'   China finally get the ball and throw it forward. Cross comes in, missed by a Chinese head and then Wu knocks it over as it bounces awkwardly to him.
5'   Offside for Wales. Hectic start here. Wales very frisky and moving the ball forward quickly.
4'   Wales on the attack again. Williams chased down Yu and he gets a block on it but that's safely back to Hennessey.
3'   BALE GOAL! He collects a long ball, cuts inside, takes a touch and slots home.
2' Giggs' side with all the possession after the first couple of minutes byt Hennessey launches it long.
1' We are underway!
Lippi's record isn't bad either since taking over China after a spell with Guangzhou Evergrande. He has played 9, won 4, drawn 3 and lost two 2 with a 44.44% win percentage.
Giggs takes over from Chris Coleman, who played 49, won 19 draw 13 and lost 17 with a 39% win rating. The best ever win percentage was the deceased Gary Speed, who won 50% of his games.
China XI: Junling, Zheng, Xiaoting, Guan, Shenchao, Bowen, Junmin, Lin, Lei, Shihao, Dabao.
Giggs' thoughts before the game: "It will be a tough game against the hosts - a China team with a great manager, who I've come across many times when he was coaching Juventus. It's going to be tough, not only because of the manager, but also because it's China at home. We've watched videos. They're very aggressive, they're on the front foot but they play attractive football too so with that in mind it should be an attractive game with lots of goals."
    Team news in as Gareth Bale starts for Wales but Ben Woodburn is on the bench.
Hello and welcome to our live coverage of China vs Wales in the China Cup! It's a semi-final and we will have live updates all the way until the final whistle. Stay tuned!
China vs Wales live stream: preview
It's Ryan Giggs' first game in charge as the Wales manager and he admits he's nervous. The former Manchester United caretaker manager plays against Marcello Lippi's China side in the first game at the China Cup in Nanning, China. Uruguay and the Czech Republic face off in the other semi-final and Giggs could be staring early silverware in the face if he can overcome a Lippi-led, China side, who could not qualify for the World Cup in Russia in June.
Gareth Bale has travelled and is expected to play a role but Aaron Ramsey is out and Joe Ledley, Ethan Ampadu, Tom Lawrence and Neil Taylor all withdrew too but Ben Woodburn could start as Liverpool fans get to see their great white hope in action.
Marcello Lippi says there is still a big gap between China and the likes of Wales but they are doing a good job of narrowing that chasm "as there is a big movement about football being carried out here in China."
Chinese Super League clubs have been whipping up players for exorbitant prices for the last couple of years along with coaches and we will get to have a look at their improvement against a Wales side that made the Euro 2016 semi-finals a couple of years ago.