INTERNATIONAL FRIENDLY
Germany 1-1 Spain International friendly: match report
A frenetic affair in Düsseldorf sees Germany and Spain share the spoils in what could not have been a better advertisement for the World Cup this summer. The USA vs. Ecuador live and direct: Friendly FIFA Date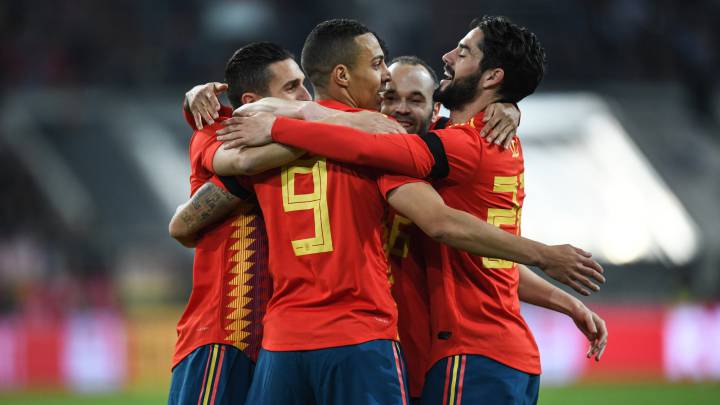 Germany 1-1 Spain: match report
There was not an inch given or asked for as two international football heavyweights and World Cup favourites met on Friday night in Düsseldorf. Germany welcomed Spain to the Espirit Arena and from the first minute, it felt like it could have been a World Cup final.
Germany were pressing high up the field as Spain struggled to impose their possession-based approach. They did slowly wrestle control of the game off Low's side with the help of Isco's excellence and Iniesta's brilliance.
That was capped off when Rodrigo Moreno slotted past Ter Stegen when Iniesta fed him a ball behind the German backline. The pass from Iniesta was sublime and the run matched it - the finish from Moreno, however, might have been even better leaving the Barcelona goalkeeper with no chance. A deserved lead as Spain braced for a German kickback.
As half-time loomed, Germany struck. It would take a corker from Muller too from outside the box. From a seemingly neutral position, the Bayern man swung a right boot at it and it curled out of De Gea's reach and into the very top corner.
That was it for the scoring but the beautiful football was far from over. Costa came close and Werner constantly threatened up the other end. Isco was denied by Ter Stegen with a world class save before De Gea turned a Gundogan effort around the post just seconds later.
You could tell by the ambition that both of these sides showed that they have their sights set on a deep run in Russia this summer; and you can tell by the talent on display in Düsseldorf on Friday night that they're right to.
Germany vs Spain: live international friendly updates
89' GAME OVER! What a game that was a a teaser for the World Cup.
89'   Boths sides happy with a point, it seems. All the subs took the rhythm out of the game. What an intensity though! And this is just a friendly? 
86'   Asensio out to Vazquez and he gets it back. The former tries to shoot but can't see as much as a slither of light between the defenders. He turns, falls and ref says no free. Germany break.
84'   Werner is being replaced by Mario Gomez.
84'   Germany probably looking more likely to score at the moment.
83'   Saul pulls back Kroos as he breaks in midfield.
82' Rodri replaces Thiago. 
82'   Werner desperately looking for a goal. He's offside. 
81' Leon Goretzka replaces Muller.
79'   Werner with a really strong run. Koke tries to haul him down but he just keeps going. Sends it across goal with nobody following it in.
78'   Strange clearance from Kroos as he slices it wide from his own goalline. Corner for Spain.
77'   Diego Costa with a gilt-edged chance. He misses. Mistake by Germany gifts it to him but that's really poor. Saul follows it up with a strike that goes over.
75'   Offside from Kimmich. He shoots just wide but replay shows he was well offside.
74'   Kimmich sends one into the penalty area but that's grabbed by De Gea. He sends it long to Costa. That is too long for Costa to even chase and he continues to try and make something out of nothing. He has been feeding of scraps. 
71' Another change. Vazquez replaces Silva.
70'   Thiago penalised for a foul as Germany were playing it out from the back.
68' Sane on, Draxler off.
68'   Cross sent in and Costa sends a flying kick at it and takes it out of Silva's path. He gets a touch on it but it hits the side netting. 
68'   Carvajal fouls Draxler in an aerial row. Germany back in possession and trying to make something happen. Both sides slightly more tired now and it's starting to tell. Spain seem to be growing though.
67'   Game is opening up now and crowd getting increasingly antsy for another goal! 
65' Rodrigo replaced by Costa.
65'   Spain looking increasingly strethed. Hummels heads one to the post from the free. They're looking tired.
64'   Werner fouled now by Carvajal.
64'   Timo Werner takes a shot and it hits the side netting. Nice effort from awkward angle.
64'   Diego Costa warming up!
62'   Koke fouled by Draxler. His pressing gets a little bit too aggressive. 
61'   Both sides fighting for the ball and dominance in this game. Reall fascinating to watch.
59' Isco replaced by Asensio.
58'   Two world class keepers plying their trade!
56'   That was absolutely class from Spain. Isco denied by him. Germany straight up the other end and Gundogan denied! De Gea with a wonderful save.
55'   Werner in a favourable position against Koke but the Atlético man wins it and Spain attack.
54'   Rodrigo to Isco and he frees up Silva down the right. It comes back out to the left and Alba strikes and wins a corner.
49' Khedira coming off for Gundogan!
49' Pique replaced by Nacho.
49'   Kedira down now and looking injured. Could be big for the Real Madrid game.
49'   Isco runs with it and then lays it off to Silva when everyone collapses around him. Silva crosses and Germany clear. Germany up the other end and it's centred to Ozil but his half-blocked shot is saved by De Gea.
49'   Germany have started well. Ozil looks for Kimmich but Alba wins it and puts it out for a throw. Germany back on the front-foot.
47'   What a save from De Gea. Draxler with his fingertips to a strike from the German. Draxler actually applauded him for it!
47'   Germany on the attack as Timo Werner wins a corner.
46'  Change at the break for Spain as Saul replaces Iniesta to start the second half! 
45'   That's it for the first 45 in Dussledorf. Brilliant game with two lovely goals between two excellent sides. Neither of them taking a step back here!
43'   Excellent defending from Ramos as he guesses which way Draxler was going and steps in between him and the ball and sees it out for a goalkick. 
42'   Isco and Iniesta combine and the return pass from Iniesta sees Isco caught offside. Not entirely sure that was the case but ref says so.
40' Draxler drags Isco down and drives the ball away. He gets booked. More of an innocuous collision than anything else.
39'   Rodrigo looked to have been onside. But he can't chest it down and eventually the flag goes up!
37'   Game has, eventually, hit a little but of a lull. It was really full steam ahead at the start there. Spain in possession now and both sides happy to ease off for a second. 
37'   Spain right up the other end. Alba squares with Silva sniffing around but Ter Stegen gathers.
34'   Muller GOAL! That is an absolute belter. He gets the ball outside the box and curls it beyond De Gea.
34'   Hector on the left and he strikes across his body. Strange shot but he wins a corner. 
32'   Jordi Alba wants a free now for obstruction. No chance really. 
31'   Brilliant from Spain again. Isco breaks and after a couple of close calls, Germany can breathe.
28'   Muller fouls Ramos. A frustrated foul.
27'   Sent into the box. Close to Moreno. Germany break but Spain win it again. Isco fouled again by Khedira.
25'   Spain with the most intricate passing combos and they get themselves out of trouble. Isco wins a free as Khedira takes him down.
23'   Pique caught out with a through ball for Werner. He gets it from Khedira and strikes just wide. Offside but I think the linesman was wrong on that occasion.
22'   Spain break and Iniesta pops it to Rodrigo, who is offside.
21'   Poique tries to clear and Werner blocks it. Throw but Spain still in possession.
20'   Germany looking slightly tired and doing a lot of running around after Spain. 
18'   Isco chests it down as Hector launches himself into the air and takes himself completely out of the play. He squares it to Silva and his touch is heavy before Ter Stegen takes it into him. Ever so close.
17'   Spain with a really nice spell of possession now. 
16'   Iniesta to Isco but he miscontrols it.
15'   Cross comes in and Muller competes with De Gea. The Madrileño shows off some safe hands.
14'   Alba slides in on Werner from behind and concedes the free.
14'   Silva plays it in behind to Rodrigo again and Boateng steps out this time and wins it. 
14'   Kroos clips one towards Werner but Spain clear. Kimmich fouls and Spain get a brief refrain.
13'   Germany have recovered well and win a throw from that free. 
13'   Ramos gets his hands across Werner's chest and fouls him. Free for Germany out on the right, slightly. Kroos going to whip it in.
12'   Ozil to Werner, who turns in an unorthodox fashion. He loses out but looking dangerous.
10'   Hector with a strike on the volley. That was so close.
10'   Germany stepping on Spain's throat in defence. They win a free as Thiago fouls. Very few sides willing and capable of pressing Spain like this.
8'   Nervy moments for Spain as Germany attack. A couple of failed clearances by either full-back and Kimmich sends it in before Drawler wins a corner from a deflected shot.
6' GOAL! Rodrigo Moreno with the goal. He justifies his start. Iniesta with the pass, Rodrigo with the finish. World class! 
6'   Isco chases down a pass back to Boateng. The pressure pays off as Kimmich concedes the throw.
5'   Spain in the penalty area again. Alba gets it from Isco and he cuts back. Just out of Alba's stride and he can't shoot! Whew, that was close.
4'   Isco way out wide to Silva. All the way back to Pique. His pass to Carvajal asks a lot of the Real Madrid man. Throw.
3'   Ball out left to Alba and he can't control it before Kimmich puts it out for a throw.
3'   Dreadful defending by Spain. Ozil's touch takes it away from him but Alba leaves it. Luckily for him, the touch is too far right and Ozil has to go back and the attack just dies down.
2'   This is going to be excellent. Germany won't let Spain play it out and are pressing high. Meanwhile, when Germany win it back, they are pressing high too! Magical stuff.
1'   Spain straight up the field. Silva plays it to Iniesta, who pops it up in the air and out to Carvajal. He hits it first time but it bounces up in the air and Germany clear.
1'   Game very much on in Dussledorf! This one should be good.
    Gundogan and Silva, two current City players also going head to head!
    Khedira and Ramos, former Real Madrid teammates, up for the coin toss! 
Timo Werner is reportedly a target for Real Madrid. I'm sure there are plenty of eyes on the striker in the capital tonight. He'll have his work cut out against Ramos and Pique.
The Spanish national anthem! Good crowd in Dussledorf travelled from the Iberian Peninsula. Yellow and red on pockets around the stadium. 
Kroos with plenty of hugs to do. It's like when you back home for Christmas visiting all your relatives. Smiles and hugs as far as the eye can see!
And Toni Kroos taking pride in Real Madrid's stamp on the Spanish national side.
Here's Ramos saying he wants to become Spain's most capped player. He plays his 150th game tonight!
Joachim Low goes with a fairly full strength side too. He is missing Emre Can but the central midfield of Khedira and Kroos probably would have started anyway. Leroy Sane the only one with a case for being in the starting line-up probably. 
    The goalie and back four exactly as we expected!
Rodrigo Moreno starts instead of Diego Costa and Thiago Alcantara also make it as Koke, Iniesta and the Bayern midfielder will play in a three while Isco, Silva and Rodrigo start in attack.
Spain XI: De Gea, Carvajal, Piqué, Ramos, Alba, Koke, Thiago, Iniesta, Isco, SIlva, Rodrigo Moreno.
Germany XI: Germany XI vs Spain: Ter Stegen, Hector, Hummels, Boateng, Kimmich, Khedira, Kroos, Draxler, Ozil, Muller, Werner.
Hello and welcome to our live coverage of Germany vs Spain with kick-off at 20:45 CET. Two teams with their eyes on the ultimate prize in international football will grapple it out before the tournament even begins as Joachim Loew and Julen Lopetegui's sides meet on Friday in Esprit Arena, Dussledorf.
Germany vs Spain: international friendly preview
Two of the World Cup's favourite play each other on Friday night in what is the pick of international friendlies over the weekend. Julen Lopetegui and his side have been trying to avoid labels and says whatever others say, they still have to do it on the field. Germany are reigning champions after Mario Gotze's winner in 2014 against Argentina after hammering Brazil on the way but those four teams mentioned will be vying for spots in the final once the summer rolls around.
Joachim Loew will have to do without Emre Can as he could only train for 20 minutes before the game and has been ruled out. He does have many of his first choice XI and will likely start them all to see where they are at before the World Cup starts. The likes of Hummels, Kroos, Gundogan, Ozil and Werner are all touted to start with the biggest competition in international football just a couple of months away. No better way to test your troops on the frontline.
Spain, on the other hand, are without Sergio Busquets as Villarreal's Rodri looks like he will have the chance to debut. Diego Costa is back too with Real Madrid's Marco Asensio and Manchester Ciy's David Silva likely flanking him in what looks like a formidabble, creative and quick attack. Sergio Ramos will make his 150th appearance for Spain on Friday night as he eyes Iker Casillas' record in the red of his country.