Germany 0-1 Brazil: international friendly goals, result, report
Gabriel Jesus' header gave Brazil a friendly win in Berlin in the sides' first meeting since the Germans' 7-1 World Cup win over the Seleçao. USA vs Mexico: FIFA Friendly live online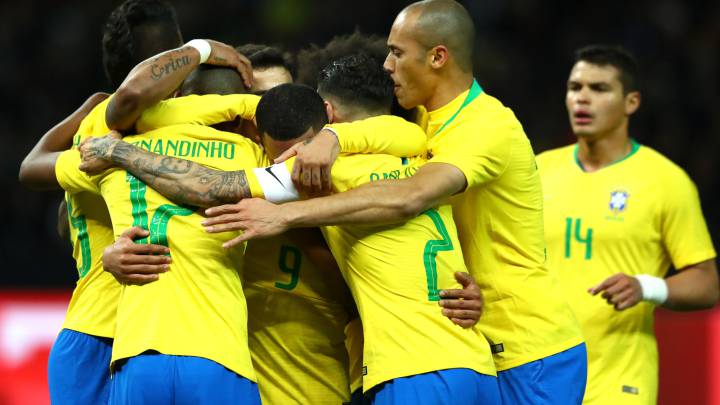 Gabriel Jesus struck the winner as Brazil put memories of their 2014 World Cup mauling by Germany behind them with a 1-0 friendly win in Berlin on Tuesday.
Jesus' first-half goal at Berlin's Olympiastadion, packed with a 72,717-strong crowd, saw Brazil end Germany's unbeaten run of 22 games dating back to their semi-final defeat by hosts France at Euro 2016.
More worryingly for Germany head coach Joachim Löw ahead of the World Cup in Russia, his captain Jerome Boateng twisted his right ankle and was forced off in the second half.
Measure of revenge for Brazil as German unbeaten run ends
The friendly victory gained a measure of revenge for Brazil, whose coach Tite admitted are still haunted by the 7-1 thrashing Germany handed the hosts in the semi-finals of the last World Cup.
Defending world champions Germany are now winless in their last four games after draws against England, France and Spain.
Löw made seven changes from the team which started the 1-1 draw with Spain last Friday and included just two World Cup-winners.
With Thomas Müller and Mesut Özil rested, Boateng and Toni Kroos were the only members of the Germany team which routed Brazil nearly four years ago.
With Brazil star Neymar still sidelined by a foot injury, Tite made just one change - Fernandinho for Douglas Costa - from the side which beat Russia 3-0 in Moscow on Friday.
Berlin-born Boateng captained Germany after Sami Khedira failed to recover from a back injury.
Centre-back Boateng was the first to react to an early threat, snuffing out an attack when Paulinho got in behind the defence with 15 minutes gone.
Germany striker Mario Gómez failed to convert a string of half-chances which came his way before Brazil scored after sustained pressure.
Jesus heads winner shortly before half time
Jesus, still just 20, forced Germany goalkeeper Kevin Trapp to push the ball over the bar just before the winning goal came on 38 minutes.
The Manchester City forward met Willian's cross, and Trapp could only parry his header, which looped over the line.
After the break, Brazil had two chances in quick succession as Paulinho and Willian were denied by Antonio Rüdiger and Trapp, before Philippe Coutinho fired over on 56 minutes as the Seleçao kept the pressure on.
Jesus should have scored his second of the game when he headed just wide when the ball bobbled loose from a corner.
Löw added a second striker for the final 10 minutes when RB Leipzig forward Timo Werner replaced Ilkay Gündogan as Germany finished strongly - particularly when Julian Draxler's powerful effort was tipped over by Alisson - but to no avail.
Germany vs Brazil: international friendly live updates
  Peeep! Brazil beat Germany 1-0 at the Olympiastadion! The hosts might have snatched a late equaliser at the death, but all in all the Brazilians have defended well and been the better side in attack, and come away from Berlin with a victory of no little prestige against the world champions. 
92'   That's a fine save from Alisson! Germany wait until deep into injury time to come closest to equalising, as Draxler thrashes a volley towards the Brazil goal, but the Roma keeper is equal to it!
89'   Thiago Silva heads it behind, and Kroos sends in the corner, which is cleared as far as Stindl (I think) - but he can only slap a bouncing shot well wide. Three minutes of time added on, by the way.
87'   If it stays this way, it'll be Brazil's fifth clean sheet in the last six. 
85'   Werner has the ball and space to run into on the right, but he knocks it so far past Miranda that it is out for a goal-kick. Germany come again, Brandt curling it across the face of goal, where both  Wagner and Draxler are inches away from connecting.
84'   Paulinho gets the ball out of his feet and shoots from 25 yards.. but it trundles straight into Trapp's arms. Up the other end, Brandt cuts inside Miranda and Casemiro from the right and pings a left-footed shot towards the far post, but it's deflected wide for a corner, which Werner can't quite get his head to.
81' On comes Werner, with Gündogan making way. A forward for a midfielder.
80'  81'   Stindl shoots... quite far over.
78'   Substitute Douglas Costa gets himself onto the ball and drives at pace towards the Germany box, but Rüdiger gets in a full-blooded, timely challenge to send it out for a corner, which comes to zilch. Timo Werner is waiting to come on for the hosts.
75'   There's another cross into Wagner: Brandt sends it in towards him from the right, but the 30-year-old can't get on the end of it despite throwing himself headlong at it. A minute later, Kroos has the opportunity to swing in a free-kick from the left wing, but the flag goes up for offside as soon as the Real Madrid midfielder delivers. 
73' Brazil make their first change of the evening, Douglas Costa replacing Coutinho.
72'   Wagner heads...well wide! Draxler picks it up out wide and sends in an inswinging cross to the back post, where the Bayern forward can't direct his effort in the right direction. He was climbing all over Miranda too, to be fair.
69'    Germany make a fourth sub, Boateng making way for Bayern Munich colleague Niklas Süle. Still no changes for Brazil.
68'   Gabriel Jesus should probably score there! First Alves crosses dangerously towards the far post, where a yellow shirt is waiting to head home but Kimmich is there to put it behind. From the corner, Trapp and Boateng get in a frightful muddle, leading the ball to drop straight onto Jesus' head at the back stick, with the goal gaping... but he nods tamely wide! 
64'   Kimmich then crosses, but Thiago Silva heads away. Moments later, another cross comes in towards the back post and appears to be sailing straight onto Wagner's head... but there is Silva once more.
63'   And, fresh from that treble substitution, Germany produce a decent shooting chance for Draxler, who takes it into the box, cuts and inside and fires at goal - but sees his effort spin off a defender's leg and into Alisson's arms.
62' And on comes Wagner for Gómez.
61' Wagner is also preparing to come on for the home side.
60' And here comes that Germany change, which is a double one: Stindl and Brandt on for Goretzka and Sané. 
57'   Now Coutinho has a chance for 2-0! Jesus slips the ball into the Barcelona man, who takes it on the run and shoots from the edge of the box... but it's over! Germany are going to make a change and, given the way the second half has started, that doesn't seem like an altogether bad idea.
56'   Brazil twice go close to doubling their lead! First Coutinho's dummy leaves Willian in acres of shooting space in the box, but Rüdiger repels the Chelsea player's effort with a heroic block. Paulinho then unleashes a drive towards Trapp's near post, only for the Paris Saint-Germain stopper to keep it out!
54'   Jesus picks it up on the left hand side of the box, bamboozles his man with a flurry of stepovers and knocks an little angled ball into the run of the arriving Marcelo... but it's too long.
53'   Kroos pings a route-one ball into Gómez in the box, but Alisson is quickly out to punch clear.
52'   Boateng is wincing, but looks like he'll try to continue. Not the finest of challenges by Jesus.
51'   Ufff! Coutinho touches it out of his feet and slaps a shot towards goal....but it's well over. He really might have done better with that one.
49'   Over in Madrid, it's now 2-0 to Spain!
48'   Kimmich pings across a lovely-looking cross to the near post, where Gómez is loitering with intent, but Miranda gets a timely foot to it. At the other end, Boateng goes down clutching his ankle after a coming together with Jesus - who, replays confirm, raked his studs down the Bayern Munich man's heel. Nasty. 
46'   No changes for either side at half time. I had been under the impression that Bernd Leno would replace Kevin Trapp at the break, but he evidently has not. "It could be a psychological decision," muses the co-commentator on Spanish TV, who reckons Löw might not have wanted to hook Trapp straight after conceding.
Peeeep! Brazil get us back up and running in the German capital.
Back in Berlin, the players are back on the pitch, having made they way out via a handy escalator from the Olympiastadion dressing rooms. Much safer than making them come down any treacherous stairways.
45'   Peeep! Half time in Berlin. Brazil lead through Gabriel Jesus' header, which Kevin Trapp just failed to, well, trap.
40'   Gómez heads over! He's been lively; all he needs now is to stay onside and shoot on target.
38'   But this time Jesus makes no mistake! 1-0 to Brazil! Willian swings in a lovely cross from the right and, when Jesus nods towards goal, Trapp gets a hand to it - but can't stop the ball spinning over the line! The visitors lead!
36'   Jesus runs in behind the German defence with no flag forthcoming (Löw is incandescent about this on the touchline), jinks clear of the recovering challenges of Boateng and Rudiger, sets himself... and fires over inside the box! 
35' Now Kimmich goes close(ish) with a header at the back post... before Jesus blazes Brazil's best chance over!
33'   Sané runs at the Brazil defence, but Miranda stands up to the City winger and steps away with the ball in not unimperious fashion. 
30'   It's been entertaining enough... but a shot or two on target wouldn't go amiss.
28'   Goretzka clips in a lovely near-post cross for Gómez, but the Besiktas striker can't capitalise! Moments later, Gómez is then released in behind the Brazil defence, but for what feels like the 20th time already tonight, is flagged offside. He appears to have been preparing for tonight's game by binge-watching videos of Pippo Inzaghi.
26'   Plattenhardt swings in another cross from the left, and Alisson and Thiago Silva get in a bit of an old muddle, the defender heading it behind milliseconds before his goalkeeper tries to punch the ball - and succeeds only in leathering his team-mate. Corner to Germany... which comes to nothing.
24'   Ohh la la! Coutinho conjures up another lovely moment of skill before feeding Gabriel Jesus, on the edge of the Germany box. Jesus looks up and picks out an inch-perfect through ball... to no-one in particular. 
21'   Goretzka scuttles towards the right byline and crosses for Gómez, who heads wide! He looks like he's been penalised for something, though. After a first few minutes that were a little bit on the meh side, it's not been a bad last 10. 
20'   Draxler and Sané exchange passes before the former gets Gómez scampering in on Alisson...but he's offside. Lovely interchange by Draxler and Sané, though.
16'   Just as I say that, Germany carve out their first shooting chance! Draxler finds his way to the byline and cuts it back to Gündogan, who's arriving in the box like the proverbial express train. The Manchester City midfielder blazes high, wide and handsome, though.
14'   Coutinho is again involved as Gabriel Jesus receives and runs at the German backline, before feeding the former Liverpool man's forward run on the left - but it comes to nought. Paulinho then almost gets Willian in on the right, but Rüdiger cuts it out. The Brazilians are creating all the danger at the moment.
10'   Lovely from Coutinho! It's been something of a low-key first 10 minutes or so, but the Barcelona attacker gets the pulses a-racing with a sublime jinking run to the left byline, before cutting it back... but no-one in a yellow shirt can capitalise! 
9' Ooh, here's a chance for Germany to swing it into the mixer from the right, as Miranda brings down Goretzka about 15 yards or so outside of the box. Kroos delivers, but the flag is up.  Gabriel Jesus is almost immediately in at the other end, but Trapp is out to grab hold.
6'   Left-back Plattenhardt swings in a cross from deep, but it's overhit and is meat and drink for Alisson. Brazil's counter-attack then fizzles out down the left, giving the hosts a chance to counter that counter, as it were. But Willian tracks back well to snuff out the danger.
4'   I make it four survivors in total from the 7-1: two each. Marcelo, Fernandinho, Jerome Boateng and Toni Kroos. 
Peeeeeep! We are underway in Berlin!
  And out they come! Anthems time.
The teams are in the tunnel...
The Germans aren't in the worst form themselves, either: the world champions are undefeated in 22 games, since a July 2016 reverse to an Antoine Griezmann-inspired France at the European Championship.
And those aren't empty compliments, to be fair: this is a Brazil side who have suffered just one loss in 18 matches since Tite took charge in 2016, and who were unbeaten in World Cup qualifying under the 56-year-old as they topped the Conmebol standings by a country mile.
  Meanwhile, the Brazilians' hosts are clearly expecting a side that has come on a bit since that 2014 World Cup semi-final. "Brazil today are at least two classes better than in 2014," said Real Madrid's Toni Kroos, who scored twice that night, while Ilkay Gundogan told Kicker: "They now have a much better balance. The mix is right. Their development has been second to none."
"The wound is still open and the match in Berlin is a part of the process of closing it," Tite added.

  So... the first meeting between the sides since THAT 7-1 stuffing. Speaking ahead of tonight's clash, Tite conceded that Brazil are still haunted by "ghost" of that night in Belo Horizonte. "I was watching the game at home in Sao Paulo with my wife and after the third goal went in, she started to cry," he told reporters, before admitting: "That started me off."
25 minutes to go to kick-off in Berlin: if you are looking to accompany our live feed with sounds and moving pictures, then you may with to peruse our useful guide on how and where to watch.

  Germany boss Joachim Löw has made a raft of changes to the team that drew 1-1 with Spain on Friday: seven to be precise. Kevin Trapp, Marvin Plattenhardt,  Antonio Rüdiger, Ilkay Gündogan, Leroy Sané, Leon Goretzka and Mario Gómez all come in. Trapp is to share the goalkeeping duties with Bernd Leno tonight, Löw said on Monday.
As promised in his pre-match press conference, Tite makes just the one change to the Brazil team that beat Russia 3-0 on Friday, with Fernandinho coming in for Douglas Costa. The Manchester City man slots into the midfield, with Philippe Coutinho expected to play in a more advanced role today.
Meanwhile, Brazil's XI is: Alisson, Dani Alves, Thiago Silva, Miranda, Marcelo, Fernandinho, Casemiro, Paulinho, Coutinho, Gabriel Jesus, Willian 
Good evening! Join us for live coverage of Germany vs Brazil!
Germany vs Brazil: match preview
Germany host Brazil tonight in a friendly that is the teams' first meeting since the South Americans' humiliating 2014 World Cup defeat to Die Mannschaft on home soil.
Just as they were in that 7-1 semi-final thrashing in Belo Horizonte, the Brazilians are without the injured Neymar, while Fernandinho replaces Douglas Costa in what the Seleçao's coach, Tite, said on Monday would be the only difference to the side that beat Russia 3-0 on Friday.
The Manchester City man's inclusion in the engine room is expected to see Philippe Coutinho, who netted a penalty as one of the midfield three in Moscow, move into a more advanced role.
Meanwhile, Joachim Löw has made several changes to the Germany team that drew 1-1 with Spain on Friday. As Löw confirmed on Monday, defender Marvin Plattenhardt and midfielder Ilkay Gündogan both feature, while Kevin Trapp starts in goal, with the Germans' boss revealing on the eve of the game that he and Bernd Leno would share the keeping duties. Antonio Rüdiger, Leroy Sané, Leon Goretzka and Mario Gómez also come in.
Emre Can, Mesut Özil and Thomas Müller - who was the Germans' scorer against Spain - all dropped out of Löw's squad after the stalemate in Düsseldorf.
Teams:
Germany XI: Trapp, Kimmich, Boateng, Rüdiger, Plattenhardt, Gündogan, Kroos, Sané, Draxler, Goretzka, Gómez
Brazil XI: Alisson, Dani Alves, Thiago Silva, Miranda, Marcelo, Fernandinho, Casemiro, Paulinho, Coutinho, Gabriel Jesus, Willian