Las Palmas - Real Madrid live stream online: LaLiga 2018
Don't miss a minute of the action as Las Palmas welcome Real Madrid to the Estadio de Gran Canaria in week 30 of LaLiga action, kick-off at 18:30 CEST. Cruz Azul vs America: Liga MX, live online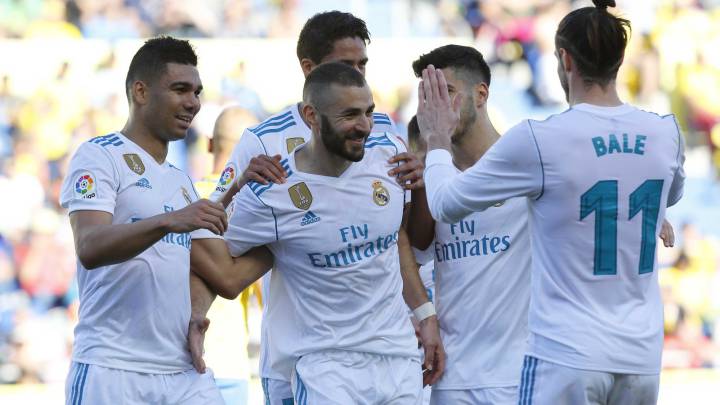 Real Madrid cruised to a 3-0 victory in Las Palmas to send Paco Jémez's side deeper into the mire after Levante pulled further clear earlier in the day with Gareth Bale and Karim Benzema providing the goals on an afternoon where Zinedine Zidane's side rarely looked like returning from the Canary Islands empty handed.
The home side started brightly, Jonathan Calleri going close and Alen Halilovic testing Keylor Navas and the opening 20 minutes were a fairly even affair as Jémez stood by his promise to go down swinging, if his side were to go down at all.
The former Rayo coach's words were unintentionally prescient. Las Palmas will be practically relegated next weekend if they are beaten away at Levante and while swing they did in the early exchanges, his side crumbled after Bale galloped through the defence to place a shot past Leandro Chichizola.
Nacho injury the only blemish on Real's stroll
The visitors lost Nacho to injury during the first half, a story in itself as the ever-dependable utility man has never succumbed before in his entire senior career, but it was Las Palmas who would slowly fall away on the pitch after Real were awarded a fairly soft penalty when Lucas Vázquez went down in the area.
Benzema, making his 400th appearance for Madrid and wearing the captain's armband, hit a textbook spot kick to make it 2-0 and from there the question was how many the home side would swallow on a day when the only pills available were of the bitter variety.
It wasn't long after the break before Real made it three, Bale winning a penalty as he shaped to shoot as Ximo Navarro clattered into the Wales forward. Bale himself stepped up to bury his shot down the middle after sending Chichizola to his left and from there it was a case of all available men to the castle walls for Las Palmas as Real laid siege to their goal.
Benzema, with all the best intention, squared for Bale on the break when he could have shot himself and minutes later Chichizola made a stunning save from the Frenchman from two yards out. Benzema was to suffer more frustration in front of goal from open play – he has not found the net other than from the penalty spot since the middle of February – but it was Bale to who the better chances fell. A cut in from the right looked destined for a trademark into the far corner but curled wide and later, put through expertly by Vázquez, he managed to hit a left-footed shot into his right foot albeit under pressure from two defenders.
In the end Real had to settle for three but Zidane's side, missing Cristiano Ronaldo, Sergio Ramos, Marcelo, Toni Kroos and Dani Carvajal from the usual starting XI, were still too good for a Las Palmas side who look to be headed for Segunda barring a miracle in the final weeks of the season.
Zidane, meanwhile, will consider the afternoon's work a case of job done and will now set his focus on the more testing challenge of Juventus in the Champions League quarter-finals next week.
Las Palmas vs Real Madrid live online: as it happened
90' Bale has a pop and it's deflected off for a corner, but there's no time for that and the whistle goes. Real run out confortable 3-0 winners in Las Palmas.
89'   And it is Gálvez and he gives it some serious welly but hits it into the stands high above Navas' crossbar. 
88'   Free kick for Las Palmas, about 30 yards out in the middle. Gálvez looks like he may fancy this one...
87'   Theo goes on a run a la Marcelo and all he has to do is square for Bale or Benzema and it's 4-0, but he can't find either with a shoddy final pass.
85'   A poor ball from Asensio opens up a chance for Ezequiel, but Varane is alert to the danger and gets a block in on the Nigerian winger.
84'   A few Las Palmas fans voting with their feet as the clock ticks down.
83' Final change for Las Palmas as Momo goes off to an ovation, Imoh Ezequiel on in his place.
81'   Bale almost has his hat-trick. Real nick the ball in midfield and Vázquez spots the Welshman pointing to where he wants it. The ball is good and Bale gets to it first but then gets his feet in a tangle and can only manage an apology of a shot that stops dead as it hits his right foot from his left, allowing Chichizola to simply scoop it up off the turf. 
79'   Chichizola is down in agony after Vázquez stretches to meet Bale's cross but hits the keeper instead. He's ok to continue though.
78'   Bale sniffs a hat-trick as he cuts inside from the right but curls his shot wide of the far post.
77'   Free kick to Real as Asensio is chopped down mid-Zidane ruleta.
75'   Momo gets the better of Achraf and lofts a ball to Calleri, whose looping header clips the bar under the watchful eye of Navas!
73'   Theo gives away another free kick and is lucky not to go in the book for preventing it being taken quickly. We know what Captain Mainwaring would have to say about that.
72'   And Momo delivers but only to the gloves of Navas. Las Palmas half-heartedly appeal for a penalty as Calleri goes down in a heap after contact with Llorente but nothing doing after the ref glances at his head-shaking lino.
71'   Achraf concedes a free kick on the right in a tangle with Momo.
70'   Theo, who is having a bit of a shocker, concedes a free kick after his heavy first touch hands Las Palmas some green to aim for on the right.
70'   But the home side again fail to take advantage of a set-piece opportunity and Real hoof it clear.
69'   Corner to Las Palmas as Theo fails to stop a run on the left and Momo drives into the area, Vallejo saving the day as he gets in the block.
67'   Oh dear Navas... the Real keeper plays himself into trouble into his area and gifts the ball to Erik, who turns and blasts his shot over from close range. He had a teammate on hand as well. Terrible from the Real keeper, who had plenty of time to just belt that ball to safety.
66'   Chichizola! The Las Palmas keeper denies Benzema from point-blank range after a great ball from Vázquez. Good work from the keeper there to keep it to 3-0.
64'   Las Palmas break and it seems as though Calleri is bound to go through but Achraf, covering the left flank, gets across to put him off and Calleri ends up playing a ball to himself that he can't catch and it rolls out for a goal kick.
62'   And that is probably why Llorente doesn't play very often. His first touch is straight to Jairo on the edge of his own area and then Las Palmas appeal for a handball as he throws himself at his mistake. The home side then appeal again, this time for a Varane block, but there wasn't much in that.
60' Double change for Madrid, Modric and Casemiro off with Juventus coming up, Kovacic and Llorente on. 
59'   And it should have been four! Casemiro puts Benzema through and he unselfishly squares for Bale but the Welshman's shot is met on the line by a yellow shirt to deny him a hat-trick.
58'   Some nice work from Real around the area, a flick from Modric, a clip into the area and Vázquez sees his name on the score sheet but it thwarted by the flag.
58'   Marcos Llorente appears to be getting ready to come on.
55'   Real launch a break but a rare poor ball from Vázquez straight out into touch scuppers Bale's designs on another run at goal.
54'   Las Palmas have now reached the 60-mark in terms of goals conceded this season, matching Depor's total. One more and they'll stand alone in that respect.
52'   Las Palmas are up in arms as Bale takes Halilovic out with a studs down the back of the calf tackle but the ref is unmoved. Free kick, but no card. Bale is one yellow away from missing the Madrid derby next weekend.
50'   Gooooooool! Bale does the old stop-start run-up and buries his shot straight down the middle after sending Chichizola to his left. 
49'   Penalty! Bale shapes to shoot and is taken out in the act by Ximo. Another penalty for Madrid!
48'   Halilovic! The Croatian gets the better of Vallejo and curls a low shot towards Navas' right stick, but the keeper gets down and makes the save.
47'   Two the subs combine on a Las Palmas attack but it breaks down on the edge of the area. Nice touch in midfield from Erik, the Las Palmas B player, making his seventh league appearance for the home side.
46'   And we're back underway!
The teams are coming back out and it looks like there have been changes. Erik and Jairo on for Las Palmas.
400-game man Benzema is congratulated after finding the net from the spot.

45'+4' And that's the half!
45'+4'   And he tries to catch Chichizola out but doesn't quite get his effort right and it's a pluck from the air for the Argentinean keeper.
45'+3'   Modric over the free kick...
45'+3'   Theo is send flying by Gálvez and that was just on the edge of the area. The Real defender is down and in some discomfort.
45'+1'   Bale through again on the gallop but the lino's flag is aloft.
45'   Three minutes added.
44'   A poor, poor ball from Aquilani in midfield allows Real to hit on the break but Las Palmas scramble back to thwart the visitors. Really sloppy that from the Italian, in the opposition half with plenty of options he picked the one of passing it straight to Benzema.
42'   And they almost find one, Aguirregaray finding himself on th eball with his back to goal in the area. But vallejo does well to shepherd him out of the danger area.
41'   Las Palmas break down the left through Aguirregaray but the Uruguayan can't quite keep it in play on the byline. The home side need a response to that blow and one before half-time would lob a cat among the pigeons a little.
39'   We fancy there'll be some gripes about that penalty award... It didn't look like anything more than an unwitting brush of Vázquez's left calf but the Real winger made the most of it.
38'   Goooooooool! Benzema hits it low and true to Chichizola's right and it's 2-0 to Madrid. The Las Palmas keeper went the right way but it was a perfect strike from the Frenchman, almost tickling the post as it went in.
37'   The slightest touch on Lucas Vázquez apparently... Penalty it is...
36'   It's Asensio this time he slings it into the proverbial. Penalty! Hang about. What for?
35' Nacho's injury and Ximo's brief departure from the pitch have taken a bit of the fluency out of the game. Momo goes in the book for a foul and protests he got the ball, which in fairness it appeared that he did. Free to Real on the left.
34'   Modric picks out Asensio with a glorious ball and immediately four yellow shirts surround him, a sign of respect for any player.
33'   Bale topped out at just shy of 31km/h on that goal-scoring run. Nippy.
31'   Nacho is not looking happy on the bench and there may be more to that than meets the eye. It's worth remembering he has never suffered more than the most minor of injuries and has never been unavailable for his club with a twang or knock.
29' Las Palmas are flapping about a bit at the back after going behind and need to recover their previous composure. Jémez's side remain determined to play it out of defence but a little more poise is needed.
28' And indeed that is the end of Nacho's afternoon. He seemed to tweak something in the move before the goal, when Calleri got away down his flank. Achraf is on for the visitors.
27' Achraf is on the touchline with his trackie off and it seems that Nacho can't carry on. He's signalled to the bench to make the change.
25'   Goooooooooool! Bale canters through the home defence unchallenged and picks his spot on the run, giving Chichizola no chance. A fine finish from the Welshman. Las Palmas appealed for offside and it was very close, but chasing Bale down instead of gesticulating to the lino may have been a better idea.
23'   The home side reply immediately as Momo finds himself with a chance to shoot but he scuffs his shot and it rolls harmlessly wide, a few feet from Navas' upright.
22'   Asensio! Modric nicks the ball in midfield, Benzema releases Bale and he picks the Spain international out on the far side. It looks a certain goal but Chichizola gets his fingertips to it and turns it round his post for a corner. Great chance for Asensio there, matched by an excellent save.
21'   Las Palmas carve out a chance but Casemiro is there to hook the ball clear. Aquilani returns to the fray.
19'   Bale clobbers local boy Javi Castellano and it's a free kick for Las Palmas. Meanwhile, Aquilani is down off the ball and it appears that the Italian is still feeling the effects of that ball in the face earlier. Jémez sends out Jairo and Ramírez to warm up.
18'   It's an entertaining start to the game, end to end stuff and tackles flying in left, right and centre. How long either side can keep up this tempo remains to be seen but there's no clear candidate to open the scoring yet, it's pretty even.
17'   Aquilani delivers to the near post but it's not a great free kick and Real clear. Las Palmas come back and Halilovic tries his luck again but doesn't trouble Navas this time.
16'   Free kick as Aguirregaray is floored by Casemiro. Out on the left, decent position for Las Palmas...
15'   Madrid are squeezing the home side into their own half now but Las Palmas are finding ways to break through, they still just lack the final ball to punish the visitors.
13'   Benzema! Real manage to get three on two and Asensio feeds the Frenchman, who hits it first time but lacked a decent angle to trouble Chichizola, who holds the shot with Vázquez lurking.
13'   Calleri almost finds a way through but Vallejo is across to cover. Las Palmas on top at the moment.
11'   Halilovic! The Croatian hits a shot from the edge of the area and Navas has to be on his toes to turn it away. Good strike, good save and two ealry warnings for Madrid about standing off around the box. Las Palmas have plenty of marksmen from that range.
10'   A fair few stray passes from both sides in the opening 10 minutes, but Las Palmas are winning the midfield battle at the moment. A keener eye for the final ball and Madrid could be in a spot of bother.
9'   More precisely, he hammered it straight into the face of Alberto Aquilani, who is fine to go on but certainly felt that.
8'   But it's Bale who pulls rank, and hammers his effort into the wall.
7'   Free kick on the right edge of the Las Palmas area for Madrid. Marco Asensio will fancy a crack at this.
6'   It appears the Welshman is planning on playing on the shoulder of the last defender today, which isn't a bad plan as Las Palmas are playing a pretty high defensive line.
6'   Madrid win a free kick in their own half as Vázquez goes down. Bale gets in behind Ximo Navarro and gets a shot away but it's on his right peg and goes high.
4'   Close! Calleri shaves the post with a stinging drive from the edge of the area after good work from Momo. We're not sure Navas would have got a hand on that had it been a few inches to the right.
3'   Bale has the ball in the net! But he's flagged for offside. It was a fine ball from Casemiro to pick the Wales forward out, which Bale acknowledges with a thumbs up.
2'   A poor ball out from the back hands Madrid possession by Halilovic gets it back and goes on a run, only to find Casemiro in hsis way, and that usually means one thing. Throw to Las Palmas.
1'   Bale patrolling the left flank for Madrid with Asensio in a more central role in support of Benzema. Las Palmas stroking it around in the opening exchanges.
1'   We're off! Las Palmas get us underway.
Karim Benzema is wearing the armband for Real Madrid today in the absence of Sergio Ramos, Marcelo and Cristiano Ronaldo. Nice touch for his 400th game.
Jémez and Zidane almost identically tailored on the touchline. Mind games from Paco?
It's a fine sunny day in Gran Canaria, as you'd expect, and the sprinklers are pumping away as the teams take to the pitch for the preamble.
Las Palmas are without a win in seven going into today's game, and the last time they tasted victory was against Málaga, so we're not really counting that one. Jémez's side have been struggling for goals well, scoring more than one just once, in a 2-1 victory over Valencia.
Still no start for Borja Mayoral then, despite the striker bagging five in two games for the Spain under-21s during the international break. He looks to be one of many fringe men who will be considering a move in the summer.
"We need to win, win and keep winning because whoever doesn't win is going down," Jémez noted before the game. Las Palmas are yet to beat Madrid after returning to the top flight in 2015-16 but did take two points from the eventual champions least season while scoring five goals against Zidane's side.
Paco Jémez will be hoping to take advantage of Real Madrid being somewhat distracted by the prospect of Juventus in the Champions League next week as his side find themselves seven points adrift of safety at the foot of the Liga table.
Welcome to AS English's live coverage of Las Palmas vs Real Madrid from the Estadio de Gran Canaria.