Luka Modric: Zidane's Champions League talisman for Real Madrid
The last time Los Blancos lost a knockout tie in Uefa's showpiece competition, against Juventus in 2015, was also the last time the mercurial Croatian played no part.
Luka Modric is Zinedine Zidane's talisman when it comes to the Champions League.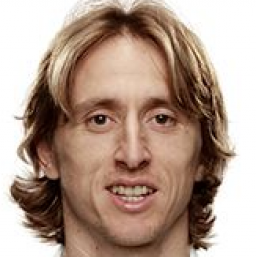 Juventus loss without Modric
Real Madrid's last collapse in a European tie was, interestingly, a game where the Croatian was not involved in either tie. Even more interesting, tonight of all nights, was that the opponents were Juventus, back in the 2014/15 season in the semifinals. A sprained knee kept him out and forced manager Carlo Ancelotti to improvise with an unprecedented midfield: putting Sergio Ramos in instead of Illarramendi or Khedira. The experiment had gone well in the quarter-finals against Atlético, but it fell apart in Turin, with the home side taking the game 2-1. Madrid, also without Modric in the second leg, could not turn around that result in the Bernabéu and were eliminated 2-3 on aggregate.
Modric at the double
The following two seasons, now with Zidane on the bench, saw Los Blancos run to an incredible back-to-back Champions League double and the crafty midfielder didn't miss a single game. In 2015-16 the record was four wins, one draw (Man City) and one defeat (Wolfsburg). In 2016-17 it was improved upon: five victories and one defeat (against Atlético when the tie was already decided). In total, he has played 21 knockout matches in Uefa's showpiece tournament returning 15 wins, four losses and two draws.
Not required for PSG Part II
This season Modric did miss the return leg against PSG in Paris, although after the 3-1 home victory things were pretty much settled and Zidane decided not to rush him back from injury. He had, of course, been a decisive figure in the Bernabéu.
Modric the insurance
The Croatian is nonnegotiable for Zidane and brings a confidence to the middle of the park that is lacking when he is absent. In this season's competition he has scored two goals and provided five assists and is the controlling engine for Madrid. His passing accuracy has been very high: 1869 passes of which 1,678 have reached their intended target (89.8%). This is the type of insurance the French coach enjoys having in his XI.